In 2022, Yu-Gi-Oh! is a franchise almost as old as I am, with a global fanbase, multiple series of anime and movies, and more merch than you can imagine. Still, in all this time, the games of Yu-Gi-Oh! have seen few wholesale changes or alternative game modes outside of early 2000s titles like Duelist of the Roses or The Falsebound Kingdom, at least not until recently with titles like Yu-Gi-Oh! DUEL LINKS and Yu-Gi-Oh! RUSH DUEL: Dawn of the Battle Royale!!
Yu-Gi-Oh! CROSS DUEL is set to be the next brave leap forward from Konami's card game king in a while, daring to change the face of the format again. With the hype behind the card game picking up steam thanks to the success of Master Duel, there's still lots to find out about what Yu-Gi-Oh! CROSS DUEL will consist of in terms of the core gameplay.
So, we took it to the top to get answers, and we were lucky enough to receive them from Yuya Takayanagi, one of the developers from the team handling Yu-Gi-Oh! CROSS DUEL. We plugged him with questions on the new formats, Yu-Gi-Oh! CROSS DUEL's monster customisation options, and even got in a quick chance to ask him what his personal favourite card is.
Pocket Tactics: How is Yu-Gi-Oh! CROSS DUEL more accessible for players who haven't played Yu-Gi-Oh!?
Yuya Takayanagi: Yu-Gi-Oh! CROSS DUEL is designed to be a game that can easily be played with friends and family. The rules are very easy to understand. There isn't much to learn at first, and anyone can pick up and play it without problem. The game is designed in such a way that as the playing experience increases, the difficulty and depth will gradually increase, step by step. In addition, the powerful 3D rendering of the monsters will give even those unfamiliar with Yu-Gi-Oh! an instant sense of its exciting and vibrant universe.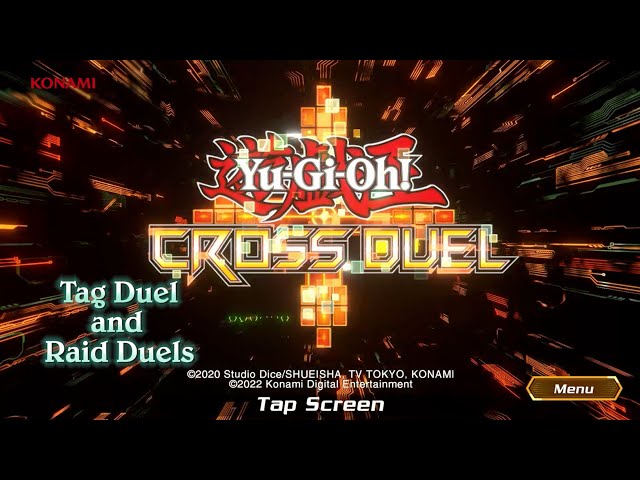 What's the best tip you'd give to someone just starting Yu-Gi-Oh! CROSS DUEL?
I think the first point after getting a sense of the rules is to create a Deck. If you do not know what kind of Deck to make, the game has a fantastic tool called "Recommended Deck Selection." This will build a Deck for you automatically, based on your available cards. I think the fastest way to improve is to make and discover your favourite Decks. It's very helpful to play with them and get used to the cards at your disposal.
Yu-Gi-Oh! MASTER DUEL didn't mention the anime at all, is Yu-Gi-Oh! CROSS DUEL implementing characters and stories from the anime?
Yu-Gi-Oh! CROSS DUEL features the original voices of anime characters from seven Yu-Gi-Oh! series, from Yu-Gi-Oh! Duel Monsters to Yu-Gi-Oh! SEVENS. It's great to hear all the dialogue from iconic characters like Yami Yugi and Jaden Yuki – recorded especially for this game. Additional characters will be added from time to time, and we hope you will enjoy playing alongside them and hearing their unique voice work.
Do you plan to host a competitive tournament for Yu-Gi-Oh! CROSS DUEL in the future at all?
The format and timing of any tournaments have not yet been decided, but we would like to hold in-game as well as offline competitions for Yu-Gi-Oh! CROSS DUEL. In the future, we would like to move forward with bringing Yu-Gi-Oh! CROSS DUEL to large competitive events such as the Yu-Gi-Oh! World Championship.
What led to the development of a four-player Yu-Gi-Oh game?
I wanted to create a new form of play for the globally beloved Yu-Gi-Oh! franchise. Therefore, It was through my study of the strategic nature and depth of the "Yu-Gi-Oh!" games that I conceived the idea of a four-player game.
How does the four-player gameplay change the dynamic of a Yu-Gi-Oh! Duel?
I think the elements that come from jostling for position with multiple players are what makes Yu-Gi-Oh! CROSS DUEL so interesting. It's thinking about how to improve one's ranking in a Duel at any point. You must consider the state of play and the tactics of all the other players. You need to work out the psychology of multiple opponents. I think this is a major part of the charm of this completely new Yu-Gi-Oh! experience
Why did you decide to add the monster customisation skill trees?
We wanted to create individuality, where the same monster has different skills depending on the user's setup. We thought this would broaden the range of strategies and Deck building and make it even more interesting. The skill tree was implemented as a challenging element of the game that adds to the depth of the experience.
How have you taken inspiration from other live service Yu-Gi-Oh! games for Yu-Gi-Oh! CROSS DUEL?
We always develop our products with the best parts and features of our original works, animations, and games in mind, so we are influenced by all of them.
What's your personal favourite style of duel in this game and why?
Personally, I like to have fun in room matches with my teammates the most. I play with different Decks for each match, and it's a fun environment in which to experiment and be creative
Finally, what's your favourite card overall?
I would have to say the Blue-Eyes White Dragon. It is my personal favourite monster card because of its completely different design compared to traditional dragons like those of Western and Oriental cultures.
For more Yu-Gi-Oh!, check out our Yu-Gi-Oh! Master Duel review to see how we got on with the first title out of Konami's card game monolith in 2022.