For years, nearly as long as videogames have been mainstream media, wrestling remains one of the most popular sports games out there. Sure, there are various iterations of the sport in this form, but the most prominent is the long line of WWF and WWE titles. Some of the most iconic wrestling games of all time belong to the WWE – Shut Your Mouth, Here Comes the Pain, and the long line of WWE Smackdown vs Raw games. During those years of dominance, TNA Impact released a game in hopes of competing, but it flopped.
Now, 14 years on from the release of TNA Impact on PS3 and Xbox 360, a new competitor rises to challenge WWE in the videogame scene, much like the organization challenges the wrestling behemoth in real-life. Enter AEW: Fight Forever – a wrestling game that's been on my radar since its initial announcement. The thing I find most exciting about the title is that Yuke's serves as the developer, the former developer of the WWE videogames.
So when you look at it from that angle, AEW: Fight Forever should be the title wrestling games are waiting for, and, to an extent, that might be the case. However, playing this game feels like I'm stuck in an ankle lock with no hope of reaching the ropes.
Going into this, I had a lot of hope, the prestige of Yuke's and the team's success with previous WWE games gave me a lot of hope, but alas, it's not meant to be. You see, while it's great to finally play a game that includes superstars such as Kenny Omega, it's a crying shame that the game doesn't offer an enjoyable experience. Take Christian Cage and Jon Moxley, for example. If I want to set up a match involving those two, I'd have a better time in an old WWE game where they compete as Christian and Dean Ambrose.
Furthermore, the character models are quite shocking. Now, they might look a lot better on next-generation consoles, but on the Nintendo Switch, the superstar models are reminiscent of PS2-era graphics. Maybe PS3 and Xbox 360 if I'm feeling generous. Either way, it's honestly so disappointing to see the AEW stars look like potatoes.
Oh, and don't go into this thinking you can make up for the questionable character models with some amazing outfits because the CAW customization in AEW Fight Forever is seriously lacking. Honestly, I'm still in shock from the lack of options – the WWE games are fantastic for customization, and they get better in that regard every year. The fact that Yuke's hasn't gone to such lengths in this game is quite surprising.
I usually spend hours creating my wrestler. I go to great lengths to make them look great with an aesthetic and persona that I like, but AEW Fight Forever is so limiting that I took maybe ten minutes to create my wrestler. However, the creative freedom for entrances is a lot better, in fact, this is where I give a point to this game over the series of WWE titles. Not only can you pick from a large variety of preset movements, but you can also actually choose hand gestures, props, and champion gestures.
Those extra details allow you to truly mold the persona of your wrestler. The fact that there are plenty of tracks and videos to choose from is the chocolate sauce on this decadent sundae. As for the cherry on top, that comes in the form of many different effects, you can use at the stage, ramp, and ring. Luckily, the 'create a moveset' feature includes a wide variety of moves. Mind you, a wrestling game without an assortment of wrestling moves would be like banana bread without the banana.
However, performing said moves in a match feels very clunky. Quite honestly, anytime I strike my opponent or set up a grapple, it feels as though the flow of the match becomes stunted – this could be due to dodgy performance on Nintendo Switch, and it may prove to be a better experience on another platform.
Speaking of matches, you have the usual match types in the exhibition mode, though you don't have access to things like Hell in a Cell due to that match type being a WWE staple. Nonetheless, you do get matches in AEW Fight Forever that you won't find in modern WWE games, such as Lights Out and the Exploding Barbed Wire Deathmatch. While these are fun, the aforementioned performance issues hinder the experience.
Now, I know that it's not the exhibition mode that you want to know about. You want to know about the Road to Elite mode, in which you get to choose an existing star or create your own and rise to the top of AEW, starting from the company's Double or Nothing PVP. I do give props to the fact that this is a good career mode in which you can shape your wrestler's story, but the poor graphics, bad frame rates, blurry screen, and popping all ensure it's not an enjoyable time.
It's a shame, as it gives a career mode that's better than what you get in WWE 2K23, but I'd prefer to play that as the stories are funny and the game runs well. In WWE games, I can lose hours of my life at a time, and I honestly expected that to be the case with AEW Fight Forever, especially as I can take it with me on the go. Yet, the game performs worse in handheld mode, so much so that I refuse to touch it unless my Switch is docked.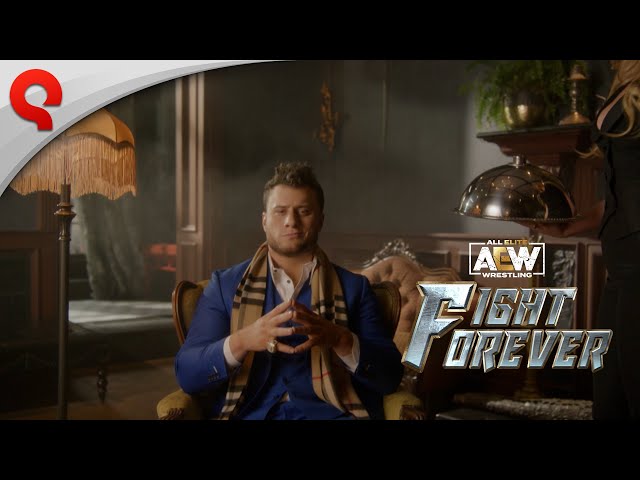 Quite honestly, the performance on Nintendo Switch is shocking, and I can't in good conscience recommend people play this game on the platform. It may well be a much better experience on PS5 and Xbox Series X/S, but I can't be certain about that. Besides, even if it does perform better, it still lacks a lot of oomph that you get in a WWE game. The poor CAW customization options feel irredeemable, given Yuke's history with wrestling titles.
Quite frankly, playing AEW Fight Forever just has me wanting to play WWE 2K23 instead. The WWE games offer so much more, though, admittedly, if you don't have access to a PC, Xbox, or PlayStation, you're limited to this game if you want a new wrestling title on Nintendo Switch. Should it be better on next-generation consoles, you might be able to enjoy a good career mode – this is the one redeeming quality. Well, that and great entrance customization.
If you want a good wrestling game on Nintendo Switch, make sure you check out our guide.
AEW Fight Forever Switch review
AEW Fight Forever on Nintendo Switch has such promise thanks to a fun career mode and unique match-types, but poor performance, dated graphics, and stale gameplay all come together to create a trying experience.