iPhone fans, get excited, as the iPhone 15 lineup is here. The Apple event for September 2023 brought with it news of Apple's latest products for 2023. We're about to get an iPhone 15 release date too, with the presentation hosted Apple Park, Cupertino, California, as well as other big news for new products.
The Wonderlust event, which is a play on the word 'wanderlust', falls almost exactly a year after the last Apple event for iPhone. These events typically feature the launch of the newest line-up of iPhones, and the Apple event September 2023 didn't disappoint.
With an iPhone 15, iPhone 15 Plus, iPhone 15 Pro, and iPhone 15 Pro Max, there's lots to choose from. However, in usual Apple fashion, the company made us wait for the big news, starting instead with slightly less exciting new additions.
When and where can I watch Apple's Wonderlust event?
You can watch the Apple event September 2023 via the video below. If you don't fancy watching the whole thing, we're here to round up all the important announcements for you just below.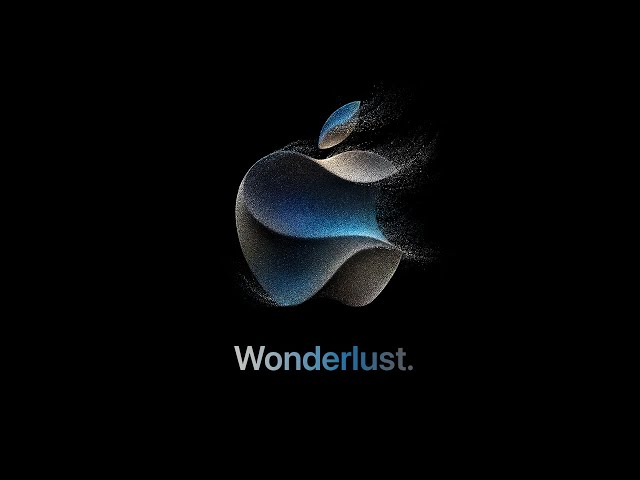 Everything announced at the Apple event September 2023
We started the show with Mac, surprisingly, following a lovely video covering how Apple products help connect people on birthdays. It featured people for whom Apple products have helped, whether its emergency SOS on iPhone or heart notifications on Apple Watch. I found it genuinely moving, though I am a sucker for this sort of thing.
Then, Tim Cook welcomed us to Apple Park, promising two big announcements for Apple Watch and iPhone, lining up with all the big rumours prior to the event. Then, he decided to talk about Mac, weirdly enough, though it was just a brief update about what the company has released over the last year, as well as a reminder of Apple Vision Pro, set for a US launch next year.
Apple Watch Series 9
After the brief reminder of what Apple has already announced, Tim Cook started to sing the praises of Apple Watch. We flew across Apple Park to a pier someplace to hear Jeff Williams kick off the first actual news. He introduced the Apple Watch Series 9, which, unsurprisingly, looks incredibly similar to Apple Watch Series 8, though there are some unique new features.
The Apple Watch Series 9 has a brand new chip inside, as broken down by Deidre Caldbeck. The S9 chip boosts the watch's performance, with 5.6 billion transistors on the CPU and a 30% boost to the GPU. There's a 2x boost in the neural engine, plus an improvement in Siri requests, as they're processed on device. This could be a big boon, stopping slowdown from bad internet, as well as offering better dictation.
Siri requests look to make a big improvement, as you can now log health data as well as request it, though this feature is said to be 'available later' or something like that, which almost definitely means it won't be available at launch. Oh, and if you lose your iPhone, your watch can now direct you, just like the FindMy app can if you're hunting for your AirPods. Apple Watch now also knows when you're near your HomePod, launching Now Playing to control the pod if you're nearby, or choose something to play in the smartstack if it's all silent.
The screen sees big improvements, going up to 2000 nits and all the way down to one nit, making it better outside or in a cinema. Then, we got big news from Jeff or the main new feature. Namely, a brand new gesture, using just your watch hand.
This is double tap: all you do is tap your index finger and thumb together twice, and then you can answer a call, end a call, or use it for the primary button in any app. It uses the accelerometer, gyroscope, and optical sensor to detect "the unique signature of tiny movements and changes in blood flow", apparently, and looks genuinely neat. Still, we have to wait to get our hands on it to see how responsive it is.
The Series 9 comes in a brand new pink colour, as well as the original ones we've known, and will be available next week. It's also Apple's first carbon neutral product, with lots of changes made as well as some carbon credits to offset. The biggest green news, perhaps, is that there is no more leather in Apple products from today.
Apple Watch Ultra 2
Next up is Apple Watch Ultra 2, with a new iteration of the high-cost and feature-packed device. This version, as expected, gets the new S9 chip to improve on-device features, though it's also now lighter and more rugged.
Daniela Deschamps was on hand to cover everything for us. Beyond the new features from the Apple Watch Series 9, all of which the Ultra 2 gets, there are some new features. The display goes all the way up to 3000 nits, the brightest display Apple has ever made. Plus there's an expanded altitude range.
Beyond that, there aren't any massively notable features, surprisingly, beyond what watchOS 10 offers. The battery life stays the same, which is good, while the Ultra 2 gets more recycled materials to make the product carbon neutral, assuming it's combined with a trail or alpine loop. That's all there is for watches, however, beyond the Watch SE also now being carbon neutral.
iPhone 15 and 15 Plus
After some slightly lacklustre watch announcements, Apple finally rannounced the iPhone 15 and 15 Plus, now with the Dynamic Island that launched on last year's Pro models. Exciting stuff.
Kaiann Drance then explained everything we want to know. The Dynamic Island means this is the first time the whole iPhone lineup has an edge-to-edge screen, which is big news. We got a recap of Dynamic Island features, which isn't massively exciting, but the display is improved, which seems fun.
The borders are thinner on the OLED, brightness kicks up to 2000 nits (twice the brightness versus last year), while the back has a slightly contoured edge. Oh, and the glass on the back is frosted, while the camera bump is also coloured to match the phone. Impressive.
The camera is "entirely new" apparently. There's a 48MP main camera, as rumoured, with a 26mm focal length and f/1.6 aperture. Machine learning now allows portrait mode to automatically switch on, whether a photo of a dog, cat, or just a plain ol' human. There's focus and depth control too, letting you change the subject in focus even after you take the photo, which is cool.
There's also improved connectivity, with better near-field communication features, as well as machine learning to improve phone call quality. Apple also introduced a new roadside assistance via satellite feature, which lets you get help without saying it's a full-on emergency. However, it's only available in the USA. All sat services are free for two years with iPhone 15, though roadside stuff looks like it requires a subscription.
And here is the big one – USB-C. As we all expected, Apple has made the big switch, bringing USB-C to the new AirPods Pro, EarPods, and iPhone 15. The prices stay the same, and iPhone 15 and iPhone 15 Plus are up for pre-order from Friday.
iPhone 15 Pro and Pro Max
Here we go, the big one. The iPhone 15 Pro and Pro Max now have titanium bodies, alongside what looks like the rumoured Action Button from the opening video, though we'll get to that.
The screen now has the thinnest borders ever on an iPhone, improved strength in the titanium and the glass, with what Apple calls the toughest glass in the industry. The titanium comes with weight loss, too, as well as blue, black, and white colours, alongside the natural titanium finish.
And, as we expected, the Action Button is here. It's just a button now, no longer a mute switch. It has haptic feedback integrated, and you're able to switch between a set of actions — in classic Apple fashion, you can't do absolutely everything without using Shortcuts.
The display doesn't seem massively different beyond the smaller bezels, with nothing pointed out by Apple in the announcement beyond what the iPhone 14 Pro already offers. What is different, however, is the A17 Pro.
As rumoured, the A17 Pro now uses a 3nm process, improving the chip across the board, though bringing what Apple calls a "breakthrough" improvement in the GPU. There's the usual Apple gubbins about the different abilities, 10% bumps in CPU, and double the neural engine performance. Plus, there's a USB-3 controller bringing big speed increases.
The big thing is the GPU, which Apple says is the "biggest redesign in the history of GPUs" for the company. The new GPU now has six cores, has 20% faster peak performance, and improves energy efficiency, with features like mesh shading to reduce power drain. Oh, and there's hardware-accelerated ray tracing available on iPhone now. Nice. Gaming is improved with Metal FX upscaling, too. Big day for gamers.
Apple doubled down on this, showing a presentation from Ubisoft about The Division Resurgence, Hoyoverse on Honkai Star Rail and Genshin Impact, and Capcom bringing one of the biggest announcements for gamers.
Believe it or not, Resident Evil Village and the new RE4 Remake can now be played on iPhone. Making it even crazier, is that an unreleased current-gen game is coming to iPhone: Assassin's Creed Mirage. We'll cover all that news as we get our hands on it, of course.
Then, we went to the cameras. The 15 Pro still features a 48MP main camera, which now defaults to 24MPs. It can take photos at 24, 28, and 35mm focal lengths too, which is very impressive. The same focus and depth control from iPhone 15 are on the way, too.
The biggest change is the new 5x optical zoom with 120mm focal length, though this is only available on the iPhone 15 Pro Max, as rumoured. It offers one of the biggest improvements to iPhone's camera setup in a while, at least by the looks of it, as well as a sensor that can shift around and adjust 10,000 times per second.
iPhone 15 Pro also comes with USB-C, which Apple explained offers massively fast transfer speeds for any creators who work with large files. You can link it to a Mac via a cable to save photos or videos directly to a Mac or storage drive, meaning proper pros can create a proper workflow.
iPhone 15 Pro can now also record spatial video, giving shots depth by using two cameras in tandem. This is all about viewing it in Apple Vision Pro, of course, so not that useful until that device launches. The iPhone 15 Pro stays at the same price, while the Pro Max starts at a higher price, though it also has double the storage, so it matches last years's model.
All of the new iPhones are available to pre-order from Friday, and they launch on September 22.
That's everything you need to know about the Apple Wonderlust event for now. For our takes on the massive Apple ecosystem, check out our guides to the best iPhone keyboards, the best earbuds for iPhone, the best iPhone charging cables, and the best stylus for iPad and iPhones.