Are you a fan of Black Desert Mobile? If the answer is yes, you are in luck as Pearl Abyss has laid out its 2021 roadmap for the MMORPG. And we can confirm that you are in for a treat – there is much to look forward to as this year goes on.
To start with, you can look forward to a new player class, the Corsair. She is a swordsman, who has spent a fair amount of time out at sea. As such, she has an oceanic power that can lead her to victory. At the end of the day, she is a pirate, and that means she is unpredictable in combat, yet has a certain flair about her. Oh, and since the pirate life is for her, she can swim faster and remain underwater for longer periods. The Corsair's choice of weapon is an extendable sword known as Serenaca, and good news mateys, the class is available across all platforms from June 29th.
Naturally, the Corsair is not the only new class on its way. Further down the line, you'll also meet Lahn, who is known for elegance and poise, fending off her foes with a noble sword.
Next, donning a pair of ancient battle gloves is the mystic – she would suit anyone that has a brawler playstyle. Finally, the Solaris class will eventually land in Black Desert, bringing a Jordun with her.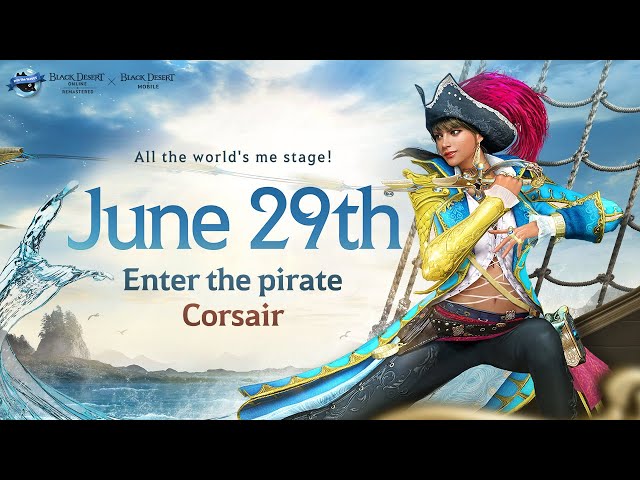 Of course, it is not just the classes that you have to look forward to, a new multi-channel boss, Muraka, the King of Ogres is on the way, as is a new expansion dubbed Great Ocean. It will enable you to create ships, and sail the open seas.
You will also get to explore new regions, South and East Valencia, which includes new monsters and features.
If you happen to enjoy Black Desert Mobile, or are thinking of having a go, you should check out our Black Desert Mobile guide for some tips and tricks. Alternatively, you could check out our best mobile MMORPGs list to find a new adventure.