Bloodline Last Royal Vampire is finally here, and brings with it a huge host of awesome characters to fight alongside you. But which ones should you pick to join your ranks? In our Bloodline Last Royal Vampire tier list, we intend to help you choose only the strongest fighters to evolve, upgrade, and train. We also show you how to do a Bloodline Last Royal Vampire reroll if you start the game off on the wrong foot. However, keep in mind that tier lists are intended as a guideline only – if your favourite character falls into our D-rank, that doesn't mean you can't use them to kick some serious butt.
If you want to know more about Bloodline Last Royal Vampire and Crunchyroll Games' other upcoming projects, check out our recent interview with Crunchyroll Games General Manager Terry Li. We also have a list of the best My Hero Academia games for more anime-themed fun.
Bloodline Last Royal Vampire tier list
As the game is still very new and features over 400 heroes already, we're currently working on a tier list. We'll be sure to update this section as soon as we've worked out where all the heroes rank. However, we do know that SS Eren from the Attack on Titan crossover event is considered one of the strongest units in the game at the moment.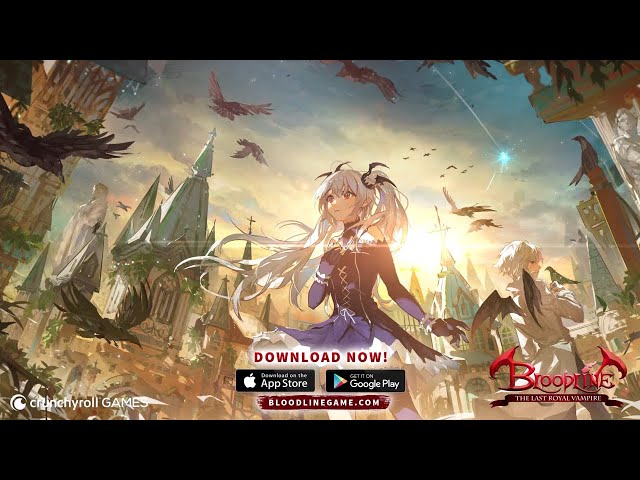 How do I perform a Bloodline Last Royal Vampire reroll?
If you don't get the characters you want the first time around, you can perform a Bloodline Last Royal Vampire reroll by following these steps.
Launch the game and log in with a guest account
Progress through the tutorial stages, including a tutorial summon and one more stage in adventure mode in order to access all menus
Snap up the tutorial rewards by tapping the quest button at the bottom of the screen and heading to the limit quest tab
Head to the summon menu and exchange any diamonds you've gathered so far for Obsidian Letters
Choose a banner and use your summons to pull characters
If you get the characters you want, you can link your account and keep playing. If not, exit the app and either clear the game data through the app settings or uninstall and reinstall the game. After that, launch the game and log in through a new guest account, and repeat the steps above until you get the characters you want.
Bloodline Last Royal Vampire characters
Though there are many Bloodline Last Royal Vampire characters, the following are some of the most prominent to the narrative, as seen on the official Bloodline Game website.
Lilo
As the daughter of the Bloodline Elder Last, Lilo is the last Bloodline Knight. She's unable to use spells, but has managed to master many different weapons thanks to Last's teachings.
Ren
A bit of an outcast, Ren is an ordinary high school student who was often bullied by his classmates due to his obsession with fantasy novels and his dreams of becoming a vampire hunter. His life was turned upside down when he accidentally became Lilo's blood servant.
Leah
Leah is Ren's older sister who died when she was a child. In the afterlife, she was overcome with such intense grief that it awoke her from eternal slumber, leading her to turn into a banshee. She retains her mortal memories, and, as such, has stayed by Ren's side ever since.
Sean
A good friend of Ren, Sean barged onto the War Maiden's airship in order to avenge him. He has since become Pumpkin's disciple, working hard to become a saint in order to eliminate heretics.
Last
Lilo's father, Last, is a powerful mage and the only remaining elder of the Bloodline. The Holy Land considers him to be the number one heretic and an enemy to the human race. However, he spends most of his time in his own dimension, rarely visiting the realm of humans.
Lydia
Lydia is a cleaner aboard the War Maiden's warship, responsible for keeping it spick and span and burning its trash. She uses her job as an opportunity to satisfy her love for collecting all sorts of strange items.
Aside from the above characters, we know that Denji, Power, and Hayakama Aki have joined the roster through the current Chainsaw Man x Bloodline Last Royal Vampire crossover.
That's it for our Bloodline Last Royal Vampire tier list and reroll guide for now. We'll be sure to update this guide when we find out more about the characters, or if any fresh heroes are added. In the meantime, head over to our list of the best anime games for even more exciting adventures.