For all of you Call of Duty: Mobile fans out there it is time to dive back in – quite literally. Season five is upon us and it is named 'In Deep Water', which should give you a pretty good idea of what to expect. You have long fought on land, but now, it is time to ride those waves, wreak havoc, and frankly, show why you should be the most feared fish out of water.
Of course, as with any Call of Duty season, you can expect to find a battle pass filled to the brim with goodies. As always, there will be free tiers, so there are rewards for everyone – these primarily include new weapons. However, if you are going to take this deep dive seriously, there are many new items up for grabs in the premium battle pass. You can even get Merrick, and Rorke, from Call of Duty: Ghosts.
What would a new season of Call of Duty: Mobile be without maps? Old news, that's what. So, you can expect to see some new multiplayer maps that, unsurprisingly, revolve around water. Here is your chance to get creative, become death incarnate, and make the water run red.
You know what we here at Pocket Tactics really like? New events, and this update doesn't disappoint. The aptly-titled 'Sea of Steel' challenges you to complete daily tasks, and capture territories with either the Ghosts or Federation factions. Now get out there and cause more mayhem than Blackbeard could ever dream off.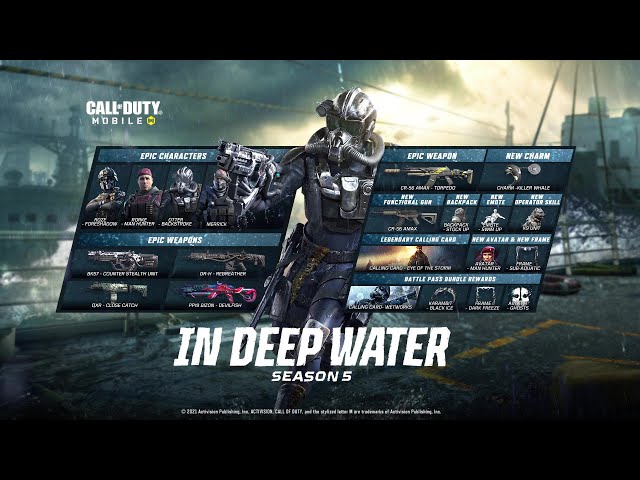 If you can't wait to dive in, good news – Call of Duty: Mobile In Deep Water launches today.
If you're new to the mobile shooter, or simply wish to shake things up, head on over to our Call of Duty: Mobile tips guide to get one over on the enemy. Or perhaps you're after something a little different, in which case, we suggest taking a peek at our list of the best mobile multiplayer games to see what else is out there.