King is holding a crossover event with Space Jam: A new Legacy between Jul 6 and July 19 in its match-three puzzler Candy Crush Saga, coinciding with the comedy film's cinematic release. The Space Jam: Tune Squad Takeover event features Lola Bunny, Daffy Duck, Bugs Bunny, and NBA superstar LeBron James. For rescuing the Looney Tunes, you get exclusive rewards, such as in-game boosters, and film content from Space Jam: A New Legacy.
The movie features basketball legend Lebron James, who teams up with the Tune Squad to save his son Dom, after the pair of them find themselves in the Warner 3000 entertainment server-verse. Hilarity ensues as James, Bugs Bunny, Daffy Duck, Lola Bunny, and other members of the Looney Tunes, team up to defeat virtual avatars of professional basketball players.
Oh, and if you're more into Candy Crush Soda Saga, there are goodies for you too. King's 2014 match-three puzzler hosts the Looney Tunes between July 8 and July 29, so collect those basketballs, and get your rewards.
"We're excited to combine forces with Warner Bros. to create a great new experience for fans," Jennifer Sharp, senior director of mobile partnerships at Activision Blizzard King, says. "In addition to providing a deep in-game experience in Candy Crush Saga, we are leveraging the power of the King network, and extending Tune Squad and Space Jam: A New Legacy IP into Candy Crush Soda Saga."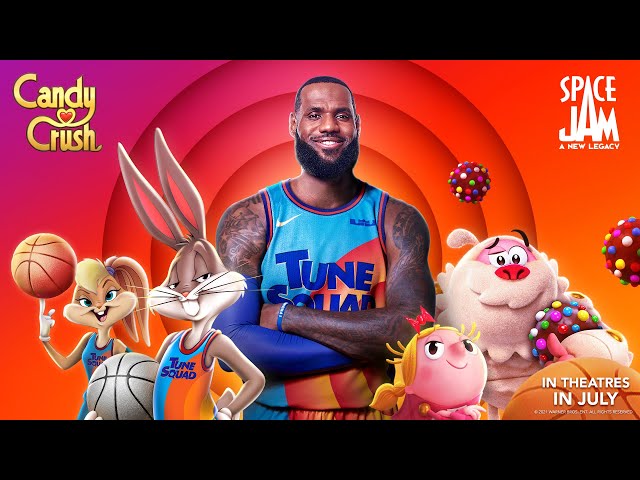 If you enjoy Candy Crush, it would be fair to assume that you like puzzle games. So, why not head over to our guide on the best mobile puzzle games, and see if you can rise to the occasion. Or, if your brain needs a rest, why not check out our list of the best location-based games on mobile – go and breathe some fresh air, just watch where you are going.