Can you make the purrfect catpuccino? If so, Cat Cafe Manager might be up your street. This management simulation game puts you in charge of your own cat cafe as you juggle making meowchas, feeding the felines, and, well, cleaning up cat pee. That last bit doesn't sound so glamorous, but don't let it put you off, this lovely looking title is sure you keep you up and engaged like a caffeinated kitten.
Having inherited the cat cafe from your grandma, it's your job as the proprietor of Caterwaul Village's coffee house to return the institution to its former glory. You take in new cat custodians, as well as new wait staff from the village, to breathe new life into granny's old cafe. It's a tough job, what with all the belly-rubs, but someone has to do it.
You can certainly see the influence of games like Stardew Valley and Cattails in Cat Cafe Manager, but it manages to do its own thing to set it apart from the crowd. Just don't let the cartoon kittens fool you, this is a management sim with real depth, countless customisation options, and an overflowing pantry full of recipes. If all this sounds right up your street, keep reading for a Cat Cafe Manager release date.
When is the Cat Cafe Manager release date?
Cat Cafe Manager releases for Switch on April 14. That means it's just a couple of months until you can get to belly-scratching and latte foam artistry in Roost Games' charming management sim. We can't wait to make Caterwaul Village, and the cat cafe, our new home away from home.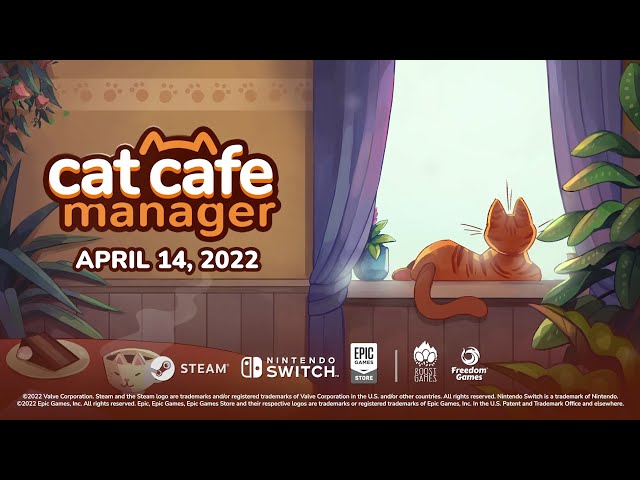 If you're looking for more feline fun, be sure to check out our list of the best games like Diablo, which includes Cat Quest 2, a very different kind of four-legged adventure. Or, if you're looking to tune up your management skills before the Cat Cafe Manager release date, see our guide to the best Tycoon games on Switch and mobile.