In the year 2023, everybody wants a franchise. The Mario movie is going gangbusters in cinemas, plush Freddy's sit on the shelves of countless toy stores, and Riot continues to expand the reach of its primo series, League of Legends. So, now we have Convergence: A League of Legends Story, from Riot and developer Double Stallion Games, the latest solo instalment in the ongoing series of one-shot titles set in the world of LoL.
Convergence: A League of Legends Story tells the tale of Ekko, a time-manipulator from the city of steel and glass, Zaun. This is essentially Ekko's origin story, explaining how he came to grasp his powers in the face of a great conflict. There's no long prologue, though, you jump straight into battle with Ekko, quickly mastering his Zero Drive ability to bend time to your will.
Zaun itself, and the surrounding areas, is something of a visual delight, with the slums of the League of Legends universe on show for us all to see. Take the market of Agrabah from Disney's Aladdin and cross it with Blade Runner and that's essentially what you've got on your hands here. Each part of the world has a neon hue, making it feel a bit more real. As we'll get into later, adventuring through Zaun isn't always seamless, but looking at it certainly makes you feel a lot better.
Taking on enemies is where Convergence is at its best, with sections that force you to fight in small almost beat-'em-up style sections before you can continue on with platforming and parkouring across the map. Thanks to combo moves, your time-turning ability, and a clear counter window in enemy attacks, taking on hordes of opponents can be a lot of fun and never feels too easy, with even the mild-medium difficulty frequently testing you with barrages of combatants.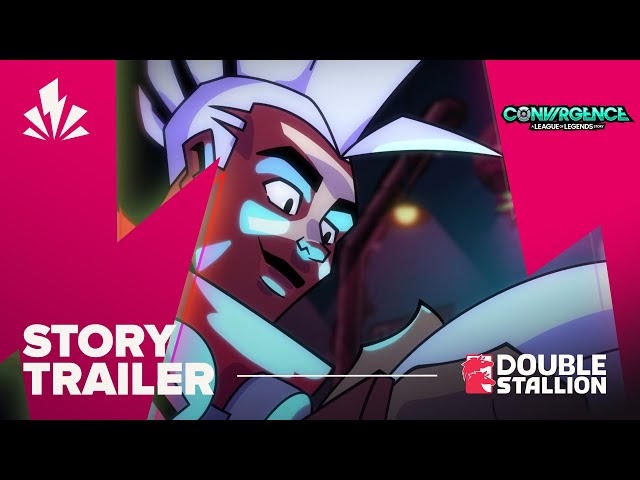 The one problem with the endless hordes of enemies is that they do get quite samey. Shield dudes, poison-people, and smoke bombers all seem to endlessly arrive, especially in the early section of the game, leading to some serious combat deja vu. It does begin to take away from some of the fun of battles when you can plan to take on the same foe again and again, but there's a slow trickle of enemy variety.
As far as gimmicks go, the big deal in Convergence is your ability to mess with time. Fallen off a ledge? Rewind time. Smashed in the face by an enemy? Rewind time. You get the idea. It's not the most original idea, but it does work well in Convergence, making the occasionally overwhelming battles feel less one-sided and offering you a way of escaping attacks you can't counter. The Zero Drive counter feels fair, too, limiting your time travel ability to eight or fewer charges, so you need to keep an eye on how many you're using during a boss fight.
On the subject of boss fights, this is where Convergence could stand to learn a little more from other Metroidvania-type titles. They just feel a little dull, especially early on in the game, with nothing to make you feel as if you've stepped into a boss fight outside of the health counter in the bottom right corner. Sure, as you expect, things dial up as you delve further into Zaun, but the scale of Convergence never feels quite as epic as something like Hollow Knight or Rogue Legacy.
As someone with only a passing knowledge of the League of Legends series, I can confidently say you don't need to know much at all to jump right into Convergence. The lore is there if you want it, with Ekko bumping into friendly faces as he zips through Zaun. Still, if you're a League of Legends fan, it does seem there's plenty to engage with here, from fully-voiced characters to allusions to other heroes from Riot's MOBA, full of easter eggs for the discerning series know-it-all.
Convergence's platforming is hit-and-miss, and potentially a little ambitious for the game's 2D perspective. Running and jumping is fine, but zip-lining can be a bit tricky, while pole-spinning to propel yourself is downright finicky, with it all too easy to misclick and send yourself careening towards death. Sure, you can reverse time and bring yourself back up to the precipice, but it still gets pretty annoying very quickly. Again, like the boss fights, sometimes you just want that sense of scale to arrive, but it hasn't for me so far. It's a tight adventure with little room for getting lost, but that does take away some of the spectacle.
In a sense, Convergence sort of feels like a greatest-hits compilation of Metroidvania mechanics. From the exploration to the battle mechanics, we've seen it before, but we love it, so we're happy to see it again. The problem is, a greatest hits record never quite matches up to the majesty of a perfect album, and the same rings true in Convergence. It's a fun game with some of the best ideas the genre has to offer, it just lacks that originality, hindering it from becoming something special.
All-in-all, Convergence: A League of Legends Story is a solid Metroidvania that takes ideas from across the genre and combines them for an experience any fan of the genre is sure to enjoy. However, this mixing pot of mechanics can occasionally feel like it's lacking something fresh, with little to offer the genre in return for all of its lending. Either way, Convergence is another solid entry to the League of Legends spin-off series, and we're excited for more standalone adventures in Riot's ever-expanding universe.
For more of our thoughts on the latest titles, check out our Zelda: Tears of the Kingdom review, Strayed Lights review, and Honkai Star Rail review. For those journeying on the Astral Express, see our Honkai Star Rail tier list and Honkai Star Rail codes.
Convergence: A League of Legends Story Switch review
While full of classic Metroidvania mechanics and stunning visuals, Convergence lacks a certain originality to make it to the higher echelons. Still, the combat is tight, and the story is forthcoming with fully-voiced lines, making it an engaging experience for anyone looking to learn more about the world of League of Legends.