It's a great time to be a DC fan. Last week, Warner Bros Interactive Entertainment announced a new collectable card game dubbed DC Dual force, releasing in Q3 2022. Now, a second mobile game based on the grisly comic franchise is on the way. DC Heroes & Villains is the first match-three RPG puzzler set in the DC universe, and it's slated for an early 2022 release. If you're a keen hero or villain, DC Heroes & Villains pre-registrations are already open.
We might not know the DC Heroes & Villains release date just yet, but we do know that Ludia, a studio owned by Jam City, is behind the upcoming title. It promises an original narrative that includes many fan-favourite DC characters, including heroes such as Wonder Woman, Superman, and Batman, as well as villains like the Joker and Harley Quinn. Naturally, it's not just familiar characters making an appearance. You can look forward to taking to the streets of Gotham, the depths of Atlantis, and other iconic locations.
As for gameplay, you can expect standard match-three puzzles and battles, these can be done solo or as part of a team to defeat bosses and claim epic loot. Moreover, Ludia promises plenty of live events for competitive PVP action and the opportunity for players worldwide to form guilds for cooperative play.
"We are exceptionally proud to announce our newest title, DC Heroes & Villains," Ludia CEO Alex Thabet says. "This game showcases the best of Ludia, with engaging gameplay and innovative technologies that are the hallmark of our award-winning games. We believe this will give DC fans a completely new perspective of the characters, environments and lore they love."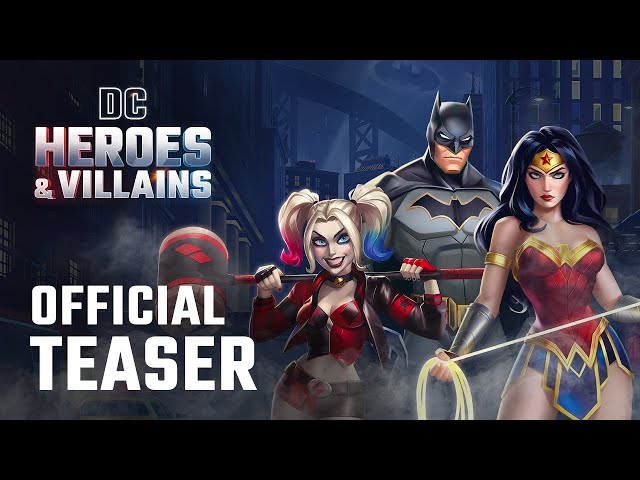 DC Heroes & Villains release date speculation
We don't know an exact release date yet, but Ludia gave a launch window of early 2022 back in October of last year, and given we are midway through May, it might not be too much of a wait.
DC Heroes & Villains pre-registration
If you're ready and waiting, head over to the DC Heroes & Villains website to pre-register – there are special bonus items up for grabs if you sign up.
Since you're here, why not check out our picks for the best mobile puzzle games to get some practice in before the DC Heroes & Villains release date.