I have wildly fond memories of Dead Cells' release on Switch. The game originally released a day after my birthday, and I was about to go to Croatia for a week, so believe me when I tell you that I fell hard for the title's addictive roguelike gameplay and creepy aesthetic. With brutal but methodical action and plenty of things to unlock, it still feels like I could play Dead Cells forever.
Well, it seems developer Motion Twin wants fans to play Dead Cells forever as well, as the studio continues to bring constant updates and additions to the title, expanding and improving on it in every conceivable way. The latest addition is the biggest and boldest by a country mile, as Motion Twin teams up with Konami to produce a spooky and spectacular DLC that brings one of Dead Cells' biggest influences into the existing world.
So, after so many years, can Dead Cells still excite us, and just how much does this new DLC bring to the table? Grab your whips and your garlic, as we explore in our Dead Cells: Return to Castlevania DLC review why this latest addition takes an already incredible game further into the stratosphere.
If you don't already know, Dead Cells is a roguelike action game where you make your way through several different procedurally generated labyrinths based on locations such as dungeons, castles, laboratories, and other classic genre settings. The game offers a random selection of weapons at the beginning, and as you progress, you find new gear to improve your arsenal, new blueprints for weapons and armour, and the titular cells you use for those blueprints.
What this Return to Castlevania DLC adds to the equation is two new biomes to explore based on the iconic series, a slew of new weapons, mutations, and armour, alongside a bevvy of classic Castlevania tracks to enjoy. The new areas are the Castle Outskirts and Dracula's Castle itself, both lovingly and painstakingly recreated based on various Castlevania iterations.
These locations look fantastic, recreating the gothic architecture of Castlevania perfectly, bringing them lovingly into the trademark Dead Cells chunky pixelated style. Featuring bright colours and energy, these two biomes are immediately some of the best in the game. Better still, they also have plenty of fun secrets ready for eager fans to discover. Not to mention, Motion Twin stacks the new biomes full of classic Castlevania enemies, such as skeletons, lion heads, and walking suits of armour. Each looks and plays exactly how you'd expect, but with additional brutality and tenacity that still feels perfectly at home within Dead Cells' world.
If you've already played Dead Cells, finding the DLC is simple, as Alucard appears in the opening biome beckoning you into the depths of the castle. Richter Belmont also makes an appearance alongside Death, Dracula, and a few other fun secrets I don't want to spoil. Just make sure you thoroughly explore these levels, as the DLC rewards you for your curiosity.
Speaking of those additions, Death and Dracula appear as boss fights (as well as one additional secret boss), and all offer a steep and stimulating challenge. Dracula is especially tough, but his boss fight is tense and exhilarating thanks to a few fun surprises and nods to the series' past. The DLC as a whole is definitely on the hard end of the Dead Cells spectrum, so while it's perfect for veterans, it might intimidate Castlevania fans that just want to jump in to play the DLC.
This is one of my only criticisms of the DLC, as while it's clearly going to bring in a lot of new fans, the difficulty could likely put off a lot of first-time players, as well as the many steps needed to find and unlock everything this additional content has to offer. I had a great time finding and exploring every single bit of this DLC, but I've been playing the title since day one, so I can't really comment on how it would feel as a newcomer.
Luckily there's still a wealth of unlockable content to entertain you from the very beginning, with iconic weapons like crosses, whips, holy water, bats, and many other fun new additions that bring a lot of variety to a title already stuffed full of options. There are also 20 outfits based on Castlevania characters, such as Richter and Alucard to unlock, all of which are great translations of the series' classic pixelated sprites into the Dead Cells style.
Speaking of additions, one area that's positively overflowing is the huge library of iconic Castlevania tracks included here. With 51 tracks pulled from the franchise and Motion Twin remixing twelve of those into exciting new renditions. Like everything else in this DLC, these remixes manage to strike a great balance between new and old, bringing tracks like Vampire Killer and Bloody Tears back to life with incredible intensity, as if they've given a vampire a blood-red Red Bull.
It seems like Symphony of the Night is the biggest influence overall on this DLC, but several other fun nods to the series are sprinkled throughout. There's a loose story stringing it all together, but it's mostly set dressing for the action, and that's absolutely fine. If you do poke around into the many crevices and corners, you uncover some other characters and surprises, including a Richter mode that lets you play as the burly Belmont, unlocking a new weapon and outfit in the process.
It's genuinely hard to think of anything else I would change about the Dead Cells: Return to Castlevania DLC. Motion Twin is often open about Dead Cells' strong Castlevania influence, so to see the series brought into the fold with such reverence, care, and attention to detail, feels like a dream come true for both the developers and the fans. Castlevania fits into the Dead Cells mould like a glove, and even has me dreaming of a true Castlevania roguelike.
Stacked full of iconic weapons to unlock, classic characters to find, and secrets galore, the Dead Cells: Return to Castlevania DLC is a perfect addition to the already amazing title. The nods and winks might mean little to anyone who doesn't care about Castlevania, but Motion Twin and Konami are thoroughly spoiling fans of the series here. Plus, the additional weapons and bosses are all a joy to experience and they constantly put a huge grin on this Castlevania fan's face.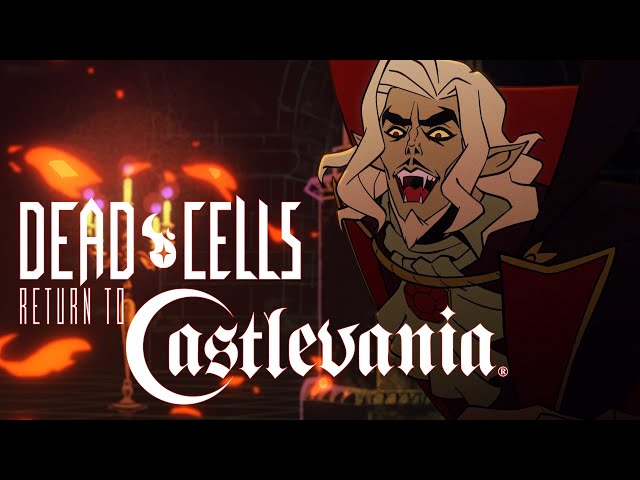 If all this vampire-slaying has got you in the mood for more gaming, be sure to check out our guides to the best Switch Metroidvanias, the best roguelike games, and the best vampire games next.
Dead Cells: Return to Castlevania DLC review
A loving addition that pays homage to a beloved franchise while injecting new blood into the existing game, the Dead Cells: Return to Castlevania DLC is a shining example of how developers should approach additional content. With heaps of weapons, outfits, and nostalgic surprises to find: there's a huge amount of bang for your buck, and Castlevania fans couldn't possibly ask for a more exciting or fun way to bring the series into the fold.