ZA/UM studio surprised us with the announcement of a new mode coming to Disco Elysium: Collage Mode. Did we see this coming? No, but we're very happy with it, and it's coming free to all players very soon.
The free update can alleviate some of the heavy moods across Martinaise as you flex your creativity using characters and scenes to make your own stories. It also gives you the chance to get up close and personal with the beautiful artwork from Disco Elysium and appreciate each stroke too.
Collage Mode has all the main characters to choose from, where you can pose them how you want and put them in a few key environments from the game. You can make some custom dialogue and text options, so you really get into it, and create the scenes you really wanted to see in the game. Remember playing with dolls and action figures as a kid? Now we can do it again in Disco Elysium!
There are a few key features in Collage Mode, such as filters to change up the mood including weather and time of day effects. Props are available too – so you can make a fun little murder mystery between Kim and Kuno and then slap some stickers over the top for extra sparkle. Let's not forget about the available poses, like a classic Saturday Night Fever stance.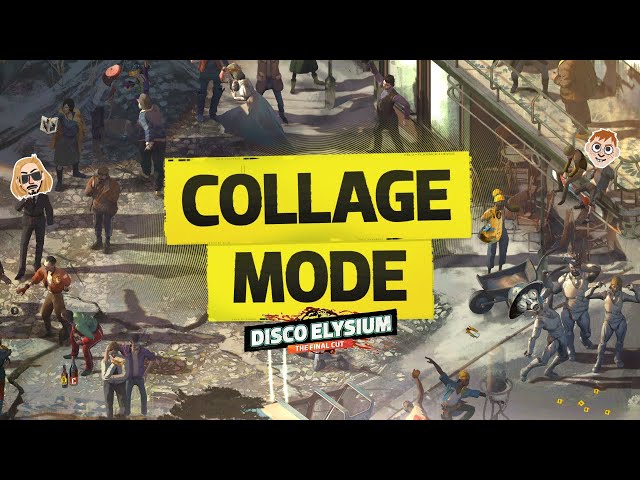 That's not all, though – there are also some new scenes added in with fresh narration, along with brand new art for the collage making. The update comes free to all copies of Disco Elysium, with it being available now for PC and coming to Nintendo Switch in the next few days.
Chris Priestman, Collage Mode Lead, tells us that the new mode is "a completely new way to explore the world of Disco Elysium as it's simultaneously a doll house, a blank canvas, and a storytelling machine". He also goes on to urge us to "please go easy on Kim Kitsuragi"…
Looking for some more additions to games? Check out these Street Fighter Duel codes, find out who FNAF Freddy is, and investigate what's going on with Poppy Playtime's Boogie Bot.