Recently, you might have heard that the big gimmick in Fortnite, the building mechanic, has been mysteriously missing from the game. While building is back, as of writing, there's a new no building mode for those who enjoyed escaping the trappings of resource collecting, tall towers, and real fake doors.
The new Fortnite Zero Build mode might not be everyone's cup of tea, but it does add a bit of variation to a game that is looking down the barrel of its fifth anniversary. Just because there's no construction chaos in the new format, though, it doesn't make Fortnite any less frenetic fun. However, it does mean you'll have to use your environment to your advantage more than you might have before.
With the Zero Build format, there's more emphasis on taking control of specific areas and keeping them to yourself, or just for your team, as well as finding potent firepower like the tanks scattered throughout the world map. This means that areas like Tilted Towers are going to be even more populated than ever, so keep your wits about you with every corner and hallway.
There are a couple of other extra mechanics tweaked to suit the new game mode, too. As you can no longer frantically build to try and protect yourself, each player has a recharging overshield that will offer the first line of defence. With this, you and your opponents have more health from the off, so a well-placed sniper bullet has never been so pivotal to getting you into the final few.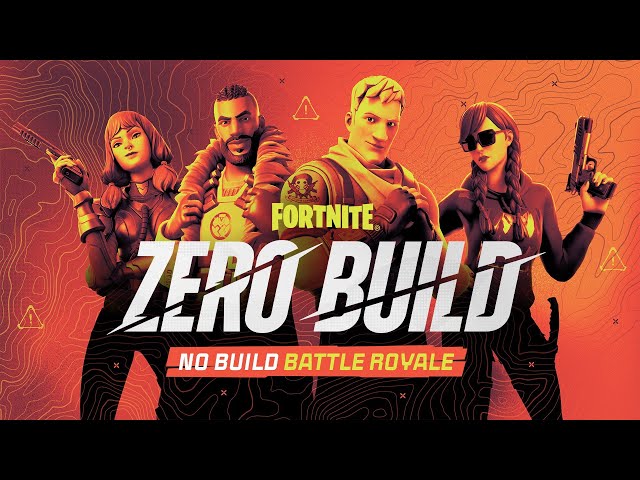 How to Play Fornite Zero Build mode
With its fresh new game format out of the starting blocks, Epic Games has shared how to access the new game mode on its official site, as well as a little more information.
"Zero Build is a pure test of weapon, item, and traversal ability. Zero Build can be found in the Discover page as Solo, Duos, Trios, and Squads playlists. (Access the Discover page by clicking on the "CHANGE" button above "PLAY!" in the Lobby.)"
So, all you need to do is make sure your game is updated to the latest version, jump online, and find the Zero Build menu using the method above. For more on Epic Games super-star battle royale, be sure to see our guides to Fornite patch notes, and Fortnite codes, or if you're looking for something just a little different, check out our picks for the best games like Fortnite on Switch and mobile.
While there are no signs of a zero battle mode on the horizon, those who play Fortnite just to build can keep themselves busy with a limited edition Fornite Jenga set, perfect for kicking back after a first-place finish falls apart.