Our Guardian Tales guide will help you get started with this new gacha RPG the right way. It's a decent companion to our Guardian Tales tier list, which will help you select the right heroes to aim for and evolve. Once you've made that difficult choice, we've got a bunch of tips and tricks in this guide to help you actually play the game.
We'll go through the basics, detailing how Guardian Tales works, before taking a look at some more specific features, like where to download it, how to get the APK and play on PC, and take a look at its online functionality. Following that, we'll go through some tips and tricks that helped us make a flying start.
If you fancy playing something similar to Guardian Tales, we recommend checking out our best mobile RPGs list. It features a wide variety of experiences, including massive open worlds, action-packed combat, and strategy. Also loot. Lots of loot. Basically, it's got everything the growing RPG fan needs, which may well be you. Now, let's take a look at our Guardian Tales guide.
Here's what's in our Guardian Tales guide:
What is Guardian Tales?
Guardian Tales is a brand new gacha RPG that draws an awful lot of inspiration from classics like Zelda or Secret of Mana. You play as a newbie knight who is thrown (quite literally) into a wide-open adventure to save the world, which involves swinging huge swords at a wide variety of monsters.
You'll summon new heroes to help you, evolve your favourites, and explore a bunch of different locations in this gorgeous new action RPG.
Guardian Tales download: how to get it on iOS and Android
You can grab Guardian Tales on iOS via the App Store and Android via Google Play.
Guardian Tales APK: How to bypass the Android app stores
If, for whatever reason, you'd rather not get Guardian Tales on Android via the official channels, you can grab the APK via our trusted source, APKPure.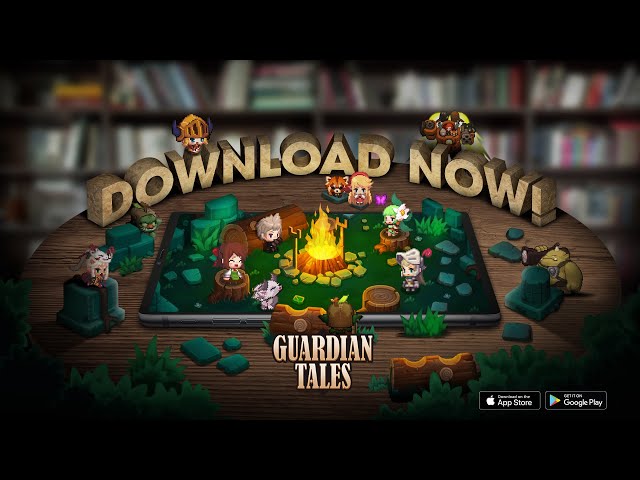 Guardian Tales trailer: check out how it plays
If you're not sure whether or not Guardian Tales is worth your time, we recommend checking out the trailer, which we've posted above.
Guardian Tales PC: How to play on the big screen
If you'd rather play Guardian Tales on PC, you're in luck! It's actually available on a variety of emulators, so take your pick:
Pssst: looking for more great games to play on PC? Check out our best Android games on PC guide
Guardian Tales online: Can I play with friends?
Like many a mobile game these days, Guardian Tales features plenty of ways to play with friends. We thought we'd round up the various different methods below:
PVP: put together your best three heroes and battle others in real-time with PvP, and climb the ranks if you're good enough
Guilds: you can team up with your friends and chill out in the guild house
So you're a socialite, huh?: find more games to play with friends in our best mobile multiplayer games list
Guardian Tales guide: Tips, tricks, and cheats
Now that you understand the basics, let's take a look at a few more specific tips, tricks, and cheats to help you master Guardian Tales:
Prepare for puzzles: you can't beat everything with your sword alone. If it's not clear how to progress, give your brain a workout instead and see if there are any useful items lying around that you can use to progress. Wood is flammable, for example
Dodge: this is particularly important when fighting bosses. These gigantic monsters will unleash massive attacks that are telegraphed with a big red line or circle. If you see this, use your dash ability to get out of there
Pick the best heroes for the task: while our Guardian Tales tier list can help you decide the best overall heroes, it's not the full picture. Sometimes you will need an elemental advantage to progress. If you're struggling, take a look at the enemy elements you may face during battle and swap to heroes with an element that's strong against them
Upgrade: if you're still struggling, it's time to upgrade. Equip your heroes with the best equipment, level them up, and upgrade everything to help give you every advantage during the battles ahead