League of Legends: Wild Rift may not be fully available across the world, but that's not stopping Riot from releasing new characters to keep the current players excited. The latest champion is Akali, the Rogue Assassin. Aside from having an awesome name, she is armed with her trusty kunai and deals melee-focused magic damage.
You'll mostly use Akali in the mid lane, to make the most of her damage capabilities. If you want to use her, however, you may have to wait – depending on where you live. As we cover in our League of Legends: Wild Rift guide, the mobile version of Riot Games' hugely popular MOBA is currently available in Indonesia, Japan, Malaysia, the Philippines, Singapore, South Korea, and Thailand.
However, these regions will expand, hopefully to EMEA, Oceania, Vietnam, and Taiwan by December 2020, and to the US next year. However, if you're in a region that is currently testing Wild Rift, then here's everything you need to know about Akali, League of Legends: Wild Rift's latest champion.
Akali is available now in countries where the League of Legends: Wild Rift beta testing is open. Here's her abilities in full, as a preview of what's in store for players in those regions:
Passive: Assassin's Mark – mark enemy, empower next attack
First skill: Five Point Strike – throw kunai and slow enemies
Second skill: Twilight Shroud – gain invisibility and move faster
Third skill: Shuriken Flip – flip backwards and throw shuriken, dash to marked target
Ultimate: Perfect Execution – dash through and damage enemy, dash again and execute enemies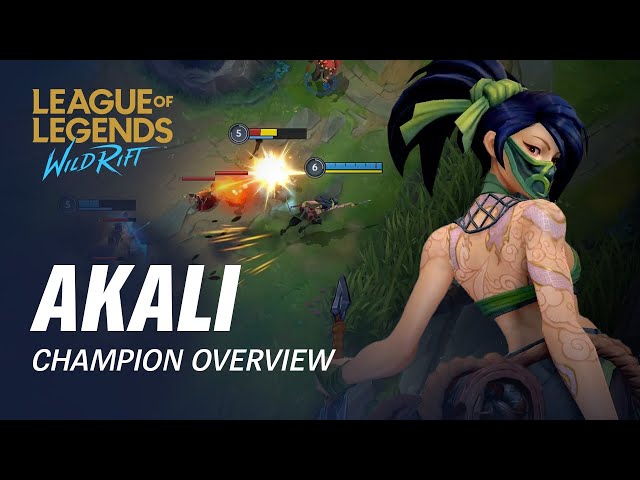 You can find a more detailed breakdown of Akali's abilities and a full rundown of every champion in our League of Legends: Wild Rift champions guide. Perhaps the rogue assassin could be calling your name – or maybe you want to find her perfect counter.