A fresh month means a new theme for Nintendo's mobile kart racer, and this May you can look forward to the Mario Kart Tour Bowser Tour. That's right, Mario's nemesis and King Koopa are taking the wheel for this event, with an iconic throwback course also making an appearance.
The Bowser Tour is set to take you back to the early days of Mario Kart, with both Bowser Castle 3 and Bowser Castle 4 debuting as new classic courses. While a sparkling visual update means you might not recognise every twist and turn of these tracks, your first fall into the lava is sure to bring all those memories racing back.
In a change from the usual Mario Kart Tour event protocol, there's no new character to try out this month, but there are four separate Mii suits to pick up. They fit the theme too, with the four costumes based on Bowser's minions Larry, Iggy, Roy, and Ludwig. Whichever one you're gunning for, you can jump into the Mario Kart Tour Bowser tour from May 2-16.
In terms of karts and gliders, there's a strangely out-of-season black and red version of the Jingle Bells kart to pick up, as well as the Dry Bones Dasher and Gold Pirate Sushi Racer, while the gliders on offer are the Gold Manta Glider and Roy Oilpaper Umbrella. For a sneak peek of what to expect, check out the trailer below.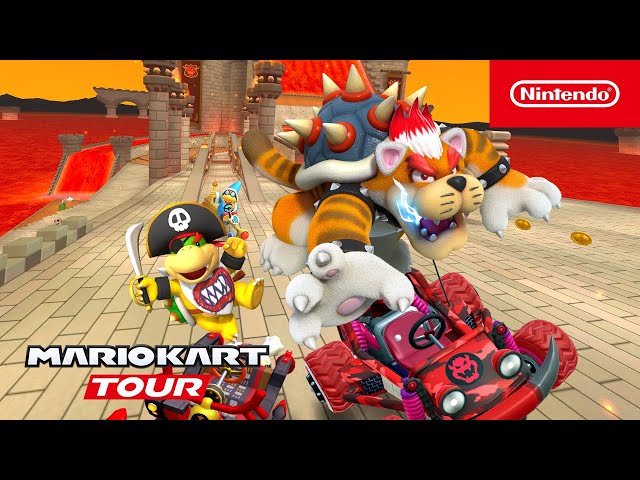 There you have it, all you need to know about the Mario Kart Tour Bowser Tour. For another engaging mobile title, check out our Honkai Star Rail review, Honkai Star Rail codes, and Honkai Star Rail tier list.