Great news for all you Mech Arena players out there as the latest update is here, and it brings a new feature with it, one that introduces 12 new characters for you to battle with. As with the existing robots, these people – known as pilots – come equipped with their own distinct set of skills.
The Mech Arena pilots feature allows you to pair one of the new characters with a mech. Each one can increase the stats associated with that robot, including weapon and ability traits. It's worth choosing your favourite pilots and flying with them, as the more you level them up, the greater their stat boosts are. However, if you're after more health, you need to increase their rank.
No matter what your playstyle is, there's a pilot for you. Want to shoot your foe from a distance? No problem. Want to invade their personal space and lay the smackdown? Go nuts. But wait, there's more. Every pilot can gain implant skills, which, in essence, increase weapon range, reload times, special abilities, and more. You can go to battle your way.
"The addition of pilots is the largest update in Mech Arena since its launch," explains Plarium chief product officer Haim Turpiashvil. "This new character element offers a collectable dynamic and enhances customised gameplay experiences. Pilots lay the groundwork for introducing more personality and story depth to Mech Arena, while also providing HP, DMG boosts, and improvements for the many weapons in the game."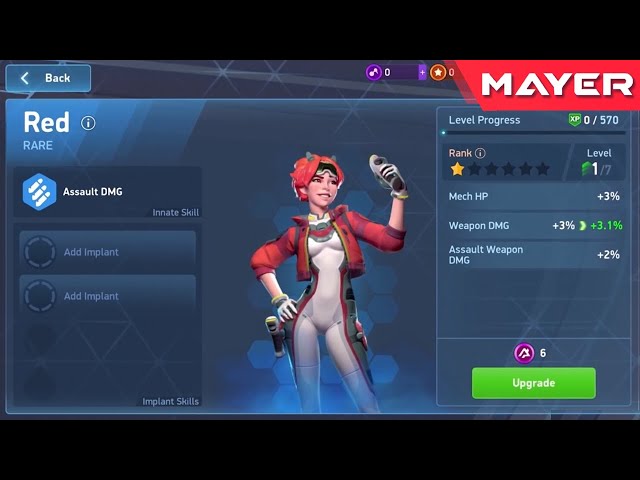 What Mech Arena pilots are available?
For now, there are 12 Mech Arena pilots available:
Rosa
Red
Spark
Yeti
Samson
Mako
Major
Nova
Jester
G-Lock
Fei
Crow
If you need a break from all these robot wars, you should look at our picks for the best iPhone games and best Android games to see what else is out there.