Motorola's ThinkPhone is looking like a quiet success. Taking the name from its parent company Lenovo's naming convention for its incredibly successful ThinkPad, Motorola is making a no-nonsense, secure, and business-focused handset for the average consumer and businesses alike. So why the heck are we talking about it?
Well, just like with any big tech company, B2B pushes can signal future developments in flagship products and vice versa. But also, Sudhir Chadaga, Chief Strategy Officer for Motorola, has more than enough insights on the interesting position the Motorola brand is in at the moment.
After a short presentation on this B2B push with ThinkPhone and its new DeX-esque desktop-in-your-pocket feature, I asked that obvious question. Does Chadaga see that as something that he would expect the average consumer to pick up? DeX is barely marketed by Samsung, mainly because it's B2B-focused.
"Everybody's a consumer, right?" Chadaga says. "I mean, I log off work, what am I doing? I'm using my phone for my personal use. So, we think these capabilities everybody will want and use. To be honest, you can accelerate them. And we make that available to consumers to buy them, we're not preventing them from buying them. Right now the target, of course, is enterprise, because we believe that there are a lot of these capabilities that resonate in the workplace, but we do believe that consumers select these."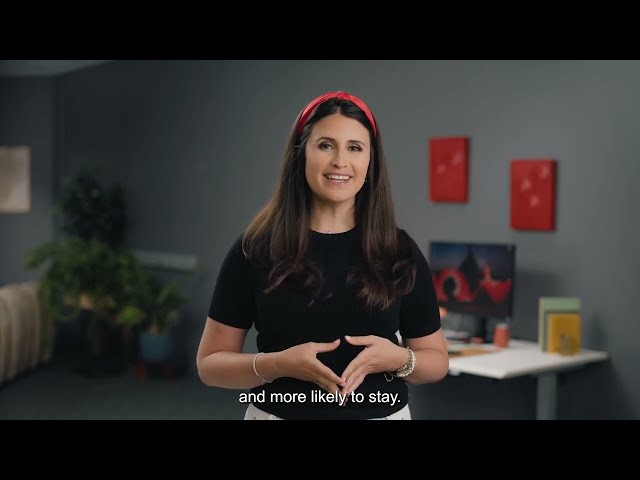 This new ThinkPhone feature lets you hook it up to any monitor and, using the cloud, create a desktop PC for use anywhere. You just need a monitor, keyboard, and mouse, and you're good to go. It's a neat idea, and clearly one the average consumer could use often, whether a student wanting to access personal files at the library or someone with a side hustle that might need to work at the drop of a hat. It's interestingly versatile.
But does this versatility translate across different sections of Motorola? How much can the ThinkPhone sub-brand and the Razr sub-brand crossover? Because, at the end of the day, a folding phone is more exciting than a ThinkPhone to most people. Could the Razr+ get ThinkPhone features, or could we get a folding ThinkPhone?
"If you look at Motorola devices, right, we've always taken technology and brought it across our portfolio, we don't keep technologies siloed. We may start with a new technology on a higher-end device, but our view has always been, 'it needs to percolate through our portfolio.' And like I said, we don't necessarily think of our business section as independent from the rest of our portfolio. […] We just want to make sure that in the business context, people get the most out of what they're looking for. And so we'll keep making those enhancements, but we're not gonna silo things."
Whether these things are siloed or not, however, it's pretty inescapable how different Motorola's lower-end offerings are from its top-end. Something like the Razr+ feels a universe away from the ThinkPhone. Then, as we explore in our Motorola Edge 40 review, the company is making mightily competitive phones in the mid-range. What does Motorola mean to the consumer, or rather, what does Motorola want to mean to the consumer?
"Historically, we've been a consumer-focused company," Sudhir told me, "and that's been our bread and butter that has continued. We do want people to get to know our brand more, [and] experience our technology, but we obviously must have a part of Lenovo [in us]. […] For us. It's both right? We need to make progress in both. Like I said, at the end of the day, every business user is a consumer, and consumers turn into business users."
This is interesting because, to a certain extent, it sounds like Lenovo could be tugging Motorola in a certain direction. How much do the subsidiary and parent company actually work together? Beyond the Motorola rollable concept…
"A lot of the technology that we are bringing into our phones has been in collaboration with Lenovo," Chadaga told me. "So the whole flexible screen, that came from us working together, the hinge designed to get to that yoga hinge [featured in Lenovo laptops], to make sure that we have the same design. Same thing with the ThinkPhone. When we started the whole journey about [making] a dedicated enterprise device, we started right away. The first thing we did was we went to the design team and said, 'Okay, we want to learn about what makes a Think device.'
"So we start pretty early," he continues. "There's a lot of back and forth that goes on. And even now, as we're looking at further evolution in terms of capabilities on our device. We work very closely with them. […] Lenovo has the credibility, the knowledge, as well as the experience in B2B." All this makes it sound like a slightly sterile knowledge transfer, but it does stay cutting edge, though, as made clear when I asked about the rollable concept. "That's the intent, right? We don't want to keep one technology just waiting."
And, as any journalist is wont to do, I then asked if we're ever going to see a rollable concept actually turn into a real, purchasable thing. I don't think we ever will – I don't think the utility is there – but I'd love to be proven wrong.
"We're looking at it. I mean… we're looking at it," he said. "The idea right now is for us to get feedback. And we announced that we're not keeping it secret. It's out there, we have people testing it, giving us feedback. So we want to complete the development with user feedback, right? Versus us doing something [and just] throwing it out there. And so we're looking at it. There are a few things that we're doing, trying to figure out how we address it best and [getting] a sense of what the device needs to be. So we'll see how it works out."
All this talk of Motorola does keep in a bit of a vacuum, however. The company, of course, competes with the likes of Apple and Samsung. It's seen big gains in the Americas, too. But who does Motorola want to compete with? Is it iPhone vs. Android? Or a free-for-all between all the manufacturers?
Chadaga touches on this as he explains that "if you see the smartphone market, there is a bit of race happening with all of them. Yes, Apple is dominating in the premium space, but they are trickling down with their previous generation products into different price points. We're trying to go premium and compete on the premium side. Samsung, obviously, it's got all the price points. So are some of the other China-based vendors. Everyone is. We see competition across the board.
"It's… it's intense. I mean, this, this wouldn't be an interesting market if the competition wasn't intense. But I think from a consumer perspective, it's great. There's a tremendous amount of choice." But how does Motorola convince people to switch? Even if Apple and Samsung dominate, Motorola's gains have clearly come from somewhere. How does the company continue this and increase its user base?
"If you look at our foldable [phone], like you said, it's the one form factor that actually incites the iOS user to switch, and we're seeing a big percentage of foldable users are coming to us. And we think that's a good thing, because people are trying out something new. So we'll definitely continue to create that innovation that is exciting for people to come over. And, of course, we have to work with Google, right?"
One of the things that Motorola has that, say, OnePlus or Oppo doesn't, is brand recognition outside of the tech space. Motorola is a famous company. My mum knows what Motorola does. She's never heard of OnePlus or Oppo. So, how does Motorola leverage this? One of the most interesting things about the new ThinkPhone is that it doesn't have a big M on the back of it.
"We're one of the brands that has a logo, we have a name that people recognize. We even have a mnemonic, the Hello Moto mnemonic, right? It's one of those things that people instantly recognize whether they hear it or see it. And people have nostalgia about it. But at the same time with all of this innovation, we're seeing people see us as something fresh.
"We don't want [people to think], 'Oh, yeah, you are the 90-year-old brand that my grandpa used', right? We want to be seen as young, dynamic. Yes, you have the legacy, [but we're also] bringing a new chapter in terms of innovation and experiences." If we're talking innovation in the tech space, we're also inevitably going to have to talk about AI. This ever-present, encroaching fear that some tech folks seem pretty scared of, while others seem ready to wring it out for all its got. Where's Motorola at with all this?
"So on AI: one, Lenovo has a whole AI roadmap and a strategy and we're working closely with them on AI, so over the past couple of months, we just made an AI ethics policy that was rolled out, and so it is ensuring that we are minimizing or eliminating bias in our AI systems. So, that's starting with the policy and how we're gonna approach it."
This comes alongside a big privacy focus for Motorola, collaborating with certain partners to implement AI yet making sure big data sets aren't encroaching on users' choices. A bigger question, perhaps, is if he's worried at all about AI. I can't ever get a straight answer when I ask tech folks about this, but Chadaga is on good form here.
"It's certainly something that we have to be careful and watch, right? Yes, things are moving fast. […] Do we believe that the big players, including Lenovo, are all cautiously approaching it? I think we are. Can people use this in ways in which we don't expect them to? Yeah, you're gonna have that with any technology… and I think we, as an industry, need to be careful. And I think from our perspective, we believe in the future of AI, we certainly see the role [of AI], we are making lots of investments into it. But like I said, we want to be ethical about it. We want to be right about it."
Being ethical in this massive industry doesn't just mean being careful with AI, however. It's also important for all companies to reduce their carbon footprint. With the Apple event bringing a strange skit about its eco moves, our Samsung's Benjamin Braun interview covering the Chief Marketing Officer's thoughts on its eco push, and a whole host of other green issues across the industry, where is Motorola at?
"For us, we don't want to just have claims out there. For us, it is science-based, so we want our sustainability messages to be based on this. We are introducing more and more sustainability around our devices," with eco-friendly packaging and the reduction in plastic at the forefront. The ThinkPhone also has a 20% reduction in the use of precious earth metals. "And that's a goal, we'll continue to reduce that", Chadaga said.
Another big aspect of the ThinkPhone is its excellent battery life, and that's another place where there's an eco push for Motorola. "We're making our batteries last longer, so they don't end up in landfills. ThinkPhone, for example, [has] a 30% longer lifecycle for the battery." All of this is good to see, and in many ways, it's pleasant to not have loud marketing about it all, though who knows how big a shift has actually occurred within the company.
And maybe that's the story of Motorola – a brand that has clearly made important shifts internally, yet still feels a little confused on the outside. It definitely doesn't help that I'm talking to a B2B-focused leader within the company – I'm sure someone in marketing would push a clearer, easily-digestible message. But that's also less helpful in many ways. What we've learned here, is how wide-ranging Motorola is, and how it hopes to bring innovation across its different devices, rather than homogenize into one simple gimmick.