The tides have finally turned, and the sun will shine again on Pikmin fans worldwide. Before the September 2022 Nintendo Direct, Nintendo hadn't shared anything about the Pikmin 4 release date since 2017. But after Miyamoto spoke about Pikmin Bloom during the livestream, he finally revealed we can get our hands on the next game in the series this year.
While you wait for Pikmin 4, head on over to our list of the best Switch RPGs to find something you can play right now, or take a look at our list of the best new Switch games coming in 2023 to find out what else you should be looking forward to.
When is the Pikmin 4 release date?
The Pikmin 4 release date is Friday, July 21, 2023, for the Nintendo Switch. We can't wait to join Olimar and his friends again soon! Follow the link below to pre-order a copy.
Is there a Pikmin 4 trailer?
Of course, there is, you can take a look at all of the adorable gameplay from the Nintendo Direct February 2023 below. We also recommend you head over to the Nintendo YouTube account to find even more gameplay and Pikmin 4 fun.
Is there any Pikmin 4 gameplay?
Pikmin 4 gameplay looks very similar to previous games in the series but with an adorable chunky dog named Otachi. This certified good boi can smash obstacles, transport heavy objects, and carry Pikmin on his back. Make sure you watch the February Nintendo Direct trailer below to get an idea of what you can expect.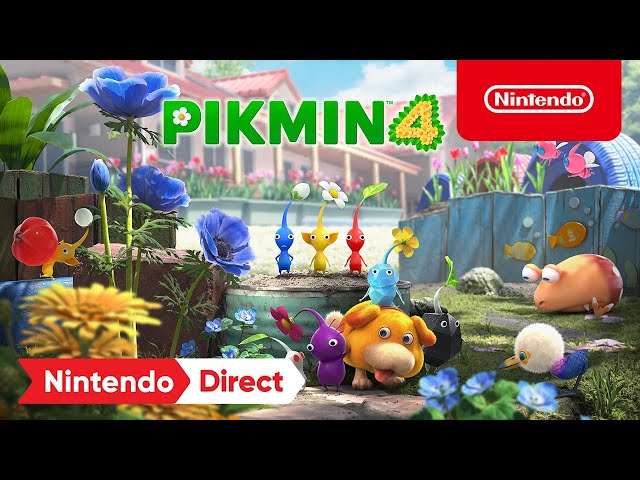 And that's everything we know about Pikmin 4. If you enjoyed this guide, why not check out our Pikmin 3 Deluxe review? Jon Mundy gave the game an impressive eight out of ten. "Pikmin 3 Deluxe is another comprehensive re-release with a welcome multiplayer component," says Mundy. "It's a shame Nintendo didn't polish it to the fine sheen that it deserves"