This year Niantic and Pokémon Go held Pokémon Go Fest 2023 in London's beautiful Brockwell Park. A short distance from Brixton, this lush open space is the perfect place to host a small army of ardent Pokémaniacs, and the weekend was a thrilling celebration of the world's most popular geolocation game.
Niantic split the park into several distinct areas with unique spawns for ticket holders, fun attractions for younger players, and several giant Pokémon figures and stands. As a huge Pokémon fan, it's always a thrill to see so many fellow trainers in one place. We dropped by to visit Go Fest on the Friday (while the weather was still fine), did some raids, bagged some shiny Pokémon, and even got to board the Pokémon bus full of memorabilia and Pokémon figures.
We weren't the only ones visiting London, though, as Niantic's director of art and production – Kim Adams – made the trip over from California to enjoy a day in the British tropics, and we sat down to pick her brains about AR, emerging technology, and what it means to be an artist within Niantic.
Adams joined the company in November 2022 and is busy overseeing several new elements, such as shadow raids and routes, while also keeping a firm eye on the future of the app: now in its seventh year. She also has experience in animation and emerging technology, having worked with Pixar, Google, and Facebook in the past, and she brings over much of that experience to help bring the world of Pokémon to life.
Speaking on the transition from animation to Niantic, Adams says she has a "real attachment to working with beloved IP that appeals to all kinds of ages," which is especially evident when looking at her work with the Cars and Toy Story franchises. Adams explains that "those characters become like family members," and how she loves "working at a studio where everyone is attached to them in that way." Plus, as Adams herself admits, "there's no bigger beloved IP in the world than Pokémon, right? So that's a huge draw."
It's hard to imagine that Pikachu and pals are even more iconic than Toy Story's Woody and Buzz, but the nearly 30-year-old franchise is home to over 1,000 unique creatures, and with so many games and movies of their own, those pesky Pokémon have a tight grip on the collective consciousness of children and adults alike. Plus, Pokémon Go is a huge part of the franchise's resurgence, catapulting the already mammoth IP to new heights in 2016 with exciting AR and geolocation gameplay.
This balance of technology and IP is another part of the draw for Adams, as she tells us after her work at Google Spotlight Stories, Oculus Story Studio, and even her own VR startup, Niantic is bringing everything together. She explains the company is "mission-driven, using innovative technology, and leveraging the tech of location-based gameplay to bring those characters into the real world."
Fans especially seem to love many of the title's AR features, as real-world Pokémon photography continues to take the fan base by storm. Not only that, but what other franchise with so many beloved characters truly lets you interact with them in tangible ways? Much like kids seeing Woody and Buzz come to life for the first time, the technology of Pokémon Go has a type of magic that captures the imagination of young fans, nurturing their love for the iconic IP.
Another huge draw in Pokémon Go is the shared experience, especially as the world has opened back up. Adams mentions Niantic's mission statement as "getting people out into the real world to explore and adventure together," and at events like Pokémon Go Fest, it's heartwarming to see just how much Pokémon Go has actually achieved.
When talking about shared experience, Adams explains that "I'm a huge believer that we grow and build our relationships with shared experiences." She goes on to say that she is "really passionate about [shared experiences], and using technology to do that." While fans certainly have some valid criticisms about Niantic's approach since the pandemic, it's clear they haven't wavered from that original mission statement and are only getting better with the addition of features like routes.
As head of Art and Production, Adams is helping to drive the future of Niantic, and she describes her work as an "ongoing dialogue between art and technology." It seems like a tough thing to balance, and she mentions that "at some companies, [departments] can work in silos. But the best situation is when the art is inspiring the tech, and vice versa. This ongoing conversation of inspiration." She says she is constantly managing that relationship, working to "unblock teams" that slow them down and instead work on collaboration to deliver the "juiciest, most creative work."
In even her relatively brief time at the company, Adams has already overseen the launch of several exciting new additions to Pokémon Go. She spoke to us about the introduction of shadow raids, showcases, and Pokémon Go Plus+, explaining "that was a whole lot of work that we focused on shipping this year." Adams also claims that she's "super excited" for routes to…take root. As she explains, the long-awaited feature is also the first user-generated content feature, and she hopes it brings "a whole new value to the game."
Trainers can already create and share routes, helping other players to explore their environment, catch some different Pokémon, and of course, even share their favorite walks. Adams says the value is in trainers helping "each other to explore, see a neighborhood or environment through the eyes of a local," and she even mentioned just how excited she was to create her first route, which she can now enjoy on her morning walks through the woods with her dogs.
Pokémon Go fans warmly embraced routes, as the feature not only allows some agency, but embraces a collaborative spirit, too. Already in our short time with the mechanic, it's a lovely feeling walking along another trainer's route and sharing their footsteps. Of course, that's not all Pokémon Go has in the near future, as when pressed on the possibility of Pokémon Go exploring new technology, Adams coyly replies that Niantic is "really committed to bringing Pokémon to the real world, and we could leverage a number of different technologies" to do that.
It's clear that Adams embraces the idea of bringing this beloved franchise to life, and so we couldn't help but ask what the brand means to her and if she has a favorite Pokémon? Adams explains that she tends to "love the fairy Pokémon" and one highlight is Togepi, as it "contains all of this happiness in a shell. And the whole evolution line (Togetic, Togekiss) is all about empathy, blessings, happiness, and it's so corny, but I love them."
She also mentions her love of the gangly addition Mr. Mime, clarifying with "some of his best moves are about confusion, and I think that's hilarious." It's also somewhat personal, as Adams reveals she was a mime in high school. I neglected to mention Mr. Mime's firm placement on my list of the worst Pokémon as things were going well, so if you're reading this, Kim, I'm so sorry.
When speaking about joining Niantic and Pokémon Go, another contributing factor for Adams is the ability to share the experience with her family. On the topic, Adams explains that she and her daughter played the game at launch but due to life, work, and family, took a break. Now, freshly into joining the company, they're both playing again. With her daughter now 15, she tells us that being a parent to a teenager "it's not always the easiest thing to do," but clearly Pokémon Go is helping bridge the gap.
Adams continues, saying that Pokémon Go helps to "connect us in a way that we don't connect otherwise, right?" Whether it's because the house is watching TV or a movie, she explains the issues around just staring "at something together and reacting" versus "actively walking, hunting, spinning" and the rest.
Adams told us "we went for dinner the other night, and then walked around [together] for over 45 minutes!" Even explaining how fun it is to hear her daughter exclaim "there's a raid over there" and share that experience. Plus, for Adams, it extends even further into the family, as she tells us that her godson's live over on the Isle of Wight, so the trip to Pokémon Go Fest in London was a "really sweet way to stay connected in a way that appeals to them."
Even with a career looking after beloved IP at Pixar, stepping into the world of Pokémon must still be daunting. We asked Adams what it's like to take on responsibility of a library full of such iconic characters, and it turns out it's all about collaboration. She tells us that taking care of this huge brand is "a big responsibility," but it's all helped as "we're in really close partnership with The Pokémon Company. Everything we do, we share with them."
Adams goes on to tell us that Niantic and The Pokémon Company have an established timeline of "weekly meeting, [regular] conversations on approvals and feedback." The two companies often have brainstorming sessions, and Adams tells us The Pokémon Company regularly shares "game design experience and creative ideas."
It's not just over the internet either, as the companies clearly make the effort to collaborate in person, with Adams explaining that TPC visits Niantic often and that she has a trip to Tokyo planned soon. This ongoing dialogue clearly helps, as Adams reveals that while she does feel "a huge responsibility" to look after the Pokémon brand, it's clear she's not alone in the task. "We're all partners in this world and caretakers of the world of Pokémon."
We couldn't let an interview go by without pressing Adams on the future of Pokémon, and while she didn't let anything slip, Adams does explain that, for the future of Go, Niantic is focusing on "people, places, and Pokémon". Routes is clearly already a great signifier of this drive, but Adams says that for her, the future of Pokémon Go is all about "enabling people to connect with each other, make their experiences memorable and meaningful, and bringing Pokémon into the real world in new, delightful ways."
It's not all about the future, though, as Adams elaborates that the company's focus is always "a balance between making the current features better, and bringing new features in." It's clear fans in the community have a lot of strong feelings when it comes to existing features, which is natural when you remember Pokémon Go is one of the biggest mobile apps in the world. However, Adams confirms that the company is always looking at "player feedback and player research" to balance with "internal ideas."
It's at this point a couple of Pokémon fans politely interrupt our sunny interview in the park, eagerly asking where they can buy shirts. I'd just added a Pokémon Go Fest tee to my collection so I tried to point them in the right direction, but Kim also jovially pointed them on their way to the merchandise tent before returning to the future of Pokémon Go.
"We're not done with this year yet" she explains, as apparently fans can expect "a big feature coming out this year that I think people are really excited about." While Adams doesn't let slip what it could be, I asked if the feature might be more exciting than routes, to which she carefully replies, "… equally? I think it's equally exciting."
Adams' tenure at Niantic is still fresh, and so we asked what the future might look like for her, and what she is looking to bring to the company. For Adams, the answer is a healthy mixture of her previous experience with iconic companies like Pixar, Google, Facebook, and more, as she says "I have a unique background in story, character-based innovation, and technology: so I feel like I can bring all these things together in a place like Niantic."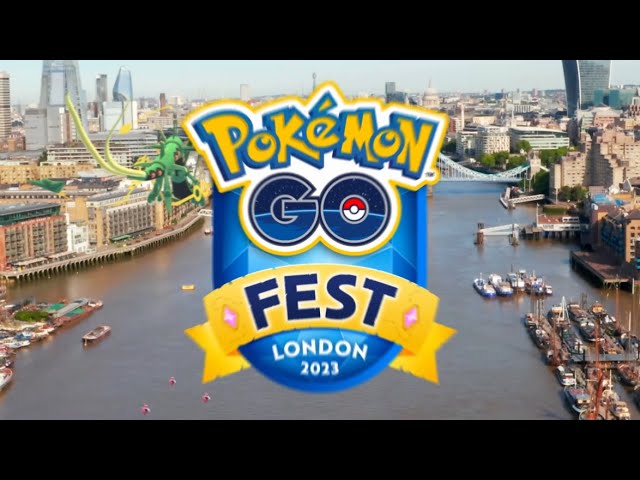 It's easy to see why fans are still turning up in droves to play Pokémon Go, as that balance of beloved IP and interactive experience is at the forefront of Pokémon Go Fest. The event was a heartwarming reminder of the power of the community, and I certainly got my steps in while trying to nab a new batch of shiny pals for my collection. This mixture of technology and experiences is what sets Pokémon Go apart from the mainline games, and with people like Kim Adams steering the ship, it's hard not to be optimistic about the future.
If you enjoyed this piece, you can read our Pokémon Go sixth anniversary interview with Michael Steranka from last year. Then get ready for the next Pokémon Go community day with our full guide.