Nobody loves Pokémon quite like the team here at Pocket Tactics, so we're extremely excited (and jealous) to offer up this amazing Pokémon Center UK Scarlet & Violet – Pokémon Obsidian Flames giveaway for two lucky UK fans. To celebrate the launch of Scarlet & Violet—Obsidian Flames and the return of Charizard to the TCG, we're offering up two bundles of a fantastic Charmander-themed prize pack.
Two lucky UK fans can win a flaming hot bundle that includes: a Pokémon TCG: Scarlet and Violet Obsidian Flames Elite Trainer Box, a Charmander Pokémon Partner plush hat, a Charmander Pearlescent Pop!, and a Pokémon Center x Fossil: Charmander orange leather steven card case. The competition is all thanks to Pokémon Center UK, the premier online destination for premium Pokémon merchandise in the UK. Head on over to PokémonCenter.co.uk to see even more amazing Pokémon merchandise today.
This competition is only for entrants living in the UK, and runs from August 2, 2023, until August 9, 2023, with the winners picked and contacted on August 10, 2023, so check your emails (and spam). We'll send out the prize packages on August 11, 2023, after the launch of Pokémon TCG: Scarlet & Violet-Obsidian Flames. Please understand that delivery times can vary and are susceptible to disruption.
To enter our Pokémon Obsidian Flames giveaway, just follow the instructions below. Before you enter, don't forget to check out our terms and conditions.
PT – Pokémon TCG: Obsidian Flames giveaway (UK)

If you're excited about the launch of Pokémon TCG: Scarlet &Violet-Obsidian Flames, you can check out the latest trailer below.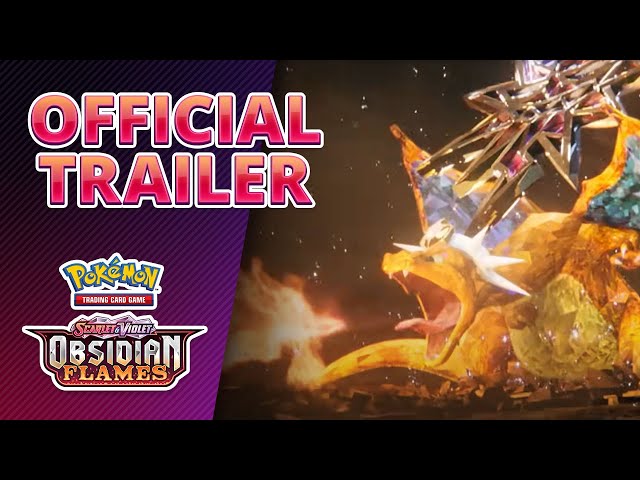 Good luck to everyone who enters this flaming hot competition, but only two can be the very best! If you need to get your Pokémon fix today, be sure to check out our guides to Pokémon Scarlet and Violet mystery gift codes and Pokémon Go community day.