For over 25 years, Bandai Namco has been coming up with new ways to package and promote their line of Tamagotchi virtual pets, and the Tamagotchi Pix is one of the latest attempts at revitalising the series. So, we've had a deep dive looking into all things Tamagotchi Pix and Tamagotchi Pix Party to find out all the different colours, in-game characters, and cases you can get to start life with your virtual pet. All you need to do is pick the one you love the most, but remember, a Tamagotchi is for life, and not just for Christmas. Fortunately, a Tamagotchi life doesn't take all too long.
For more virtual pets, check out our picks for the best cat games or dog games, to add a furry little friend to your life. Or, if you're looking for something educational for the Tamagotchi toddler in your life, check out our list of the best educational games on Switch and mobile.
Tamagotchi Pix colours and designs
Unlike the Tamagotchi original line, you don't have to decide between endless options when it comes to the colour of your Tamatogtchi Pix. With just floral pink, sky purple, ocean blue, and nature green to choose from, the pretty pastels of the Tamagotchi Pix line are perfectly designed to stand apart from the shinier old-school design of the Tamagotchi originals.
Tamagotchi Pix Party colors and designs
It wouldn't be a collection of the classic Bandai Namco virtual pets without a few colorful designs, and with the Tamagotchi Pix Party there are two alternative models up for grabs. You can either get the purple and pink balloons design or the green and pink confetti, but both are as cute as each other, so it's your call.
Tamagotchi Pix QR code
If you're in need of some extra items, furniture, or snacks for your Tamagotchi, you can get these quicker than ever before by using the Tamagotchi Pix camera on specific QR codes. To pick something up for your Tamagotchi, head over to this link and select whichever specific resource you need from the QR code before scanning the screen.
Tamagotchi Pix cases
While you can't get pet insurance for your Tamagotchi Pix pet, you can keep them as safe as possible with a snazzy Tamaogtchi Pix case. We've got a little list of our favourites below, so you can pick out something that suits your own pet.
Tamagotchi Pix characters
With the Tamagotchi Pix line, there are more characters than ever before for your egg to hatch into. Fortunately, Bandai Namco has your back with a detailed characters section on the official Tamagotchi Pix website that details each character's favourite items, activities and more.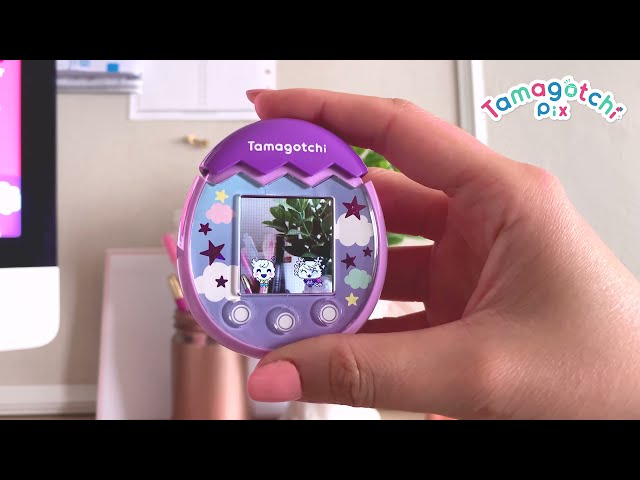 With that, you should have everything you need to take proper care of your Tamagotchi Pix pet. For more adorable animals, why not start a leisurely life with livestock by playing one of the titles from our picks of the best games like Stardew Valley?