Looking for a purr-fect way to pass some time? Well, straighten your whiskers and get those toe-beans in check, as our list of the best cat games on Switch and mobile has a great selection for smitten kittens of all kinds. Whether you're feline adventurous or looking for something to relax with on a lazy afternoon, there's a cat game for you. We've even got a paw-picked selection of cat games for cats to keep your furry friend entertained, too – approved by our resident ex-purrt, Xiao.
For more personal petting zoo experiences, be sure to check out our list of the best animal games or the best bear games, as well as the best games like Stardew Valley on Switch and mobile. Or, if you'd rather test out your cat-like reflexes, why not try our picks for the best fishing games, baseball games, and ping pong games on Switch and mobile.
Anyway, with that out of the way, let's climb through the cat flap and find our picks of the best cat games on Switch and mobile.
Cat Cafe Manager
Cat Cafe Manager looks quaint, but you'll be surprised at how deep this tabby-cat tycoon title goes. Having inherited your grandma's cat cafe in the sleepy village of Caterwaul, it's your job to rescue some kitties, pour some cappuccinos, and restore the establishment to its former heights. As to be expected, there are secrets lurking in Caterwaul, but if you'd just prefer a nice time making a mocha amongst your moggie mates, then you can do that too.
If you're still to be convinced, why not check out our Cat Cafe Manager review to see how we got on serving coffees in Caterwaul.
Cat Game
Is the only thing stopping you from having a house full of cats your landlord? Well, don't give up on your dreams of kitty collecting just yet, as Cat Game can deliver your dream of a house full of felines to the palm of your hand. In this casual cat collector, you build up a cat tower teeming with tabbies, shorthairs, and lil' munchkins, all of which you can feed, play with, and even style thanks to Cat Game's countless customisation options.
Cat Quest II
Probably the only game on this list where your fine feline is equipped with a sword, Cat Quest 2 is one for those who want to put the theory of nine lives to the test in combat. With more missions than the original Cat Quest, a new canine companion to accompany you on your quest across Felingard and function as a second-player character, and even more cat-puns than this article, it's an epic quest worth taking for any whisker-loving warriors.
Cats & Soup
Cats! Soup! Yes! Cats & Soup is a sweet little mobile title that combines two of our favourite comforts for an idle game with charming designs by the spoonful. The aim of the game is pretty simple, collect cats, get those cats to make soup, and enjoy some tasty soup, but things get a little trickier when more and more shorthair chefs arrive ready to blend some veggies. This one is worth playing for the visuals alone, with an assortment of wonderfully illustrated kittens all waiting for you to sip on their delicious soup.
Cattails
Cattails is essentially Stardew Valley with cats, and there's absolutely nothing wrong with that. You play as a feral cat, new to this particular cat community, and it's up to you how you mark your territory. Whether you want to prove yourself as the feistiest feline in town with cat battles, or if you just want to settle down with a nice siamese and raise some kittens, there's plenty to keep you occupied in this enigmatic RPG experience.
Piffle: A Cat Puzzle Adventure
If you need a new puzzle to put your little paws to work, Piffle: A Cat Puzzle Adventure is a vibrant match-3 style title with more than a whisker of whimsy. There are hundreds of levels, countless species of cats and kittens, and some deceptively tricky puzzling to keep you on your toes. Also, the cats wear sunglasses, and I personally think that should be enough to warrant your attention.
Calico
Fall into a beautifully dreamy, ethereal world with Calico, a wholesome, laid-back sim game populated with hundreds of fluffy friends. Your mission is to rebuild to town's cat cafe and fill it with cute and cuddle creatures, including bears, foxes, puppies, and, of course, cats! Decorate, bake cakes, ride giant cats, and pet plenty of purrfect pals in this pastel paradise.
Catlateral Damage: Remeowstered
As any cat owner will know, kitties appear to have a taste for destruction. No matter how cute and fluffy they may seem, there's something inside them that just wants to watch the world burn. In Catlateral Damage: Remeowstered, you can take the role of a cat filled with furry fury, as you knock plants of shelves, break plates, scratch up curtains, and show your virtual owner who's boss.
Best cat games for cats on mobile and tablet
Okay, so now that we've entertained the humans with a bunch of cute cat games, it's time to take a look at the best games for cats, so you can keep your real-life furry friends entertained, too. All of these interactive cat game apps are the purr-fect to keep your fuzzy little meow-sters busy, whether you're working, playing your own games, or sat there tapping away at the virtual fishies right alongside them.
The games below are approved by our resident ex-purr-t, Tilly's kitty Xiao (seen in the picture above).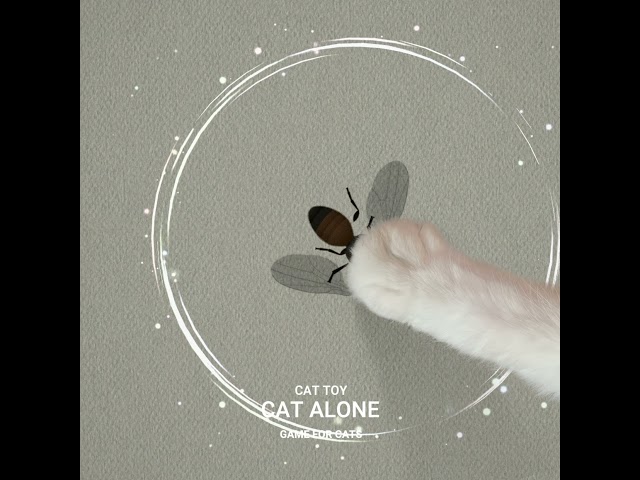 Cat Alone
Cat Alone does exactly what it says on the tin – it's there to keep your cat entertained alone, no human interaction needed. Bursting with bustling bugs and crawling critters, it offers plenty of visual and audio stimulation for your pawesome pals, and due to its built-in lock feature, you can leave them to tap away to their heart's content without worrying about them sending a text to your boss.
Cat-Bat
Cat-Bat gives your kitty-cat the opportunity to bitty-bat their zoomies away, chasing creepy crawlies, mice, turtles, and even planets. Whether they're squashing bugs or chasing stars, your feline friend is sure to find hours of fun in this little gem.
Cat Toy – Games for Cats
Cat Toy is like an Inspector Gadget tool for cats, featuring ten fun toys for your furbaby to interact with. Its got dragonflies, frogs (that look suspiciously like aliens), balls, lasers, and even a finger for optimal virtual booping. You can even adjust the speed of the toys to suit your kitty's purr-eferences!
There you have it! Our picks for the best cat games on Switch and mobile. For more exciting adventures, take a browse through our list of the best exploration games on Switch and mobile.