The global version of Tower of Fantasy has had quite an eventful life already, and it's only six months old. Since its crazy launch that saw players from all over the world itching to explore its post-apocalyptic land, Tower of Fantasy has provided us with 25 playable Simulacra, a whole host of updates and events, and the first major expansion which invited us into the treacherous terrains of Vera and the neon-lit nightlife of Mirroria. ToF received a nomination for the best mobile game at the Game Awards 2022, and, despite a bit of a dip in interest over the last few months, it continues to truck on, providing us with exciting new content to explore.
As we head into version 2.4 and prepare to dive deep into the brand new Under the Grand Sea expansion, we sat down with Dmitry Lazarev, senior producer of the Tower of Fantasy team, along with other members of the ToF development team over at Tencent, to get a sneak peek of the new area and to discuss the journey of the game so far.
Let's start with the big announcement that accompanies the Under the Grand Sea expansion – Tower of Fantasy is now headed to the Epic Games Store. With the PC version previously relying solely on you installing the ToF client, this is bound to please those of you who like to have your main gaming catalogue in one place and may lead you to question whether a console port is finally on the horizon.
On this topic, Lazarev explains, 'of course, I know there are a lot of people expecting us to release a console version, but unfortunately, right now we don't have anything to announce', highlighting that the ToF team's key priority is 'improvements on PC and mobile versions', and they're 'always working hard to implement a lot of fixes to make the overall process more fluent'. However, at the same time, he claims that they 'listen closely every day to all forms of feedback from [the] community and players', and, while it's 'probably not the right time to announce anything' in terms of console ports, it's a possibility for the future.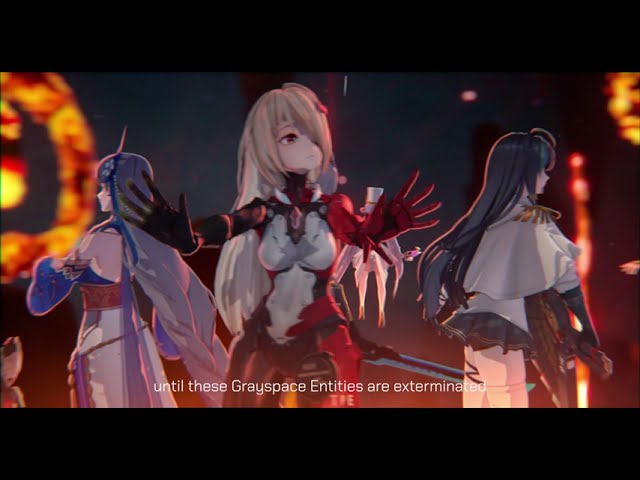 Similarly, Lazarev informs us that the ToF team 'are investigating the opportunities of how we can provide Steam Deck support', highlighting that they see the Steam Deck as 'amazing hardware' which would 'provide a lot of new opportunities for players to enjoy the game'. As such, they're 'super keen to see how the community of Steam Deck players is growing every day', and highlight that the 'gameplay experience improvements' they're currently making could also be applicable to the Steam Deck. So, while there's 'nothing to announce here yet', Dmitry assures us that 'step by step, we will come to it sooner or later'.
So, let's head underwater to see what all the hub-bub is about in this new area. Under the Grand Sea, the new major expansion to the Tower of Fantasy map is set to arrive on March 30 and brings with it three new playable characters and two new world bosses.
The Grand Sea itself is divided into three major areas – the Island, the city, and the volcano. The island is where your deep sea adventure begins, introducing you to new characters, starting you off on fresh questlines, and inviting you to step into the shallows yourself. From there, you get to dive beneath the water's surface and start exploring. In order to survive under the water, you need to equip a special necklace which provides you with oxygen, so you can 'dive under the water for as long as you want'. You can also hitch a ride on underwater mounts in order to get around quicker.
Then there's the Inner City, which is the area's main hub location, similar to Mirroria in Vera. It's a shelter full of mysteries, treasures, and much more for you to discover. Plus, there's oxygen there, meaning you can walk around as normal.
But, if you're looking for a bit more of a challenge, there's also the Dragon Breath volcano, which is fought with danger. The temperature is very high, and therefore you won't be able to survive without special equipment that you earn through the main questlines. There are also a whole heap of unnerving underwater creatures for you to face, and it takes some real skill to survive there – so be sure you're ready before paddling on over.
To keep things interesting, elemental weapons and skills work differently underwater. For example, flame attacks deal less damage, whereas ice damage is far more powerful. Once you've got the swing of how underwater combat works, you can take on the two new bosses.
The first is Abyssant: Scylla, which changes elemental damage on the fly, requiring you to learn the attack patterns and notifiers, and pick the right team to take on the challenge. The second is Abyssant: Abuela, a behemoth who resides in the volcano and is capable of charging himself by soaking up the volcano's heat. Therefore you need to keep him away from the volcano, otherwise, you may just find your whole party wiped.
Of course, the two new bosses aren't the only features for you to cut your underwater teeth on, as there are plenty of new request missions, along with a new instance in which you can form a team of eight players to defeat the boss Abyssant: Eva.
There are also a lot of PVE and PVP encounters to explore, including a new PVP update, through which the team is introducing 'a new system for PVP battles where people can be more equal in terms of gear'. Lazarev explains that this is a feature aimed at 'players who, for example, do not pay for the game too much or don't pay for the game at all', stressing that 'it's completely fine', as 'it will only be up to your skill instead of your equipment'.
This comes off the back of the team 'trying [their] best to remove any kind of paywalls', and ensuring that they 'do everything for the players in order to have the possibility to earn any rewards or in-game cash for free'. Lazarev urges 'we always aim to use a lot of things that will allow players to have a lot of fun, even if they're not ready to pay or invest lots of time in the game', confirming that 'we're staying a free-to-play game, and we expect players to have fun in the game no matter whether they're ready to pay or not'.
Continuing on the topic of F2P players and PVP modes, Dmitry highlights that 'you will see later, based on some minor updates and future announcements, there will be other things which will help players who, for example, never tried PVP before because they were afraid it was only for paying players', promising that, regardless of whether you fancy whipping out that credit card or not, 'you can still enjoy different aspects of the game through PVP and PVE modes.'
However, for those of you who are new to the game or returning after taking a break, the ToF team is putting measures in place to make progression smoother, so you can level up, earn rewards, and acquire new gear much quicker. These measures include optimisation of the main story for both beginners and active users, as well as the new quick battle system in daily missions which makes it easier for you to snap up those rewards.
Lazarev explains 'we made a great attempt with this upcoming update to provide some new, hardcore gameplay experiences', ensuring there's plenty of 'content for skilled players to explore'. However, they also worked on offering 'improvements in terms of quality of life' for players who haven't played in a while.
He highlights that they endeavoured to provide a 'more smooth experience' in how players encounter each other, allowing hardcore Wanderers to help newcomers to progress more quickly. Lazarev also highlights that they understand 'the players expect more high-end content from us', urging that 'it's not the end – we've just started' and 'there will be a lot of new content to come' to keep players of all levels engaged in the future.
The Under the Grand Sea expansion also brings with it three new Simulacra. The first is LAN, an elegant gal who fights with an umbrella imbued with the power of fire. Next up is Fiona, a hybrid character who fights with dual blades that deal altered damage, and is capable of both supporting her allies and acting as a strong DPS. Finally, there's Icarus, who fights with a yo-yo-like frost weapon, which Lazarev describes as 'one of the strongest DPS characters you could expect' – needless to say, we're looking forward to seeing what this chap has to offer in the new update.
If you were around for the Tower of Fantasy Vera launch, you likely remember the performance issues that plagued the expansion, especially in the main hub of Mirroria. We asked Lazarev whether the team has put anything in place to avoid these issues with the new area, especially as the Deep Sea looks so graphically taxing.
He assures that 'we have been working very, very hard in order to fix those issues that we faced with the Vera launch', highlighting that, since that time, they 'implemented a lot of technical updates which heavily improved the FPS performance in-game and, at the same time, allowed for players with mid- or low-range hardware on both mobile and PC to play the game more comfortably'. He adds that, in this expansion, they 'investigated a lot of things' to ensure that 'this huge underwater area feels comfortable for players to explore'.
Lazarev continues, 'from a technical perspective, I'd say we're ready and everything should be fine, but at the same time, of course, we expect our technical team to implement all things as soon as possible once we face any issues or if our community or players report anything to us'. Tower of Fantasy is also set to receive some more graphical upgrades and features in the future, in addition to the recent ray tracing.
The team's current goal is to 'try to make the game more adjusted for both mid-range and high-range PCs' and, while they're making adjustments for both mid-range and low-range PCs, they 'understand that high-end PC players expect more graphic improvements', and strive to introduce more improvements in the future.
Those of you who are familiar with Tower of Fantasy are likely aware that the CN version came first, and there are still a lot of differences between the CN and the global versions. However, Lazarev stresses 'let us assure you today that we are going to smoothly merge these two versions, step by step', highlighting that 'the gap between the Chinese and global version' is becoming 'less and less in terms of timings', and that it's 'just a matter of time' before the 'two versions merge into one'.
Of course, this raises the question of the balance discrepancies between the Tower of Fantasy characters in the CN and global versions. However, while Lazarev confirms that 'in the Chinese version there are still a lot of differences between some characters', he explains 'in the global version we also try to make some adjustments according to the rota and the number of heroes we have right now'. He assures that, 'step by step, we are going to balance the game smoothly and make all characters equal in terms of how you play them and how you interact with each other', and that there 'will be less differences between the two versions', while still taking player feedback from both CN and global communities into account.
One of the other major differences between the CN and global versions is that, in China, the game has some exclusives, such as the extremely powerful Simulacra Marc. On the topic of whether the global version will get its own exclusives, Lazarev says 'right now we are not ready to announce anything, but we feel like, of course, global players also expect some exclusive content from us', confirming that 'we are preparing some content for global players, which probably should be different from the Chinese version'. He goes on to explain that, while 'when it comes to exclusive Simulacra, we're not ready to reveal or announce anything yet', however, global players can expect 'some local events or encounters'.
Lazarev also confirms that 'we have lots of plans for future collabs' and asserts that 'we are exploring at least several options for interesting brand preparations'. While they're not prepared to share anything specific just yet, 'the work is in process', and they are 'really excited to reveal an announcement as soon as [they] can'.
And that's about all we've got from our chat with Lazarev about the upcoming ToF expansion. We hope that all Wanderers who made it this far have found something insightful in these answers and that you enjoy your new adventure in the depths of the Grand Sea. If you want to keep on top of all the latest info, be sure to keep an eye on the official Tower of Fantasy website, and check in on our Tower of Fantasy tier list to see how all the Simulacra size up. We've also got a list of the latest Tower of Fantasy codes with a heap of freebies for you to snap up.