If Undertale's Flowey isn't terrifying enough in pixelated form, you can now get your own version of the frightening flora complete with awkward Flowey dance moves. That's right, you can take one of the most unhinged and frightening characters from modern gaming, and pop them on your desk right next to your peace lily. Who wouldn't want that?
The Undertale dancing Flowey plush is yet another ingenious move from Fangamer, who you might know for their products relating to other indie titles like Stardew Valley or Hollow Knight, among others. Like prior releases, it's also not a bank-breaker, shipping at $32/€38 at launch (though, as someone who has completed every ending on Undertale, I think I should be the one paid to take Flowey into my home, I know what they're capable of).
The reveal comes just a few days after Toby Fox shared an update on the development of the final parts of Deltarune, Undertale's pseudo-sequel. The usually solo developer revealed that he is working with more people than ever, and that the new chapters, including Deltaune chapter 3, are coming along nicely. Whether or not Fox has handed his new collaborators a dancing Flowey plush to boost their determination, we don't know.
Where can I get the dancing Flowey plush?
The dancing Flowey plush is part of Fangamer's ever-expanding Undertale range. It's the latest in a long line of Undertale merch that's as left-field as its source material, including Monster Treats scratch and sniff sticker sheet, and a Ska remix album (which really missed a trick not being called Reel Big Frisk, by the way).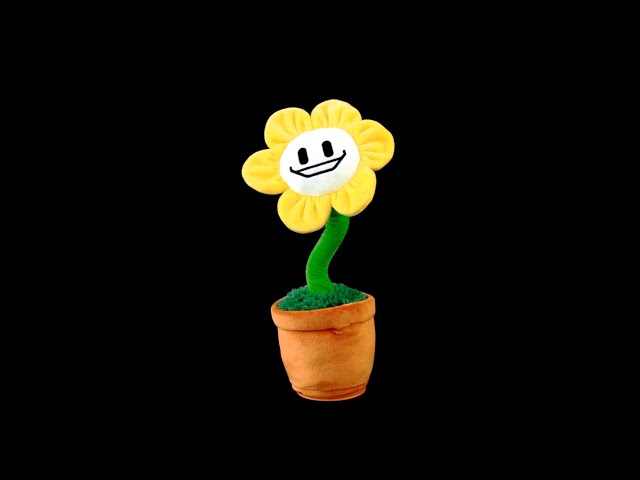 As you can hear in the video, Flowey comes with four different tunes to dance to, but looks equally as intimidating jiving to each of them. I've done the research to make sure that like in the video, buying one Flowey does not result in being invaded by others in their droves, and as far as I can tell, it's just one terrifying dancing antagonist that arrives with each purchase. God knows we've been wrong about Flowey before though.
With that, you're fully up to speed on the new dancing Flowey plush, available via Fangamer. For more out of the mind of Toby Fox, be sure to check out our Undertale download guide, as well as our comprehensive Deltarune character guide, and catch up on all that juicy lore before the story continues.