EA Sports FC 24 career mode returns with new additions to the classic football game. Alongside all the well-known features, like transfers and tactical changes, there have been some tweaks to improve your control over all aspects of your team's destiny – and we've got it all covered below.
So head downstairs article-wise to get caught up on all the new additions so you're ready for the FC 24 release date. Just like soccer tactics are a bit like when you play chess, you're going to want to learn the difference between a gegenpress and parking the bus. Though we can't find a clear soccer comparison, you could also play solitaire to pass the hours to FC 24's full launch.
What is FC 24's career mode?
FC 24 career mode is a single-player experience where you either lead a team to victory or take to the pitch as an individual, customizable character and aim to aid your teammates. You're going to want to grab as many FC 24 wonderkids to support your team's future, and keep a keen eye on EA FC ratings to find the best of the best.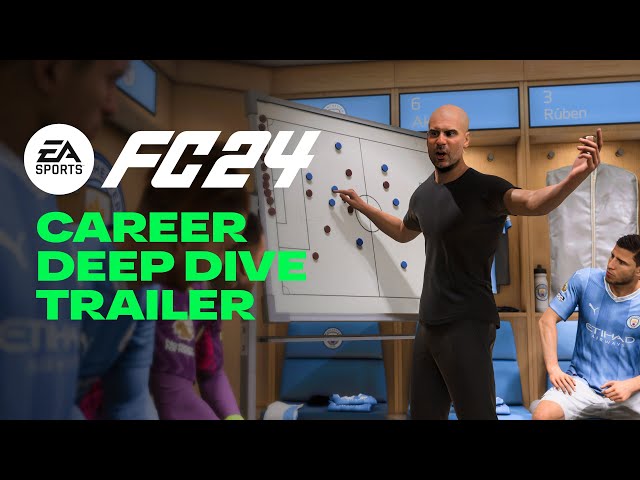 What is FC 24's manager career mode?
In a manager career, FC 24 career mode lets you control absolutely everything. From tactical philosophy to signing new players, you control your squad's destiny. You also play every game, controlling the full team, so you can make the difference both on and off the pitch.
What is FC 24's player career mode?
In a player career, FC 24 career mode lets you live your dream of becoming a professional soccer star. You start by customizing your player, where you can design them to look like you, or invent a character you're going to roleplay. You also choose your position and style of play, before diving into matches. You can play as that single character in a game or take control of the full squad if you need a bit more to do.
What's new in FC 24's career mode?
There are some new additions to FC 24 career mode, bringing some changes to both the manager and player career options.
What's new in FC 24's manager career mode?
FC 24 brings a new Total Management system to manager mode, which combines tactics and coaching into one system. There's also some match preparation adjustments, new cinematics, and other cosmetic changes.
FC 24's career mode lets you, as manager, become involved in various club decisions. The new Tactical Vision system lets you control the way your team approaches a game. There are seven different tactical philosophies to choose from:
Standard: A balanced approach to the game, focused on maintaining a shape that will help you stay strong defensively while still offering a threat going forward
Wing Play: Makes use of the full width of the pitch when in possession, getting the ball out to attacking players close to the touchlines quickly and using overlapping full-backs to add to the threat from those areas
Tiki-Taka: A possession-based style of play. Comfortable on the ball all over the pitch, your players use short passing and rotations while waiting for opportunities to play in attackers who've run into channels or gaps between opposition defenders.
Counter-Attack: Low-risk and a low block are the key to this style of play. Players defend the penalty area and then, once possession is regained, get the ball forward quickly with attackers ready to run into space behind the opponents' defensive line.
Gegenpressing: This strategy is based around a high press. Your team tries to win back the ball in the opponent's third, wherever possible, using turnovers to create goal-scoring opportunities before the opposition can settle back into shape.
Kick & Rush: A style of play built around strength and athleticism enables your players to often bypass the midfield, getting the ball forward quickly to your powerful strikers who can exploit space behind defenders and battle for second balls and knockdowns.
Park the Bus: Your team bases its game around solid, uncompromising defending. You're always disciplined and well-organized out of possession, usually employing a very low block, throttling opponents' attacks before winning the ball and trying to get forward yourselves.
You can also create a custom set up, where you can adjust individual players, to further fine-tune everything. Within each of the prescribed options above, you have some customization, but you can't change absolutely everything – it wouldn't make sense to have a counter-attacking philosophy without forward runs as a focus for chance creation, for example.
Tactical vision now also affects scouting, allowing you to search for players that will fit into your team's style of play. As before, you can also search by age, position, and other filters, though this year there's a tactical fit filter, overall condition filter, and playstyle filter – all three allowing you to further fine-tune your hunt for the next superstar.
Meanwhile, coaching plays a bigger part in FC 24 career mode. You can hire coaches for each section of the team – attack, midfield, defense, and goalkeeping – who will then help those sections improve. Coaches focus on tactical improvements as well as player development.
A coach can have varying tactical knowledge novice, accomplished, or expert – with some applying this tactical skill specifically to one tactical vision. For example, one coach may be an expert at the gegenpressing tactical vision, but a novice at all the others. Coaches can be trained to improve their skills in each department – and the more matches they play, the more XP they gain. Depending on the coach's skillset, certain player attributes can improve, too.
Alongside all this, there's also player development, where coaches can make development plans to improve specific players. You can also hire and fire coaches to build out the perfect backroom staff lineup as you climb the ranks and vie for promotion.
There's quite a bit more in FC 24's manager mode, with match day preparation and training, a new tactical view that lets you watch a simulated match, and a bunch more cosmetic options to design your manager avatar. There are also new cinematics for the Ballon d'Or awards, an open-top bus victory parade, and manage and player of the year award ceremonies.
What's new in FC 24's player career mode?
FC 24's career mode adds new player agents, playstyles, and a bunch of other stuff so that when you're in a player career, you have even more of a chance to customize your character and their aims.
Player agents let you have more control over contracts and transfers. These NPCs negotiate with clubs for you, with end-of-season evaluations from your current club to assess how likely you are to stay with the team, or how much of a chance you have of heading to a target team.
A target team is the club that you want to move to next. There are different objectives to complete to get the club interested in your talents, and the agent is there to tell you if you're aiming too high. You're not going to jump from Notts County to the Chelsea first team, buddy.
Your agent can also give you recommendations, like a new club to head to or your performance throughout a season. They're there to help you understand your wage potential, a team's tactical vision, and all manner of other aspects crucial to your career. Clubs also give you objectives, whether it's to continue your current contract or sign up with a new team. Some are mandatory, while others are optional.
There's a lot more to agents, of course, with the chance to set a weekly wage expectation, head out on loan, or end up as a free agent. You'll want to stay on top of your career, performance, and goals to reach the heady heights of big leagues.
To further customize your career, you can also pick between personality traits; maverick, heartbeat, and virtuoso. These then allow you to pick a playstyle that changes how you behave on the pitch. Not all playstyles are available to every personality, so choose wisely.
Add to this the new focus camera (only on next-gen consoles), new customization options like tattoos, face guards, and goggles, as well as the same new cinematic moments that apply manager mode, and FC 24's player career mode looks like a massive overhaul.
Of course, FC 24 career mode may offer far more than EA Sports has revealed so far. As soon as we get our hands on it, we'll bring you all the latest details. We've got guides galore elsewhere, from the best phone cases to answering the question, what is iOS? A wide smattering of random tips and tricks, plus some Pokémon figures if you fancy some new plastic.