It's that time of the year when Summer Camp comes around in Fate Grand Order, offering you the chance to get your hands on an exclusive new character, plus a bunch of free resources like craft essences, command codes, and more. Of course, all of this is attached to a litany of new special quests, giving you enough content to get through before the season is out.
As one of the biggest in-game events of the Fate Grand Order calendar, the FGO summer camp is the perfect way to escape the heat and spend some time with your favourite servant, as you slice and dice your way through a sizzling and scintillating list of special missions. Just remember that these events are time-limited, and you only have until August 2 to claim all the goodies.
For more warm weather fun with your powerful servants at the Fate Grand Order summer camp, check out our Fate Grand Order tier list. Or, if you're looking for another spellbinding experience, see our picks for the best magic games on Switch and mobile.
Who is the FGO Summer Camp new character?
This year's FGO Summer Camp event-only character Yu Mei-ren (Lancer) is a spin on the fan favourite, turning the evil-doing sword-wielder into a high-damage output lancer. Her look has had a warm weather makeover too, swapping out the catsuit for something that suits the heat of summer camp a little better.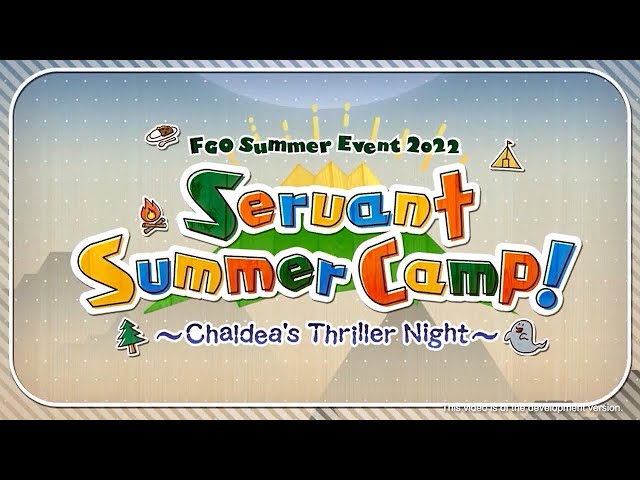 To unlock Yu Mei-ren (Lancer) you need to clear the FGO Summer Camp main event, which is made up of multiple smaller, easy to complete, missions. With an incredibly potent damage output, Yu Mei-ren in her lancer form is well worth picking up to add to your party.
What are the new FGO Summer camp rewards?
As ever, there are plenty of new rewards on offer as part of the FGO summer camp event. Check out below for every new resource available until August 2.
FGO Summer Camp craft essences
| | | |
| --- | --- | --- |
| Craft essence | Effect | Rarity |
| Chainsaw of the dead | Boost arts card effectiveness by 8%, critical attack resistance by 5%, and begin battle with 30% NP charge | Five-star SSR |
| Hide hunter | Increase NP gain by 15%, and gain 15 critical stars when joining the field | Five-star SSR |
| Honey lake | Ignore invincibility buffs and boost burn damage by 35% | Five-star SSR |
| Happy drive | Boost arts card effect by 8%, critical strength by 8%, and NP gain by 8% | Four-star SR |
| Horror concierge | Boost damage to undead enemies by 15% | Three-star R |
| Innocent blue | Two uses of invincibility and increase arts card effect by 10% | Five-star SSR |
| Climbing battle | Boost quick and buster card effects by 8%, and increase NP gain by 10% | Four-star SR |
| BFF BBQ | One use of evade, and increase NP strength and critical strength by 3% | Three-star R |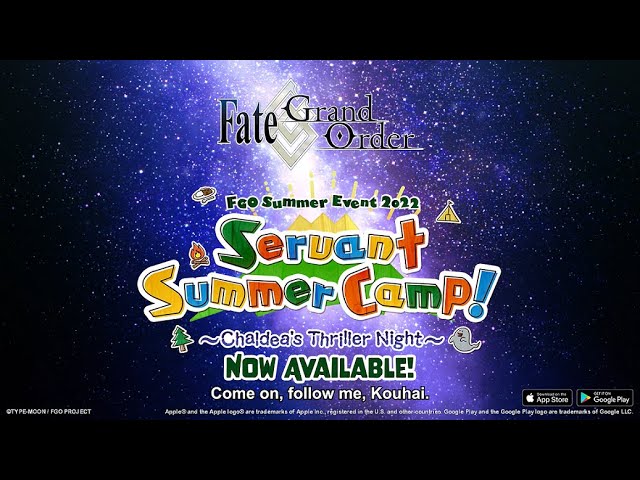 FGO Summer Camp command codes
| | | |
| --- | --- | --- |
| Command code | Effect | Rarity |
| Royal Bunny | Increase arts, buster, or quick by 10% for one turn | Five-star |
| Luo Long Mask | Increase buff success rate by 20% (two times in one turn) | Four-star |
| The Crimson Fairy's Command Seal | Deal burn damage when attacking and boost critical strength by 5% | Three-star |
FGO Summer Camp spiriton dresses
As part of the FGO Summer Camp event, you can pick up new spiriton dresses for Mash Kyrielight, Sigurd, Prince of Lan Ling, and EMIYA. The new outfits include Kyrielight's fetching summer swimsuit, and all can be unlocked by earning spiriton dress wardrobe keys by completing quests.
FGO Summer Camp mystic code
The new mystic code for this year's FGO summer camp is the suitably themed chaldea pathfinder scout's uniform. As ever, the new look for the season has three different scaling buffs.
Orienteering – increase one party member's quick card effect and NP strength for one turn (scales from 20% and 10% to 30% and 20%, respectively)

Campfire – boost party's critical strength for one turn (scales from 20% to 30%)

Survival kit – remove any ailments from one party member and boost NP gauge by 10% (no scaling effect)
There you have it, all you need to know about this year's FGO Summer camp and the various rewards attached. While we're talking summer camp, why not check out some of our picks for the best volleyball games, soccer games, and running games to relive those sunny day memories.