If you spend any time at all on the Internet, I know what you've seen in the last week. Countless clips of teens 'testing' Grimace shakes before succumbing to death, insanity, and all manner of other horrible fates. Well, I'm here to argue there's a connection between the Grimace Shake memes and Five Nights at Freddy's, allowing McDonald's forgotten mascot to occupy his new role as the golden arches' own haunting specter in the style of some of our favorite FNAF characters.
For those that don't know, the Grimace shake meme is the internet's latest fad, with clips appearing all over TikTok, Twitter, and Instagram. The original post from TikTok user @thefrazmaz is a classic bit of absurdist humor, showing the creator sipping a Grimace Shake before abruptly cutting to him lying on the floor, looking pretty dead, with the purple liquid frothing out of his mouth.
Since @thefrazmaz's post, countless copycats have elevated the Grimace Shake meme into something truly terrifying, with some clips rivaling horror films we've paid good money to see. The more the format evolves, the more it begins to resemble something we do recognize. Simply put, the Grimace Shake memes have some serious Five Nights at Freddy's vibes.
The popularity of titles that turn kid's characters into monstrosities amongst the TikTok gen-z audience is no secret – trust me, I see the page views – with games like FNAF, Poppy Playtime, and Rainbow Friends informing their creative sensibilities. While the original inspiration for the joke, the Spider-Verse Whopper meme, essentially implies nothing worse than food poisoning, the Grimace Shake feels different due to its connection to a fast food mascot, something many of us now associate with intense horror gaming.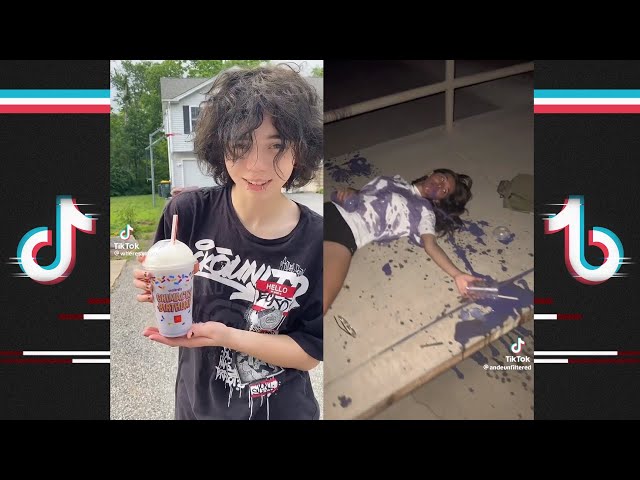 TikTok creator @thefrazmaz's explanation for the original post doesn't mention any horror games specifically, you can feel the inspiration if you read between the lines. Despite downplaying the concept as "just a meme", he also says that part of the idea is "Grimace collecting victims". Now, what other family dining establishment has a character that collects victims? You know. We all know. It's Freddy Fazbear's Pizzeria.
It's also worth noting that as it's mainly kids and teens trying out the Grimace Shake, there's a crossover between the animatronics from Five Nights at Freddy's and Grimace's victims. In some of the clips, you can see glimpses of Grimace himself, implying that he stalks those who pick up a cup, waiting for their first sip to strike. It's all very eerie, and not just in the plain ol' spooky way.
Even outside of FNAF influences, the Grimace Shake memes are part of a wider wave of media that reimagines childhood characters as nightmarish apparitions. It's becoming more and more commonplace, too, with 2023 already heralding the much-maligned release of Winnie the Pooh: Blood and Honey and the long-standing success of Peppa Pig-inspired Roblox title Piggy. Simply put, no childhood IP is safe from the trend FNAF started, and Grimace is just the latest victim.
So, while I'm not saying that FNAF directly influences every Grimace Shake meme, I don't think they'd be here without Cawthorn's iconic horror title, or at least nowhere near as popular. For some reason, there's something about the idea of man-eating fast-food mascots and big scary purple guys that lights a creative spark for so many. Either way, Ronald McDonald has competition for my new sleep paralysis demon.
There you have it, my hypothesis that we wouldn't have the Grimace Shake memes in a world without Five Nights at Freddy's. For more frighteners, check out our lists of the FNAF games and Poppy Playtime characters, as well as our picks for the best Roblox horror games.