Are you looking for a God of War mobile port? Whether it be one of the PS2 classics or the recent reimaginings, there are plenty of titles out there that you might want to play on the go. To help you achieve those dreams, we've scoured the internet to find out if you can get Kratos on the small screen, so you can lay waste to the gods wherever you are.
If it's portable gaming you seek, be sure to check out our picks for the best free mobile games and the best portable gaming consoles. Or, if taking you'd rather control a different deity to Kratos, see our picks for the best god games on Switch and mobile.
Is there a God of War mobile port?
Unfortunately, there's no official God of War mobile port available to play on either iOS or Android. It's no surprise really, considering the size and quality of the most recent titles and PlayStation holding onto the original games. There isn't a God or War Switch port either, so currently, the only way to play on mobile is either via Steam Link or the Steam Deck. For more details on that, check down below.
How to play God of War mobile via Steam Link
If you're absolutely determined to play God of War mobile, there is a way, but there are a couple of caveats. First, you need to own God of War on Steam and have Steam Link on the mobile you want to play on. Second, you need a phone capable of running God of War, so be sure to check out the tech specs on PC Game Benchmark and see how it lines up against your device. Finally, you should check whether your internet connection is strong enough to support streaming. If your ping is high, you'll struggle to get a high-quality experience no matter how powerful your device is.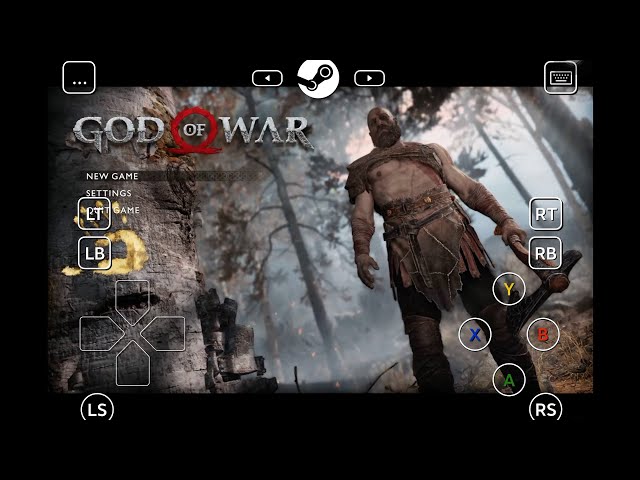 The other option is to install God of War on your Steam Deck. God of War is one of the many verified Steam Deck titles, so you should have no problems running it. For this method, all you need to do is purchase and install God of War via your Steam Deck, then you're good to get playing.
Is there a God of War mobile game?
There was a God of War mobile game, however, that title is from 2007, so isn't available to play now unless you really want to hunt it down (and in that case, you'd be playing on PC anyway). There is a God of War VR app that links to the PlayStation or Steam title, but it doesn't function as a game in its own right.
There you have it, all you need to know about playing God of War mobile. For more iconic game characters, check out our Mario figure, Kirby plush, and FNAF plush guides.