September 21, 2022: We added a new Idle Champions combination code to our list!
In a detailed strategy management game like Idle Champions, codes offer a much-needed boost to help aid your progress. This awesome, 2D idle experience takes you on a journey through the beloved D&D multiverse, uniting a bunch of iconic characters as you embark on exciting adventures in a variety of recognisable places.
But with so many locations to explore and fighters to gear up, it can take some time to get yourself up to scratch. Luckily, Codename Entertainment Inc has provided us with a bunch of awesome Idle Champions codes, full of handy freebies to help you on your way – and we've gathered them all here for your convenience. We also update this guide regularly, so be sure to check back from time to time for even more great goodies.
Everyone loves a good gift, and if you're on the hunt for even more freebies, treat yourself with our Tower of Fantasy codes, Free Fire redeem codes, AFK Arena codes, Valor Legends codes, and Dead By Daylight codes. We've also got a list of the best idle games for even more relaxed, passive fun.
Idle Champions codes
Active codes:
BIRD-IELU-CIUS – Lucius, three gold lucius chests, and Birdie Lucius skin (new!)
BIKE-YOCK-DOGE – electrum chest
VECN-ALIV-ES!! – Korth, three gold Korth chests, and Vecna cultist Korth skin
GAME-WEEK-2022 – Avren, Havilar, Krull, Melf, and Nove, and 16 gold chests for each one
BARO-VIAN-LORD – two silver Widdle chests
VALE-NTIN-EDAY – electrum chest
XXXX-XXXX-XXXX – two gold chests
UNLO-CKDM-NOW! – Dungeon Master and two gold Dungeon Master chests
MRHQ-KRX9-WKGH – Celeste started pack
THET-ARRA-SQUE – two gold chests
LOGI-C&RE-ASON – two silver Alyndra chests
MOON-CARD-WISH – two silver Ellywick chests
JOYF-ULLY-EVIL – two silver Prudence chests
MAYH-EM&M-USIC – two silver Brig chests
EACH-NERD-HASA-ROLE – two silver chests
IMPO-SING-PRES-ENCE – two silver Sgt. Knox chests
ECHO-OFZA-RIEL – two silver chests
HEAL-ING&-FIRE – two silver Orkira chests
CAPT-AINS-COAT – two silver Corazon chests
DEVA-SREG-ALIA – two silver Orisha chests
BLOT-CHOF-BLUE – two silver D'hani chests
GRUM-PY&G-RUFF – two silver Mehen chests
PALA-DINO-FTYR – two silver Selise chests
FELL-OWHU-MANS – two silver Hew Maan chests
SPOT-WEAK-NESS – two silver Talin chests
DOPP-ELGA-NGER – two silver chests
UNHO-LYBL-IGHT – two silver Viconia chests
SHAK-ASPU-ZZLE – two silver Shaka chests
AMUR-DERB-UNNY – two silver Yorven chests
ACQI-NCEV-ELYN – Evelyn and three gold Evelyn chests
STRI-XACQ-INC! – Strix and three gold Strix chests
EYES-WIDE-OPEN – one gold Avren chest
ELLY-WICK-CARD – five gold chests
STAG-GERM-EATY – electrum chest
EXAC-TSHA-GGY! – electrum chest
AGYG-AXCH-EST! – electrum chest
GREA-TEST-GAMY – electrum chest
GARY-CONT-TRPG – electrum chest
GARY-CONR-ULES – electrum chest
AGEM-IXMO-TOR! – electrum chest
CRAG-MONA-RCHY – electrum chest
ACOG-NACM-YRRH – electrum chest
GARY-CONJ-ASON – electrum chest
REST-INPI-ECES-PURT – one gold spurt chest
MAXD-UNBA-RFTW – gold chest
THEY-AWNI-NGPO-RTAL – gold chest
WAKA-NDA4-EVER – gold chest
AGOL-DCHE-ST4U – gold chest
TAKE-THIS-LOOT-CODE – gold Strix chest
IDLE-CHAM-PION-SNOW – gold chest
Expired codes:
There are currently no expired Idle Champions codes.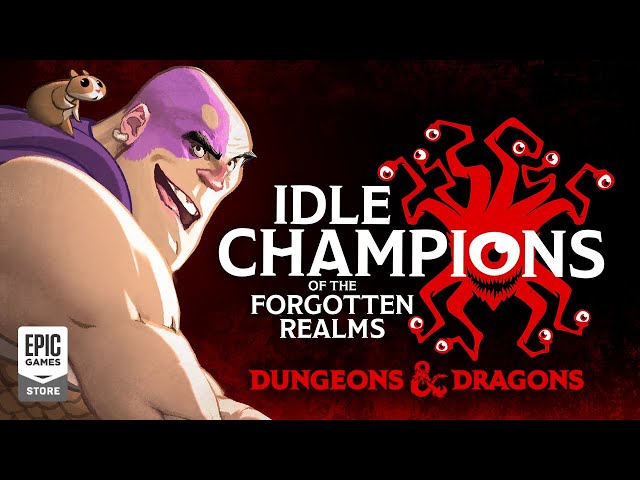 What are Idle Champions codes?
Idle Champions codes are freebies given out by the developer, Codename Entertainment Inc, to help you on your journey through the depths of the dungeon. These codes provide you with heaps of chests bursting with awesome goodies, including cold, powerful equipment, potions, bounty contracts, and more.
We update this guide whenever Codename Entertainment Inc releases a new code, so be sure to bookmark this page and check back from time to time for more handy treasures.
How do I redeem my Idle Champions codes?
No matter which platform you're playing on, redeeming your Idle Champions codes is simple. Just follow these easy steps.
Launch Idle Champions of the Forgotten Realms
Tap on the dollar sign to go to the shop
Go to the 'unlock a locked chest' section
Enter your code
Hit unlock
Enjoy your rewards!
That's it for our Idle Champions codes. If you're looking for another fresh title to enjoy, head over to our list of the best mobile RPGs and the best Switch RPGs and have a gander.