We hope all you League of Legends fans out there are enjoying the huge Sentinels of Light event, be it on League of Legends, Valorant, Legends of Runeterra, Teamfight Tactics, or, of course, League of Legends: Wild Rift. Riot's Summer event is happening right now across its entire games library – with each one getting exclusive rewards and in-game content. If you're yet to take part, check out our Sentinels of Light news to see what's on offer in the mobile titles.
Besides the main League of Legends title, its mobile counterpart, Wild Rift, has the most going on as part of the event. In addition, Sentinels of Light is the biggest event to come to the smartphone title so far. With that in mind, we can't help but wonder what it takes to tailor such an event for the mobile platform.
Sentinels of Light brings an all-new augmented reality experience to Wild Rift, and a series of visual novels – there are interesting ways for new and old fans alike to become familiar with League of Legends' extensive lore. Especially since this is the first time many mobile players have met Lucian and Senna – two integral characters to both League of Legends and the Sentinels of Light.
Given how huge this event is for the MOBA, we caught up with Wild Rift events lead, Juno Blees, and Wild Rift communications lead, Ben Forbes, to discuss the tailoring of Sentinels of Light for Wild Rift. Not only do we dive into the big event of the summer, we also touch on what you can expect from Wild Rift going forward, and ask whether or not the team will experiment with more AR experiences in the future.
So, what are you waiting for? Kick back, relax, and read on, especially if learning who the upcoming Wild Rift champions are sounds good to you.
Pocket Tactics: What made you decide to host an event across your entire games library?
Juno Blees: That decision actually wasn't made by any single person, because it really does "take a town" to deliver cross-product moments like Sentinels of Light. With that being said, I am personally always excited to do cross-product events, because I think that enables us to create a much bigger campaign that will elevate the awareness and experience for all our players.
We were excited about collaboration opportunities ever since Spirit Blossom, which was Riot's biggest event at the time, and players loved it. When we heard the pitch that the next big lore event was going to focus around the return of the Ruined King, and the rise of the Sentinels, we were really brought in. And the rest is history.
Can Wild Rift players expect to see more events like Sentinels of Light in the future?
JB: In terms of continuing to create more lore-based events like the Sentinels of Light event, we love storytelling, and we believe good stories enable us to build interesting events. There are so many intriguing stories left to tell about the world of Runeterra, and we hope to continue to deliver events that will exceed players' expectations in the near future.
What did you consider when tailoring the event for a mobile audience?
JB: One of the biggest focuses for the Wild Rift Sentinels of Light event was to create an approachable but satisfying story for players who might be new to the lore. Unlike players on League of Legends PC, this is the first time a lot of our players got to know champions like Lucian and Senna. So, it was important for us to provide context and tell a complete story about the conflict between good and evil.
In addition, we build all of our events from scratch that are tailored to the mobile audience, because we know mobile players prefer minimalistic event interface and faster event pacing.
Wild Rift now has an AR experience. Should fans expect to see more content like this?
Ben Forbes: The AR experience was a pretty new thing for our team, but we really enjoyed making it. We're looking forward to creating more experiences like these for future events, especially those that use mobile-specific features. For Sentinels of Light, we felt it would be awesome to show players what the inside of a Sentinel Outpost would look like on Earth, but there are so many possibilities with AR, VR, and mixed reality tech now. We feel like Wild Rift is one of the best games in Riot's portfolio to really branch out and show players new ways to engage League's various universes.
The Sentinels of Light event has brought visual novels to the game. Will this content become more frequent?
JB: We are always looking for innovative ways to tell stories in events. Visual novels are something we are trying out, and we hope players are enjoying them. We will decide if we should bring back similar features in future events if the reception is good. But even putting visual novels in the Sentinels of Light event has already taught us so much. We are excited to incorporate some of the learnings into building future events.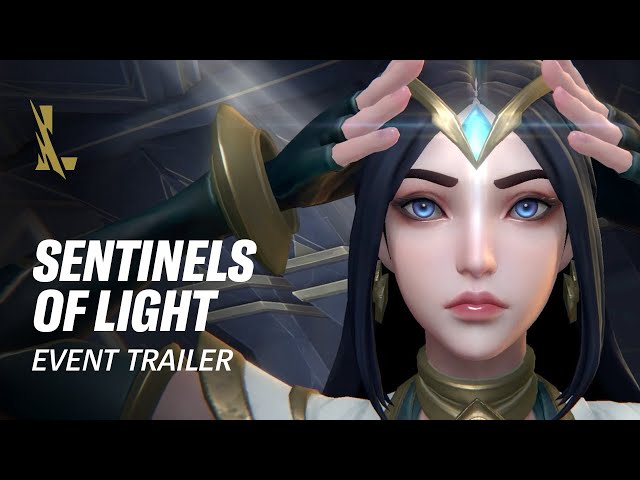 After the Sentinels of Light, and the introduction of Akshan, are there more champions on the horizon? Some fan-favourites perhaps?
BF: We see every champ as a fan favourite!
… Okay, that's a copout. The way we choose champions is partly based on popularity and play rate, but it's also looking to fill gameplay and thematic niches that we don't already have. Akshan's simultaneous development for Wild Rift and League PC was challenging; our teams have different work processes and systems in place to get champs into their respective games, and even small changes to his outfit or ability set needed to be clearly communicated (especially as we're still working from home). We committed at the start of the year to release an average of 2 champs per month, and we're still on track to hit that goal. Next up, Brand, Nunu & Willump, and Thresh are on the way, and we've still got a ton more coming before the end of the year.
Wild Rift slowly began rolling out last year. Is it now fully available worldwide?
BF: We're still in what we're calling our "Regional Open Beta" phase. The game isn't yet available everywhere worldwide, but we're working hard on making sure all players have access to the game everywhere (and at that point, we'd consider Wild Rift fully "launched"). We'd also only consider removing the "Open Beta" tag when we feel we've really solved a few key game issues for players: network performance and continuously adding more in-game content being the primary reasons for us holding back on that.
Is there a release window for Wild Rift's console version?
BF: We don't have any updates on that front. But it'll be sometime after the mobile version's release.
What's next for Wild Rift?
BF: More events, champions, skins and gameplay updates! We're going to continue listening to player feedback, and prioritising the things that they want to see in-game, but also throw in a few surprises that no one will see coming. No spoilers!
There you have it, looks like there's plenty coming to Wild Rift in the near future, including new champions such as Thresh. However, if you need a break from League of Legends, check out our lists of the best iOS games and the best Android games to find your next adventure.