Exciting things are happening in Legends of Runeterra right now. That's right, people, the final expansion of the Beyond the Bandlewood set is here, and it's known as A Curious Journey. You can look forward to plenty of content, as Riot Games introduces 48 new collectable cards, four new champions, and two new keywords.
The Champions making their debut as part of Legend of Runeterra's A Curious Journey are Gnar, Yuumi, Galio, and Udyr. Since you enjoy LoR, we assume you like League of Legends as a whole, in which case, you're already familiar with these characters. However, if Legends of Runeterra is your first LoL outing, let's give you a brief introduction.
Gnar is a yordle, but don't let his adorableness fool you. This fighter packs a punch. As for Yuumi, she's a magical cat from Bandle City, and she fills a support role in League of Legends. Galio, meanwhile, is a stone colossus which unsurprisingly makes him a tank that can withstand considerable damage. Finally, Udyr is a vessel for four primal spirits, making this fighter a mighty champion.
In Legends of Runeterra, Gnar is the first champion that can transform between level one and two, while Yummi offers a new dimension as you can play her as a normal unit, or attach her to an ally to boost their bonus stats and abilities. As for Udyr, he can switch stances thanks to the wild spirits, and Galio gives his comrades additional health. He can also decimate enemies through one of the new keywords – formidable.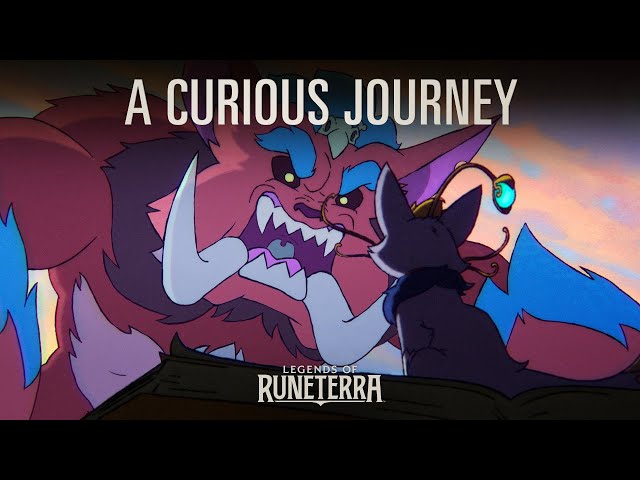 Formidable essentially allows units with gargantuan amounts of health to turn that into power, using their health bar as a means of attacking the enemy. This could turn the tide of battle, but make sure you don't leave yourself too open to the counterattack. As for the second new keyword, attach, you can play cards that possess this keyword as a normal unit.
When is the League of Runeterra A Curious Journey release date?
The A Curious Journey release date is already here. So get out there, familiarise yourself with the new champions, and kick some butt.
If you need some help with putting your cards to good use, our Legends of Runeterra decks guide can help you out. We also have a list of the best mobile card games if you want to flex your skills elsewhere.