There's tonnes of Legends of Runeterra news right now – as Riot's card-battler moves further and further away from launch, so too is it trying out plenty of new stuff. It seems like every other week there's Legends of Runeterra news about an experimental mode, new events, or even, as with Mount Targon, massive expansions – not that we're complaining, of course! But to keep you updated on everything coming to the game, we decided to create a Legends of Runeterra news guide, listing the most important stuff that you need to know about Runeterra.
Whether that's new exciting game modes like Labs or Gauntlet, expansions like Call of the Mountain, or in-game events, like the Spirit Blossom Festival. We're going to round up all of the Legends of Runeterra news worth knowing, and put it in one place – handy, huh?
If you find this article useful, be sure to check out our Legends of Runeterra decks list.
here's the latest legends of runeterra news:
empires of the ascended expansion revealed, introducing new region
Legends of Runeterra's latest expansion has been announced. Empires of the Ascended introduces the new desert region of Shurima alongside 110 new cards for the game. You can see some of the region's new cards in the announcement post, but as with previous expansions, even more will be revealed on Twitter every day from now until release.
Empires of the Ascended launches on March 3 and you can check out the trailer below: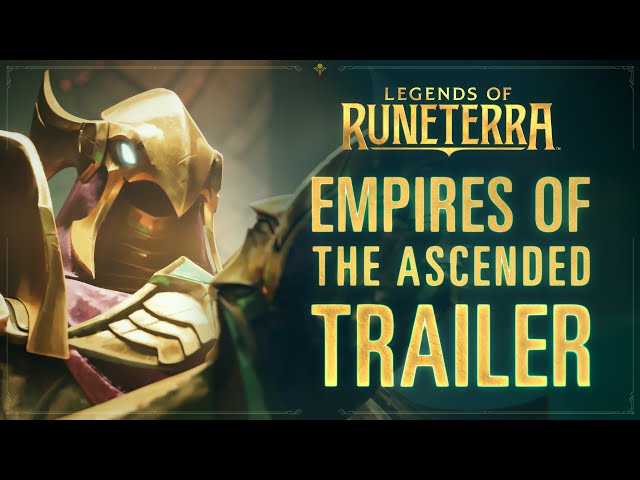 riot releases a call of the mountain design dive
Riot has released a Call of the Mountain Design Dive, explaining how they developed the champions and mechanics for Legends of Runeterra's most recent expansion. The dive also explains the mechanics behind new champions for pre-existing factions, such as Nocturne, Trundle, and Lulu. The post mentions that the two further Targon expansions that are on the way will flesh out the region even more.
first of three mount targon expansions release
The first expansion of the new Mount Targon region releases on August 26 at 11:00 PT (19:00 BST) and brings with it 89 cards, and 7 new Champions. 51 of these cards are unique to the Targon region, but the other 38 are split across existing regions such as Freljord, Ionia, and the Shadow Isles. For specifics on the new Champions and patch 1.8, see our Legends of Runeterra update guide.
We've been covering the card reveals for Mount Targon over the past few weeks, and it seems to be a region of light and darkness, with the Lunari and the Solari as the two primary factions. There are also some pretty crazy looking celestial creatures, like Aurelion Sol, who is basically a space dragon. For further details of future Targon region expansions, you can see the story below, or the useful infographic above. We'll see you on the mountain!
new region of mount targon adds 169 cards
Some big Legends of Runeterra news has arrived! Mount Targon is to become the card-battler's newest region, adding 169 cards to the game, along with 13 champions. Here's what you need to know:
The Call of the Mountain release date is August 26
The first expansion adds 89 cards and seven champions, while the subsequent two add 40 more cards each and three more champions a piece
This is the new format for Legends of Runeterra content, with an 'expansion' launching first, and two subsequent smaller 'sets' coming after
The new ranked season launches with Call of the Mountain, and seasons from now on begin when an expansion releases
In other Legends of Runeterra news, Riot is also going to start revealing Call of the Mountain Cards from August 11, which we are going to cover in our Legends of Runeterra update guide!
spirit blossom festival
Legends's of Runeterra's first in-game event is the Spirit Blossom Festival, running from July 22 to August 19 (10am PT). Here's all you need to know about the Spirit Blossom Festival:
The Spirit Blossom Festival has a special lineup of rewards, like card backs, wildcards, and guardians
Earn these by completing challenges to get petals
For more access to rewards, you can purchase the Spirit Blossom Event Pass for 975 coins ($10 for 1000 coins)
The festival rewards and content are themed around the region of Ionia
Be sure to grab what you want, as once the festival is done, there won't be another chance.
If you want to play Legends of Runeterra for yourself, check out Google Play and the App Store for download. Also be sure to see our Legends of Runeterra review!