Listen up, heroes. Marvel Contest of Champions is getting two new characters this month, both of which promise to bring the fight, helping to defeat adversaries and build safe havens. Any idea who we're talking about? No, well, the first is Captain America, who is joined by Misty Knight. Admittedly, some of you may not be familiar with the latter hero.
However, Marvel Contest of Champions' Captain America may not be who you think, as this iteration isn't Steve Rogers, but Sam Wilson. Still, you're likely familiar with the character as he begins his heroic journey as Falcon, taking over from Rogers as the titular hero after the time comes for The First Soldier to hang up his shield.
In Marvel Contest of Champions, Wilson rounds up survivors after Galactus turns Hell's Kitchen into the devil's playground. He intends to take those he saves to a helicarrier where Misty Knight waits. With those aboard, the detective plans to build a neutral community known as Safe Haven, a place where everyone that escapes the Galactus threat is welcome.
Of course, nothing is as simple as that. A mutiny begins to form aboard the helicarrier, and it's up to the two heroes to save the day.
While Misty might not be as well known as Sam, that doesn't mean you won't have seen her in action before, especially if you're a fan of Netflix's Iron Fist, Luke Cage, and The Defenders.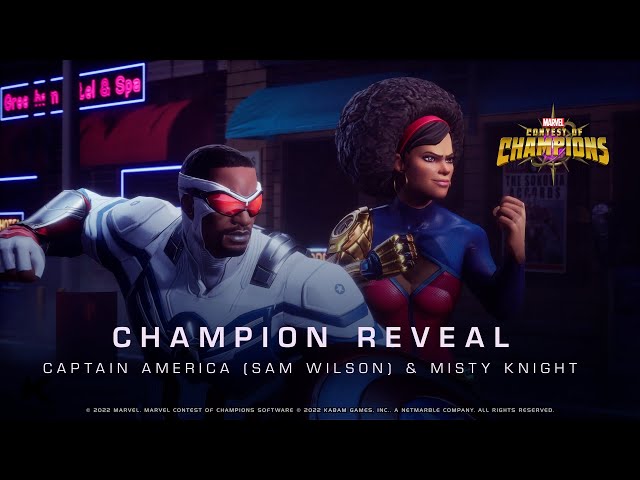 What is the Marvel Contest of Champions Captain America (Sam Wilson) release date?
We don't have an exact release date for Sam Wilson and Misty Knight, but we know they're making their Marvel Contest of Champions debut this month.
If you're after more hero work to do, you should check out Marvel Future Revolution. If you do, we suggest checking out our Marvel Future Revolution tier list and Marvel Future Revolution codes guide to see which heroes you should use, and what freebies you can grab.
Alternatively, if you've had enough of all this hero mumbo jumbo, our lists of the best iPhone games and best Android games are sure to offer you an escape from saving the world.