Oh, Snap! Boy, do we have some good news for all you Marvel fans out there as, during the D23 showcase (a livestream dedicated to all things Disney and Marvel), Nuverse, Second Dinner, and Marvel Entertainment announced the Marvel Snap release date, and the card battler is closer than you might think.
Given we're close to the Marvel Snap release date, it's only right to give you a brief lowdown on what to expect from the CCG. Of course, it features your favourite heroes and villains, of which you can pick and choose from to assemble a kickass team that can lay waste to all those who stand in their way while you fight through the multiverse.
Better still, there are more than 150 cards for you to collect, each of which features its own stunning artistic design. As for the gameplay itself, the latest Marvel Snap trailer shows that you can go to battle in three randomly generated zones, with each one offering different stipulations.
"We've spent years making sure that MARVEL SNAP is the kind of game that everyone, gamer or not, can't wait to pick up and play," Second Dinner CDO Ben Brode says. "If you love fast-paced, strategic games and the thrill of throwing down a power move to stop your opponent at the last second to win the big game, you're going to absolutely love MARVEL SNAP."
What is the Marvel Snap release date?
Marvel Snap releases worldwide on October 18, so make sure you check out our Marvel Snap download guide to install it on your device.
Can I sign up for Marvel Snap pre-registration?
You certainly can. Just head to the Marvel Snap website, from there, you can select which platform you want to pre-register on.
Is there a Marvel Snap trailer?
Of course, there is, and you can watch the latest one below: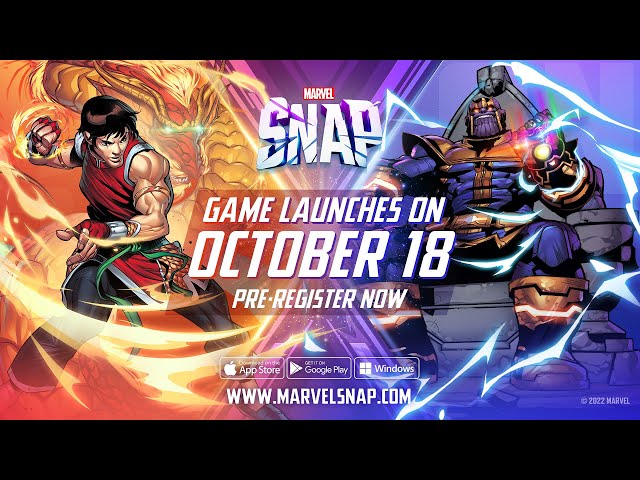 If you need some help when the game releases, our Marvel Snap decks guide can help you out. Or, if you want to do some hero work right now, you can swing by our best Marvel games list.