Marvel Contest of Champions is undeniably one of the best fighting games on mobile, what with its roster of more than 200 Marvel heroes and villains, with new additions constantly entering the battlerealm, and this month is no different as it's time to feel the need for speed – make the haters eat your dust.
That's right, after a fan vote, MCoC's Quicksilver makes his debut. If you're not familiar with the character, his real name is Pietro Maximoff, and yes, he's the twin brother of Wanda Maximoff, also known as the Scarlet Witch. As babies, the twins were abducted by the High Evolutionary, a sinister organisation that subjected these innocent kids to unfathomable experiments. However, this did give them impressive powers. More specifically, these unethical tests gifted Pietro super speed.
But wait, there's more, as it's not just Quicksilver that makes his Marvel Contest of Champions debut this month, as Galan also makes his presence known. It's fair to say that his back story gives off conflicting emotions. On the one hand, he killed billions of people after consuming a planet as Galactus, but his guilt made him recant his role as a cosmic predator, leading him to take up farming.
What's Marvel Contest of Champions Quicksilver's release date?
Quicksilver joins the game on August 25. As ever, if yuou want to get your hands on him, you need to pull him from a crystal.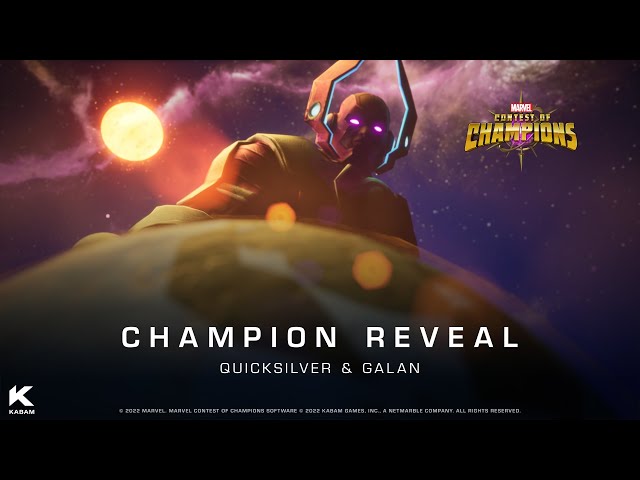 What's Marvel Contest of Champions Galan's release date?
Galan enters the battlerealm on August 11. Like Quicksilver, you need to pull Galan from a crystal.
If you want to discover who the best Marvel Contest of Champions characters are, head over to our MCoC tier list, where we rank them all. Or, for more hero action, swing by our best Marvel games list.