Nintendo announced yesterday that an Indie World Showcase would broadcast on May 11. Going live at 15:00 BST, 16:00 CEST, and 07:00 PT, the presentation featured roughly 20 minutes of information on upcoming indie games headed to the Nintendo Switch. Like most presentations, we received a mixture of titles shortly after the presentation and some given concrete dates in the future.
So, what did we get during the Indie World Showcase? Well, anyone expecting some long-awaited titles like Hollow Knight: Silksong, Sports Story, or Tunic to turn up may have left disappointed. But what we did get is a great mix of expected and surprising Switch titles that cover a wide breadth of different genres.
Big hits over on Steam such as Ooblets and Totally Accurate Battle Simulator are finally making their way over, Gunbrella is a great surprise announcement, and even some Apple Arcade hits like Gibbon: Beyond The Trees are finally making the leap. So with so many fantastic games announced for the Nintendo Switch, let us break down the best announcements from today's Indie World Showcase.
Catch up below with the Indie Showcase to see every single game in all it's glory.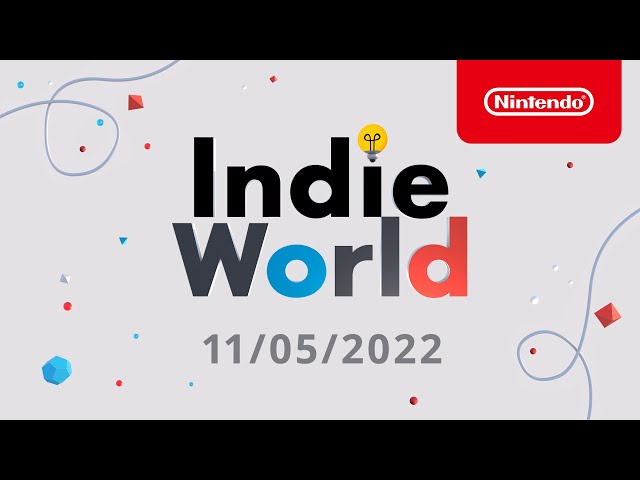 Indie World Showcase Highlights
Build up your farm, befriend townsfolk, grow ooblets, and have dance-offs when @Ooblets comes to #NintendoSwitch this summer! #IndieWorld pic.twitter.com/YN21iBW0oU

— Nintendo of America (@NintendoAmerica) May 11, 2022
Ooblets – Summer 2022
Grow and train adorable little creatures called Ooblets in the blossoming community of Badge Town. Customise your character, befriend locals, build your own shop, and even dress up your Ooblet pals. The creature collector crossed with a farming simulator looks absolutely adorable, and we can't wait to start building our own little agricultural paradise this summer.
Join Elec on a shocking mission to bring the light back to the world with his head, literally and figuratively, when ElecHead comes to #NintendoSwitch this summer! #IndieWorld 🤖⚡ pic.twitter.com/hZIC0FUfZM

— Nintendo of America (@NintendoAmerica) May 11, 2022
Elechead – Summer 2022
An electrifying platformer where you play as a small robot named Elec, who must restore light to the world while navigating a deadly facility. Use the electricity in your head to solve puzzles and trigger objects, by firing your head straight off your shoulders. This puzzling platforming could make for a shocking success later this year.
Build, customize, and upgrade a unique deck powerful enough to fight back an eternal frost when @WildfrostGame published by @ChucklefishLTD comes to #NintendoSwitch later this year! #IndieWorld pic.twitter.com/DpxQIoMw8H

— Nintendo of America (@NintendoAmerica) May 11, 2022
Wildfrost – Winter 2022
A rogue-like deck-builder, with a huge amount of card companions and items at your disposal. You must build a powerful deck to take on wave after wave of enemy creatures, utilising the amazing techniques they all offer. We love a good deck-building game, so we look forward to cosying up with Wildfrost this winter.
Take on the role of a gruff woodsman and engage in side-scrolling action combat with your mysterious Gunbrella ☂️

Gunbrella from @Doinksoft and @DevolverDigital is coming to #NintendoSwitch in 2023! #IndieWorld pic.twitter.com/0xhxyoWcAa

— Nintendo of America (@NintendoAmerica) May 11, 2022
Gunbrella – 2023
Devolver Digital always deliver, and Gunbrella looks like another feather in their cap. Manoeuvre through various locations and use the Gunbrella to glide, swing, dash, and dive against enemies in gritty combat. Use different scrap parts to improve your Gunbrella, and you'll need it, as plenty of dark twists and turns lie ahead as you explore this ominous world. We can't wait to open this one up next year.
Lead wobbly warriors into chaotic battles in Totally Accurate Battle Simulator from @LandfallGames, wobbling its way onto #NintendoSwitch this summer! #IndieWorld pic.twitter.com/Yhe2lJ7TAT

— Nintendo UK (@NintendoUK) May 11, 2022
Totally Accurate Battle Simulator – Summer 2022
Test armies against one another like you're playing with countless action figures, in this silly and addictive battle simulator that's as funny as it is gruesome. Already a hit over on Steam, the prospect of making historic soldiers of different armies into one massive mega-army and then sending them all to their deaths – on the go with Switch – sounds as much fun as being shot out of a cannon. By which we mean, it sounds amazing.
Dive into the deep, dark depths of the ocean and discover a haunting world full of strange creatures and long forgotten secrets. SILT from @GamesCircus plunges onto #NintendoSwitch this June! #IndieWorld pic.twitter.com/sBXuaW3Rzf

— Nintendo of Europe (@NintendoEurope) May 11, 2022
SILT – June 2022
A uniquely subversive horror title, Silt has you possess a variety of sea creatures, navigate a haunting environment, and explore the dark depths of this underwater world. If you thought Ecco thee Dolphin was scary then you just wait, as there's more than meets the eye in this dark monochrome world.
One crab's trash 🦀🗑️ is another crab's treasure 🦀👑

Embark on an epic soulslike treasure hunt when Another Crab's Treasure by @AggroCrabGames comes to #NintendoSwitch in 2023! #IndieWorld pic.twitter.com/5PbWoF5zww

— Nintendo of America (@NintendoAmerica) May 11, 2022
Another Crab's Treasure – 2023
Speaking of underwater! The second game from Agrro Crab, the lovely developer that brought us Going Under, comes Another Crab's Treasure. A crustacean themed souls-like where you play as a shell-less crab who must battle other creatures, use trash as a makeshift shell, and hunt for treasure across every inch of this epic map. It's certainly different, and we're definitely intrigued to see how this ends up.
"We are excited to welcome followers on every console into the warm embrace of the cult…

Cult of the Lamb is coming to Nintendo Switch, Playstation, Xbox, and Steam! pic.twitter.com/lCgtsb3i2K

— Cult of the Lamb (@cultofthelamb) February 24, 2022
Cult of the Lamb – 2022
When a sacrifice goes wrong, you must play as a sheep possessed by an evil spirit and create a loyal community of woodland worshippers. We got to play this at WASD recently and ended up enjoying the combat as much as the collection side of things, so look out for this one later on this year.
Smaller announcements
We can't quite cover everything, so here were the other small announcements from today's presentation.
Oneshot: World machine edition – Summer 2022
Gibbon: Beyond the Trees – Available today
Idol Manager – August 25, 2022
Card Shark – Demo available today alongside pre-order
Cursed to Golf – Summer 2022
A Guidebook of Babel – Autumn 2022
Well, that's it! There wasn't any Hollow Knight: Silksong release date, so excuse us while we start another playthrough of the original. If you're sharing our pain, you can make life easier with our Hollow Knight bosses guide, Hollow Knight mask shard guide, and Hollow Knight charms guide.