We've put together this Overwatch 2 skins guide, making it easier for you to suit up and boot up for some serious battling. With new ways to customise your characters made possible by a range of fresh skins, we've put together a list of all the Overwatch 2 battle pass skins you can pick up in the first season, and we'll be back to update it when new threads arrive.
To figure out exactly who you're trying to find some skins for, be sure to take a look at our Overwatch 2 characters guide and remind yourself of the ever-growing roster of heroes. Or, if another Overwatch game isn't your bag, find something new to play with our pick of the best mobile battle royale games.
How to transfer skins to Overwatch 2
If you've already got a closet full of clobber from the first game that you want to carry into Overwatch 2, you're in luck. All you need to do to carry over your skins from Overwatch into its sequel is connect to your account to battle.net by following the steps below. Just remember, you can only connect one account to battle.net, so if you're playing across multiple accounts or consoles, choose your highest-level account or merge your accounts before making the leap.
Start Overwatch

Scan the QR code on the screen

Enter the on-screen code to create your battle.net account (you can only do this once, so double-check you have the right Overwatch account beforehand)

Restart Overwatch

Confirm merging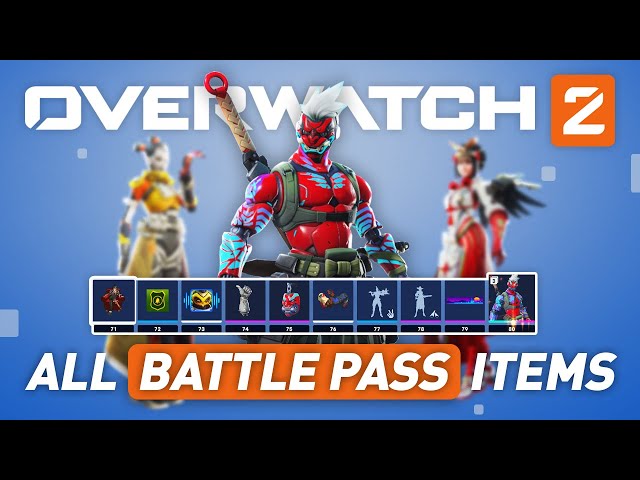 Overwatch 2 battle pass skins
Of course, with a free-to-play game like Overwatch 2, there's a battle pass system which occasionally rewards you with new character skins. With the first season's premium battle pass, you can grab one mythic skin, three epic skins, and five legendary skins for grinding it out to level 80. If you choose to go for the non-paid approach, you can still grab two new outfits for your characters.
| | | | |
| --- | --- | --- | --- |
| Tier | Premium or free battle pass | Overwatch 2 skins reward | Character |
| 1 | Premium | EDM | D.Va |
| 10 | Free | Tactical | Winston |
| 20 | Premium | Hinotori | Kiriko |
| 30 | Premium | Commando | Sojourn |
| 40 | Premium | Beast hunter | Junker Queen |
| 50 | Premium | Miko | Mercy |
| 60 | Premium | Sky centurion | Pharah |
| 70 | Free | Forest ranger | Cassidy |
| 80 | Premium | Cyber demon | Genji |
The big draw of the first season of Overwatch 2 skins is unsurprisingly the hardest to get, with eighty levels between you and the mythical cyber demon skin for Genji. It's worth making the effort to pick it up though, as those who own it can customise it further to suit their own preferences. Oh, and also, it looks very badass.
Overwatch 2 skins shop
In Overwatch 2 you can skip over the mess of actually having to play the game with the battle pass method and just buy yourself some brand new threads for your favourite characters. There's an ever-changing assortment of Overwatch 2 skins available in the shop, for purchase via either Overwatch coins or Overwatch League tokens, so be sure to check them out if you're happy to part with your change.
There you have it, all you need to know about Overwatch 2 skins. For more help getting around the shooter sequel from Blizzard, see our Overwatch 2 maps guide.