Overwatch 2 is an interesting sort of sequel. Considering Overwatch is a clinically perfect MOBA-inspired hero shooter, making a sequel is definitely an odd proposition. One change is to Overwatch 2 maps. There's a total of 23 OW2 maps, allowing for more than enough different venues for your team to get into the groove. Head below to find them divided up by game mode, so you know what you get to do and where.
Beyond the new places to play, there are a bunch of fresh Overwatch 2 characters to get to grips with too. There's a guide to the best mobile MOBAs too if you fancy learning about one of the key influences in the creation of Overwatch. Or, if you can't get enough of gun games on the go, our best mobile shooter guide is the one for you.
Overwatch 2 maps
Escort Overwatch 2 maps
Escort is the classic payload mode that Overwatch is known for. The attackers escort the payload towards the enemy's spawn points across three checkpoints. It's a thrilling, excellent mode, and these are the maps you can expect to see playing it.
Set in the F1 capital of the world, Circuit Royal was originally known as Monte Carlo – named after the city in the principality of Monaco. It was first announced in 2019 but received an updated name to commemorate the open-wheel racing inspiration this Overwatch 2 map takes.
The world tour of Overwatch 2 maps is all about globetrotting – this time we head to Dorado, a city in Mexico. With a backstory based on the destruction of the city's energy infrastructure, the city is rebuilding with fusion plants on the way from a large corporation.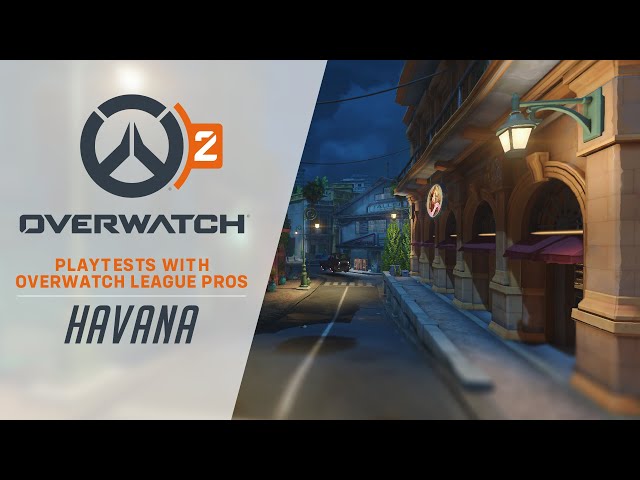 Now we jet-set to Havana, Cuba, to the changing cultural influence of a city with a long legacy. Just like in real life, there's concern about the massive jump in tourism to the country, and the possible effects it may have. We saw a new nighttime version of this map in Overwatch 2 gameplay from 2019, which you can see above.
Heading to Junker Queen's homeland, Junkertown is an Overwatch 2 map set in the Australian outback. The Queen leads the scavenger group known as the Junkers, where they find money wherever they can and fight it out in arena battles.
If you've ever wanted to hear a barcarolle on a peaceful gondola ride, you may be kept wanting with Rialto, even though you get to head to the canals of Venice, Italy in this Overwatch 2 map. While you'll be there shooting it out, it's still a massive tourist attraction, with art, food, and gorgeous scenery.
If you ever plan to motor west, travel my way, take the highway that's the best, and get your kicks on Route 66. Winding from Chicago to LA, more than two thousand miles all the way, Route 66 may be immortalised by Nat King Cole, but he sure wasn't singing about a videogame. Instead of his version, we get to fill the place with explosions and specials to ruin its peaceful, old-timey nature.
At the end of Europe, you get to the Rock of Gibraltar, a massive limestone promontory (thanks Wikipedia), a natural wonder of the world. In Overwatch 2, this map is the space for one of the many former Overwatch bases for the organisation.
Hybrid Overwatch 2 maps
Hybrid maps offer up different payload objective permutations to keep you on your toes between sessions. Head below to check out all the maps on offer.
Out in Irvine, California, lives a Disneyland-style theme park dedicated to everything Blizzard. With references to Diablo, Warcraft, and other classic Blizzard properties, it's a haven for any true blue Blizzard backer.
Stuttgart is the sixth largest city in Germany, but what you may not know is that on the outskirts, many colourful heroes are battling it out in the black forest. An old city that saw much combat in years-ago wars, it's now abandoned, with the forest retaking it.
With palm tree-lined streets and endless glistening sun, the rolling Hollywood hills are the perfect place to strut your stuff and live your movie-star dream. Still, even the bigwigs of the film industry can't escape Overwatch 2's endless battles, offering another place for us to duke it out.
Now we head to my home, horrible old blighty, the worst place in the world: England. Here in Overwatch's version of London, we get futuristic skyscrapers, blaring skylights, and a holographic Big Ben (sorry, Elizabeth Tower). Anyway, come here for sky-high rents, overpriced pints, and an endless sense of dread that even Overwatch 2 can't fully placate.
New York, the big apple, the city of neon and chrome, the place so nice they named it twice, comes to Overwatch 2 as a fresh new map. The city that never sleeps will be more awake than ever when Midtown gets its streets full of players to explore the art-deco streets.
Like an Overwatchified Wakanda, Numbani is a futuristic, harmonious city near Nigeria. With elegant skyscrapers, greenery and gardens, and a bright blue sky that goes on forever, it's a shame to fill it full of trigger-happy cartoon characters.
Heading to Rio de Janeiro, in the shadow of Cristo Redentor, is Paraíso, an Overwatch 2 map based around the single-player mode for an experience focused on the story. With bright, colourful buildings and rising, steep streets, it's set to be the biggest map yet.
Control Overwatch 2 maps
Control maps are pretty hard to get a good team composition for, thanks to their wide variety. With the aim of capturing a central zone, the objective is pretty simple, and it can often lead to pretty hectic battles. Here's where you'll be doing all that.
Train to Busan? More like payload to the objective, soldier! This South Korean metropolis is as lavish as they come, with vibrant corner stores and rising skyscrapers. Hopefully, no train-related zombie antics will happen in this Busan experience.
I'm pretty sure the general consensus is that 'ilios' means sun, like 'ήλιος', but that's helios to my eye. When I see capital 'I' Ilios, I think Ῑ̓́λῐος, as in Trojan. Either way, this beautiful island paradise is perfect for a bit of sun and a margarita. Just mind all the ancient ruins all over the place.
Another bustling metropolis, Lijiang Tower is a sky-high skyscraper at the centre of a sprawling city in China. With shops, restaurants, and parks, it sounds like a typical city. That is until we get in there and start destroying everything.
Nepal is a landlocked country in South Asia, where a monastery high in the Himalayan mountains is the backdrop for some tough control battles. Careful here, you can fall off the map to your death, with knockback attacks being a good goer.
In the desert in Iraq lies Oasis, a futuristic space of creation and scientific invention. The utopian space for the brightest minds of the world is also an Overwatch 2 map for all your control combat.
Push Overwatch 2 maps
A brand new game mode just for Overwatch 2, push is a little similar to escort, except there are blocks instead of payloads, and a robot the teams need to use to push their respective blocks. We're yet to have a good go at it, so this is more of a mystery. At least we know where we'll be doing all this pushing.
At the heart of a McDonalds-infested Rome lies one of the jewels of Roman history, the Colosseum. Instead of gladiatorial showdowns, however, we get robots duking it out in here. I'd go for the pizza, but maybe there'll be too many bullets flying.
In another spot on the European tour, we head to Lisbon in Portugal for this Overwatch 2 map. Esperança means hope, but we're yet to see what possible lore permutations await us within this place.
While also a push map for multiplayer, New Queen Street takes us to the Canadian city of Toronto for a single-player story experience. It's a classic Overwatch city: big skyscrapers, shining blue sky, and a general sense that it's a nicer place to be than the real world.
Unreleased Overwatch 2 maps
There's no game mode affiliated with these Overwatch 2 maps. We just have to wait and see what we'll be doing there. All the names below are placeholder names, just so you know.
Gothenburg is the second-largest city in Sweden. With gorgeous water, dainty architecture, and a general sense of peace, I kind of hope we don't have to do any of that old violence here. Let's just have some pickled herring, ey?
We don't know all that much about the Overwatch 2 map known as India. It does look quite nice though.
Wowza, that's a whole lot of Overwatch 2 maps. Time for bed, see ya later. Go check out our Overwatch 2 skins guide if you need some more.