If you want to get through Needs Games' gothic hack and slash, you're going to need to get your hands on some Undecember runes. Depending on whether you want to specialise in attack, agility, or intelligence, these power-ups grant you with special moves and effects that make it easier to progress through this dark and dingy adventure.
With so many available powerups in this quest to defeat the evil god Serpens, we've picked out a collection of Undecember runes worthy of recommending to new players and old. Of course, for those players who are completely fresh in the world of this Diablo-like game, we've also made sure to explain what exactly runes are, and where you can pick some up.
While you're here, be sure to grab some freebies for a collection of gothic Roblox games, including our Reaper 2 codes, Attack on Titan Evolution codes, Slayers Unleashed codes, and Backroom Race Clicker codes. Or, if you're looking for another adventure through a dilapidated and doom-ridden world, see our picks for the best games like Dark Souls on Switch and mobile.
What are the Undecember rune types?
There are three different types of Undecember runes, skill runes, link runes, and runestones. Each has a slightly different effect, so check out below for some in-depth information on each power-up.
Undecember skill runes
Skill runes are hexagonal in shape and allow you to use specific melee, ranged, and skill spells (also known as attack, agility, and intelligence in Undecember). With six spaces to equip link runes around your skill runes – more on that below – you can improve your attacks in the rune menu at any time.
Undecember link runes
Link runes are used to further power skill runes and are available in red, blue, and green varieties. You can equip up to six link runes per skill rune, so be sure to look out for any possible synergy between the effects.
Undecember runestones
You can use runestones to enchant specific skill runes, with up to three equipable across all of your rune slots. Every individual runestone has its own upgrade effect, so try and use them in conjunction with your skill runes to create more powerful attacks.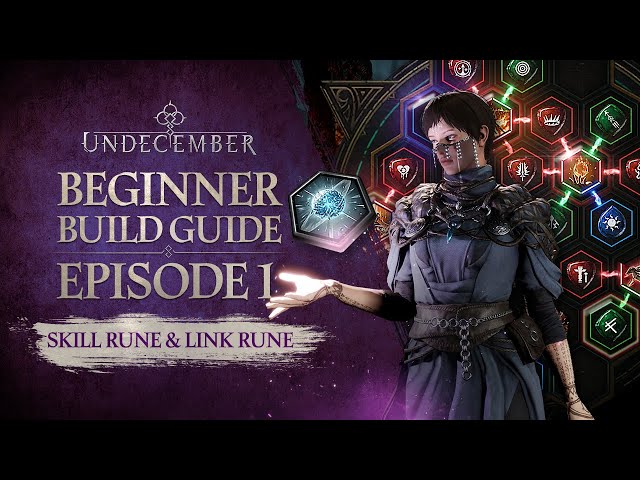 Where can I get Undecember runes?
You can pick up new Undecember runes by speaking to Mystic Pauline in the town area. This NPC has skill and link runes in her inventory. The same goes for if you want to upgrade any of your runes, just check in with Pauline and make sure you have the items you need to level up your gear.
Of course, you also get skill and link runes from completing missions and reaching certain milestones in the game. It's also worth keeping an eye out for any in-game events, as there might be special runes up for grabs for a limited time.
What are the best Undecember runes?
If you're trying to figure out which are the best Undecember runes to equip to your character, don't worry, we've got you covered. In the table below you can find all our recommendations for the best runes, as well as what class they belong to and their effect.
| | | |
| --- | --- | --- |
| Undecember rune | Skill type | Effect |
| Illusion hook | Attack | With an attack range of 500, this move deals 57% damage and pulls in affected enemies |
| Sentence of defence | Attack | Increases armour by 30% |
| Crescent slash | Attack | Increases damage by 180% and improves weapon range by 120 |
| Projectile acceleration | Agility | Increases projectile speed by 30% and projectile damage by 25% |
| Find Weakness | Agility | Increases critical chance by 20% |
| Sentence of avoidance | Agility | Stackable increase of 25% evasion |
| Summon rune knight of wrath | Intelligence | Increases basic attack power by 100%, attack speed by 42%, and ground slam damage by 150% |
| Finishing blow | Intelligence | Ignore evades on enemies under 20% health |
| Time acceleration | Intelligence | Increases rune cooldown by 10% |
There you have it, all you need to know about Undecember runes. To get social while you're playing, check out our WhatsApp download and Discord download guides.