While I love a big release game as much as the next person, it's impossible to ignore some of the awful stories that have come out about triple-A publishers recently. From crunch culture, to predatory monetisation, and even extreme abuse, it's heartbreaking that an industry that has offered solace and escapism to so many has inflicted such pain on the very people that build it.
As such, I've found myself drifting further and further towards the indie side of gaming. Of course, indie devs and publishers are not without their controversies, but in the grand scheme of things, it feels far more satisfying to support artists attempting to break out and find their own footing in this important but increasingly corrupt field.
This year has seen some brilliant entries into the hall of the best indie games on Switch, full of stunning artwork, thoughtful stories, moving characters, and boundary-pushing gameplay. Dealing with heavy themes like loss, fear, environmental issues, and identity, these games not only prove that you don't need a big label attached to you to show your worth, but you can resonate with people from all walks of life, regardless of whether you're a talking rat or a shape-shifting sword.
Therefore, as the year draws to a close, I'd like to look back over some of the indie titles that have had the greatest impact on me over the past few months and shine a spotlight on some underrated gems that truly deserve more attention. Sometimes, the best things really do come in small packages.
Tails of Iron
Tails of Iron is a journey. Both in a literal and emotional sense. In the simplest terms, it's the tale of an underdog (or under-rat?) who has lost it all, trying to reclaim his kingdom and prove himself after the death of his family. Though this narrative is as old as time itself, it lends perfectly to the mythical, mediaeval feel of the game, and it's hard not to put yourself in Redgi's little scampering feet as you traverse the unknown lands that were once his home.
With punishing RPG adventure combat, stunning side-scrolling visuals that look straight out of a twisted storybook, and a simple but heart-wrenching narrative about self-discovery, Tails of Iron truly has a heart of gold. To read more of my ramblings on this beautiful yet grim little gem, check out my Tails of Iron Switch review.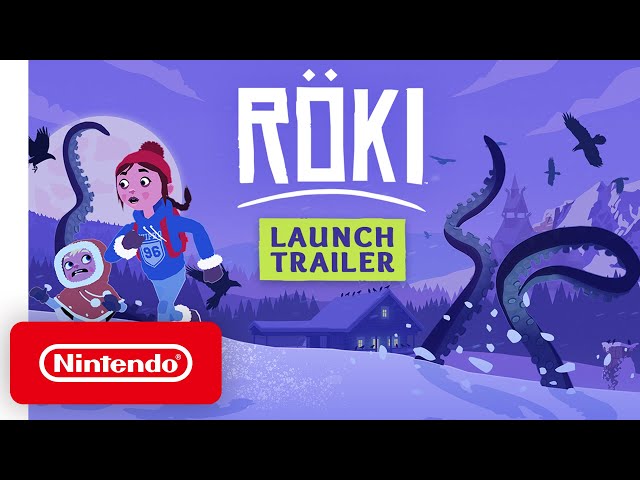 Röki
Röki is an unexpected treasure, seemingly hidden in the silence of a snowdrift. I'm a sucker for fairy tales, and this game honestly transported me to my childhood, when I would spend whole winter days curled up with a blanket and an anthology of stories. Handling themes of love, loss, trauma, and sacrifice, with its roots set deep in stunning Scandinavian folklore, it truly stands out for all the right reasons.
You find yourself in the fluffy boots of Tove, as she embarks on an adventure in the ancient wilderness, in search of her younger brother Lars who has been taken by an ominous creature called Röki. Despite there being plenty of striking, well-designed monsters, there's no combat in this one – taking a modern spin on the classic point and click, your main goal is to collect items (gathered in a delightful journal that looks just like a sticker book) and solve puzzles with logic and initiative. It's not a particularly challenging game, nor is it very long, but the narrative, art style, sound design, and tight controls make for a beautiful experience.
Boyfriend Dungeon
While this one may look like a light-hearted dating sim (and believe me, I thought so too when I first picked it up), Boyfriend Dungeon surprised me with its well-developed characters, fun combat, and wonderfully warming themes of self-acceptance and overcoming your fears. It's a celebration of love – be it platonic, romantic, or loving yourself – and honestly, that's just love-ly.
The core story does, at times, feel a little lacking, but the unique, fleshed-out personalities and backstories of the Bae Blades show a great level of care. From the successful but insecure Isaac searching for his father's approval, to the reclusive yet kind-hearted Rowan overcoming a great loss, every facet of the game handles the concept of fear and love with admirable attention (even if it is a little cheesy at times). Plus, there's plenty of humour and gorgeous, sun-soaked visuals to keep you absorbed, whether you're fighting your fear of intimacy in the dungeons or while having a picnic in the park.
Check out our Boyfriend Dungeon Switch review, where I go more in-depth about my sword-smooching shenanigans.
Minute of Islands
Where would we be without this big, beautiful hunk of rock we live on? Humans have come a long way over the last few centuries, but all things have a price – most of which our poor planet has had to pay. Pollution, war, chaos, and environmental uncertainty is a rising fear in current society, and Minute of Islands handles these themes perfectly.
You take the role of Mo, an apprentice mechanic on a mission to fix her dying world. Focusing on the conflict and conflation of machinery, and the ironic co-dependence between giants and the technology they created, its environmental message is clear. However, it also handles heavy themes of mortality, self-destruction, and martyrdom, as Mo puts herself at great risk in an attempt to save those around her.
Despite its beautiful, story-book art, this isn't a light one. There's plenty of disturbing, distorted creatures, decaying carcasses, and toxic gas seeping into every stunning scene, all laced with phenomenal sound design. Its simplistic gameplay further enhances the intense exploration of mental and emotional health, and the beauty and horror of death. Find out more in our Minute of Islands review.
Townscaper
Okay, so Townscaper is almost a non-game – it's more of a relaxation tool. But it's perfect for quelling anxiety and is wonderfully satisfying when you're not feeling your best. I spent many an hour plopping beautiful, colourful little buildings into the vast ocean and watching them transform into sprawling structures, and if you feel you need something to unwind with before bed, or to help you zone out when life gets too much, it really does the trick. Find out more in our Townscaper review.
Eastward
It's impossible to deny the tender love, and care put into every atom of Eastward. It's atmospheric, well-designed, emotive, magical, and instilled me with a true sense of awe that very few games have managed. Featuring a striking, 90s anime-inspired visual style, puzzle-based combat, and vivid settings bustling with life, Eastward takes you on a journey truly unlike any other.
Following the tale of Sam and John as they embark on an adventure, hopping from settlement to settlement on the run from the mysterious and deadly toxic presence known as Miasma, you're swept away into a wonderfully weird world full of bizarre characters, creatures, and stories. It even features a heap of fun mini-games (including a fully realised classic RPG), there's so much to love about Eastward. Take a look at our Eastward Switch review to find out more.
Spiritfarer
Spiritfarer got right in my bones. I can't express just how beautiful this bittersweet adventure is, as it takes you through the motions of love and loss, exploring some of life's darkest moments and nurturing the seeds of hope. Of course, the artwork is absolutely gorgeous, and only emphasised by the wonderful personalities of the spirits you meet along the way.
You find yourself in Stella's shoes, as you take the role of the Spiritfarer, aiding lost souls and caring for them before ultimately transporting them to the afterlife. You must learn their likes, dislikes, fears, and regrets as you help them come to terms with their past, allowing them to let go and move on peacefully. With a variety of mini-games and challenges to test your mettle as you advance through this stunning world, there's always something to keep you engaged, while Spiritfarer continues to tackle difficult and heavy topics with tact and respect.
If you'd like to find out more about this unforgettable, moving experience, check out our Spiritfarer review and our Spiritfarer interview.
Stardew Valley
Stardew Valley isn't a new game, and I'm willing to bet you already know plenty about this little masterpiece, but I couldn't exclude it. I finally got around to sinking my teeth into this farm-themed simulation RPG this year, and it's quickly become one of my favourite games of all time. I live with multiple disabilities, and Stardew Valley is an escape when my health goes through a particularly rough patch, and I'm willing to bet it offers the same solace to many other people stuck in lockdown over the last two years.
With the delightful Stardew Valley characters, magical creatures, sprawling dungeons, and simple yet satisfying farming, it truly delivers on all fronts, and has continued to do so since its release. It's a modern classic, and if you haven't played yet, you honestly owe it to yourself by now.
The indie scene really has offered up some masterpieces in 2021, and it's been truly cathartic to go back over these beauties as I reflect on the past year. Whether handling themes of death, love, loss, self-destruction, or self-acceptance, these titles prove that videogames are, undeniably, art, and should always be respected as such. Now, dry your eyes and look to the horizon, as there's plenty more to look forward to next year.
While you're here, check out our list of the best Switch games of 2021, or the best mobile games of 2021 for more of our top picks from the last 12 months.