Reviewing EA Sports FC 24 on Switch is an interesting proposition. For a start, this is the first game following the infamous split between EA Sports and the FIFA organization, leading to the change of name for the long-running series. However, the biggest change is exclusive to Switch, with FC 24 using the developer's Frostbite Engine for the first time, meaning this is as close a port as we've had to other console versions since the launch of Nintendo's best-selling handheld.
For those who have struggled through six years of FIFA on Switch, EA Sports FC 24 is a breath of fresh air. The gameplay and graphics still aren't quite at the level of the Xbox and PlayStation versions, but the Switch port finally feels like a viable option. If you've been dreaming of a true handheld version of EA's soccer flagship, you got it, with just a couple of caveats that don't massively detract from the overall experience.
FC 24 on Switch is a fluent soccer sim, even with the developer locking the frame rate to 30 FPS, allowing free-flowing 11 vs. 11 gameplay with few noticeable dips in both offline and online play. How seamless the soccer gameplay feels really depends on where you're coming from. If you're arriving from a previous FIFA installation on Switch, it feels fantastic, serving as a reminder of how embarrassing the last few lick-of-paint updates have been. However, if you're coming from a console version, you may notice the lower frame rate, especially during fast-paced footy at higher difficulty levels.
As I've come to expect with EA's soccer series, there are a plethora of ways to customize the game to your liking, from in-game difficulty to camera angles and beyond. I will say that the gameplay perhaps feels as if it's starting to tilt back in the direction of arcade football rather than the hyper-realism EA seems to have been aiming for in the last few years, but personally, I prefer that, and it still feels a lot more like the real thing that something like Captain Tsubasa.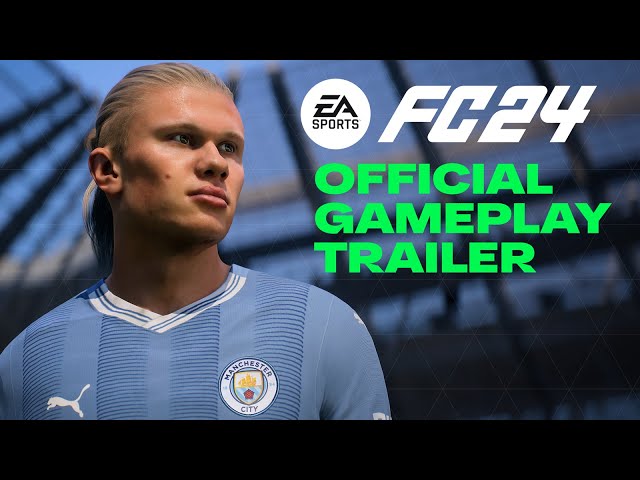 As is the case with other sports games on Switch, there's a benefit to playing in docked mode and with a Pro Controller where possible. While it's certainly playable using Joy-Cons, it doesn't feel quite as fluid, and a lack of depth to the buttons makes it a little more difficult to judge the power of shots and crosses. It feels better than before, though, and this pinpoint precision in terms of inputs only really comes into play if you're purely a competitive online player.
It's still not a perfect port, though. There is the occasional moment of disappointing graphics, especially when it comes to the crowd, with cheering fans occasionally replaced by semi-frightening cuboid shapes spurring on their teams from the rafters. Fortunately, these instances are nearly always off the pitch, and players like Erling Haaland or Jude Bellingham never appear looking as if they're character models from Super Mario 64.
The in-game cutscenes are the only other area in which I questioned if the developers had potentially skipped over trying to optimize and let it release as is. In post-match conferences in career mode and in the short scenes where you meet with transfer targets, it feels more like a presentation of still images than what I've come to know from other console iterations. It's a touch uncanny, but again, it doesn't affect the core gameplay, so I'm willing to gloss over it and hope for some sort of patch in the coming weeks.
There are some positives in terms of graphics, though. FC 24 excels at delivering high-quality representations of some of the biggest names in the world of soccer. That isn't just in terms of players, but managers too, with famous faces like Pep Guardiola and Jurgen Klopp both looking and, more impressively, acting like their real selves. That makes it all the more rewarding to watch Pep screaming from the sidelines as my Championship West Bromwich Albion side takes down his world beaters 2-1 in the FA Cup. That's my kind of fantasy football.
The Switch version of Ultimate Team is better than ever. It's essentially the full package, with all the game modes you may know from console versions and a few fresh additions for good measure. 'Moments' is particularly engaging for anyone who needs a bit of a refresher on EA's soccer mechanics, walking you through both on-the-field tactics and team-building exercises before you jump online, while there are still all the hyper-competitive modes that I choose to pretend aren't there. That's not EA's issue, but a skill issue of my own.
It is a bit annoying that there's no crossplay whatsoever here, though, including in the Ultimate Team transfer market, so you have to rely on a smaller pool of fellow Switch players selling soccer stars to develop your own team. Still, compared to what we've had before, I'm pretty happy to sit around waiting for a certain player to go on sale while developing my squad if it means I can at least take part in the game mode that has made EA's soccer sim such an attractive proposition in recent years.
There's little I can say about EA's relationship with microtransactions that someone else hasn't already said. I wouldn't call it pervasive or predatory, though, and you can at least engage with Ultimate Team without having to spend a dime. You might not be able to make a team of worldbuilders without hours on the transfer market and a solid bit of luck, but if you're so inclined to spend on packs and players, the option is there.
If, like me, you find yourself tilting like a Premier League manager following a poor VAR decision after playing online for a while, the vs. CPU modes are more engaging and all-encompassing than ever. There's manager career mode, a long-standing favorite for those of us who've been playing FIFA since Ronaldinho was on the cover with some funky new features for 2023, plus player career, tournaments, and for the first time on Switch, Volta Football.
Volta Football is street soccer, with smaller teams of three and tiny little goals. It's quite a different proposition to your 11-on-11, emphasizing skills and price short passes over long lobs and heavy tackles. I'm not a big fan of the Volta mechanics, but its inclusion shows how far EA has come in the last year in terms of the Nintendo Switch offering.
Manager career mode is another example of EA listening to its consumer base, adding yet more features to enhance the ways in which you can set up and develop your team with playstyles and coaches. Sure, it's hardly Football Manager when it comes to sports administration, but do you really want that? The developer seems to have finally found the sweet spot between organization and classic soccer gameplay, so you can divide your time accordingly while never really getting tired of one or the other.
I could go into detail about all the different game modes available in EA Sports FC 24, but the real highlight is that they exist in the first place. With every 'Legacy Edition' of FIFA that came on Switch before, there was a noticeable difference in the number of game modes and ways you could play. Now, it's the full package, and you can take to the pitch in whichever way you prefer.
Before rounding up, it's worth mentioning a couple of the things that make the Switch version of EA Sports FC 24 unique, even if they're not exactly game-changing. The first is that EA is finally making the most of the Switch's Joy-Cons, offering two-player matches with a Joy-Con each. It leaves you a little short of buttons for top-level play, but it's enough for a couple of games with a friend if you're feeling too lazy to dock the thing.
There's also a pinch-zoom mechanic on Switch, which, while impractical for the most part, means you can zoom in on replays to watch as the poor opposition goalkeeper fumbles one into his own net. Just like Bart famously watching Lisa dump Ralph in The Simpsons, you can see the goalie's heart shatter in real-time, and this is particularly satisfying when playing in an online game or in the final moments of a match.
All-in-all, EA Sports FC 24 on Switch is finally a handheld version of the iconic soccer simulator worth playing. It's a shame that it's taken them so long to deliver, but luckily for EA, no other developer could plug the gap, and this is easily the best soccer game on the console.
For more on the latest EA soccer title, check out our guides to FC 24 career mode, FC 24 potential, FC 24 points, and FC 24 ratings.
EA's flagship soccer series has finally found its feet on Nintendo Switch, pushing the console to its limits to deliver something that feels like it's made for 2023. There's no crossplay, and some of the off-the-pitch graphics are a touch primitive, but for raw soccer gameplay, there's nothing better available on Nintendo's smash hit console.