October 5, 2022: X-23 may be coming soon to the Fortnite item shop!
Fortnite leaks are a neverending source of entertainment and discussion among fans of Epic's megahit battle royale. The smallest of details, true or not, can spread rapidly throughout social media, to the point where it can be hard to stay on top of the latest information.
There are plenty of well-known sources of Fortnite news and leaks, especially on Twitter. And while leaked info can, on occasion, prove to be true, it's often quite hard to work out who exactly to listen to and trust. That's why we've put together this here guide of regularly updated Fortnite leaks and info.
Given the nature of leaks, it's always best to temper your expectations and accept that not every piece of leaked info will be 100% accurate. That said, we'll do our best to make it clear when a leak is especially dubious or outright untrue. So, without further ado, here are the latest Fortnite leaks. Oh, and be sure to check back regularly as we'll be updating this guide with every new piece of info we uncover.
Everything we know about the latest Fortnite leaks
X-23
The latest Fortnite leak seems to suggest that an X-23 section has been added to the Fortnite shop, meaning that the famous mutant could be appearing soon.
Spider-Man
As fans eagerly await the start of Chapter 3 in Fortnite, prominent Fortnite leakers are hinting that Spider-man could finally be joining the fray. Considering the launch of the latest MCU movie, Spider-Man: No Way Home, in December, it would be savvy marketing and makes perfect sense. We'll update if we get any official word.
NARUTO
Following several rumours, it's been confirmed (via sportskeeda.com) that Naruto will be a part of Chapter 2, Season 8. He is available along with several other character from the anime in the Fortnite item shop.
Halo "Master Chief" Skin! (HD: https://t.co/8gKwZL20Zb) pic.twitter.com/lpyfLKBKEN

— HYPEX (@HYPEX) December 4, 2020
Master Chief 'Halo' skin
Following the surprise reveal of the Dad of War – Kratos, as a playable skin in Fortnite, HyperX has unearthed that Master Chief, the main protagonist from the Halo series, is also getting a skin very soon. Kratos appeared in the item shop, so chances are it'll be the same for the Chief.
This is apparently part of the 'Gaming Legends series' and there's speculation that it could be more than just these two characters, so stay tuned!
New Hidden Message from Epic in the URL for today's image:

"Jetpack go Vroom" pic.twitter.com/PFxFCYf0Pk

— iFireMonkey (@iFireMonkey) November 26, 2020
GAlactus event start time and Jetpacks
Yes, you'll soon be taking to the skies to take on Galactus to put a stop to his world-eating habits, but how on earth would you even get up there? According to iFireMonkey, the answer is jetpacks! This teaser image was accompanied by a second tweet, with the words "Prepare for the final battle." and reveals that the Galactus event start time is 4pm EST / 1pm PST / 9pm GMT on December 1, 2020.
— iFireMonkey (@iFireMonkey) November 24, 2020
Football-themed skins and emotes
A recent datamine from iFireMonkey and HYPEX shows some kind of football theme coming to Fortnite soon. Both referees and players will be available to unlock as Skins, as well as Penalty and It's Good emotes.
Players will be able to be customised in the colours of every major NFL team – including team badges. There are 10 variants of the referee skins, named as follows:
Time-Out
Elite Linesman
Huddle Hero
Spiral Specialist
End Zone Expert
Offense Overseer
Replay Ranger
Offside Officer
Fair Play
Sideline Commander
Last Laugh Bundle Trailer: pic.twitter.com/8CdLPmFw4w

— iFireMonkey (@iFireMonkey) November 10, 2020
Last laugh bundle trailer
It looks like we're getting a bunch of DC related skins next, as the Last Laugh bundle trailer above suggests. Here we see the Joker laying C4 on all sorts of things, accompanied by Poison Ivy and another villainous cretin wearing metallic armour named Midas Rex.
The big thing though is that Remote Mines are coming back to Fortnite, which hasn't been seen in the game since Patch 13.0.
Looks like Black Widow is the next Marvel tournament skin! pic.twitter.com/Er0bDkRexb

— HYPEX (@HYPEX) November 9, 2020
Marvel Knockout Super Series
Both FireMonkey and HYPEX have leaked that Black Widow will be the next tournament skin. In addition, FireMonkey has managed to get the following information about the tournament:
Tournament style: Marvel Knockout Tournament [Duos]
Reward: Black Widow (Snow Suit) skin
Date: November 11, 2020
Bundle version of Black Widow Snow Suit set in the item shop.
FireMonkey also tweeted a full list of new bundles:
Black Widow (Snow Suit)
Battle Classics
Dream Team
Ghost Rider Bundle
Lachlan Bundle
Royale Originals
Throwback Axe
v14.50 leaked skins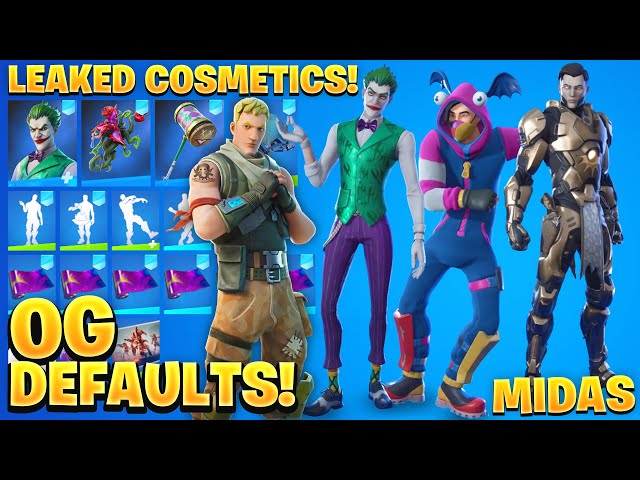 Halloween is well and truly over with the release of the V14.50 Fortnite update. HYPEX has revealed all of the upcoming skins and emotes hitting the game within the next month. As expected, the Joker will be making his Fortnite debut, along with Poison Ivy and Midas Rex.
Disney+ Promotion
FireMonkey discovered a V-Bucks promotion that is set to run until December 31. If players purchase any V-Bucks or make a purchase involving real money, they can get up to two months of Disney+ for free. This promotion isn't live yet, but expect an official announcement over the next few days.
Heavy mortar
Epic are working on a weapon called "Heavy Mortar"

The description is "Guns Machinegun", make your predictions..

— HYPEX (@HYPEX) November 3, 2020
The final leak comes in the form of a new weapon. Epic appear to be working on a new weapon called 'Heavy Mortar', according to HYPEX. The description of the weapon is vague at the moment, reading simply, "Guns Machinegun". The Heavy Mortar will use rocket ammo, so it's likely this weapon will pack quite the punch.
Snowman NPC
HYPEX has found more information about the Snowman NPC, who we assume will be arriving around Christmas time. The leaked text suggest the snowman will give you quests to find Chests – perhaps regular loot chests, or maybe some kind of winter-themed chest that we haven't seen yet. And what on earth is a Magic Claw?
Here is the full datamined conversation:
More leaks about the Snowman NPC, here is the text that it displays:

– Greetings my Hot blooded friend, which task would you like to perform for me?
– You Look Hot…
– Magic Claw
– Thanks
– Find Chests
– Not Yet
– Find those chests!
– You won't ever see this
– Here ya go!

— HYPEX (@HYPEX) October 26, 2020
Madcap quests
This mushroomy monstrosity is known as Madcap – you know, like the mushroom – and seems like a fun guy. Actually, it all sounds a bit creepy, we just really wanted to make that pun.
Expect some quests and/or challenges to accompany this character model and the sombre, ominous music that HYPEX has datamined.
We will be getting a quest/challenge that uses the Madcap model and it will use these sounds, i have no other infos but i'll try to find some. pic.twitter.com/JvW82aoFVh

— HYPEX (@HYPEX) October 26, 2020
Fire Extinguisher
Honestly, we don't have a clue what fire extinguishers will be used for in Fortnite other than, presumably, putting out fires. Dataminer HYPEX seems to think that the item could be used in both Battle Royale and Creative modes, but you'll have to wait and see just how you can use them.
Upcoming Item (Possibly for both BR & Creative)

Thanks to @Lucas7yoshi & @bot_wick for the help! Lucas posted the Music Pack in high quality if y'all want to check it out! pic.twitter.com/xcfAKMLx9o

— HYPEX (@HYPEX) October 25, 2020
Slurp Bazooka
According to HYPEX, Epic is also working on a Slurp Bazooka, which sounds like great fun. We expect this will work like all other slurp items, creating a pool of slurp juice where it lands, which will heal the shields of anyone who steps in it.
We assume you'll be able to fire this at allies to rapidly heal in a firefight, but we'll keep this guide updated when we know the latest.
Here are some things that @intercelluar & i found until leaking is back to normal:

– Epic are working on a Slurp Bazooka
– There's an unreleased "Fire Extinguisher" item
– We might get a "Snowman NPC" that grants you a quest,
it has conversations, can explode and/or spawn loot

— HYPEX (@HYPEX) October 22, 2020
Fortnitemares Midas' revenge
The J Balvin leaks were true, and it appears more information has been datamined in the new Halloween update. HYPEX has revealed all the new cosmetics and emotes added in the Fortnitemares update.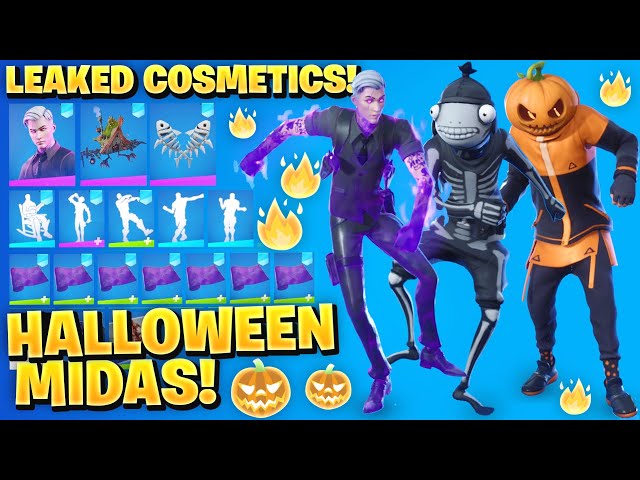 Interestingly enough, there are three sets of cosmetics that are encrypted in this update: Ghost Rider, Ant-Man, and Ghostbusters. There's even an achievement tied to the Ghostbusters cosmetics that requires you to wear the Ghostbusters outfit and gather a foraged item. Epic has worked with the Ghostbusters IP in the past to bring cosmetics to Rocket League, and now it seems as though Fortnite will be receiving the same treatment.
Bundles added in v14.40:

– Ghostbusters Gear
– Ghostbusters Crew
– Ghostbusters Patrol
– Skull Squad Pack
Rise from the crypt and creep on the unsuspecting with this bone chilling Skeleteam! Rattle your bones with the Skull Squad pack!

— iFireMonkey (@iFireMonkey) October 21, 2020
J Balvin concert during fortnitemares
It looks like the Prince of Reggaetón, J Balvin, will be making his way to Fortnitemares according to the established Fortnite leaker, HYPEX. J Balvin joins the illustrious list of artists to appear in Fortnite, including BTS, Marshmello, and Travis Scott.
There will be an upcoming "Dancefloor Soldier" skin for Fortnitemares.

Description: "He showed up to the party a couple of centuries earlier than expected. Dancefloor Soldier owners who take part in the Nightmare Party on October 31st will receive an exclusive J Balvin style!"

— HYPEX (@HYPEX) October 20, 2020
A performance from J Balvin would mark the first ever Fortnite Halloween concert. This is something that Epic hasn't been done in the past, but the overwhelming success of these events means we will likely see more in the future. If this concert does turn out to be true, be sure to keep an eye out on Fortnite during Halloween.
Galactus and item bundles
Fortnite leaker, FireMonkey has revealed the new bundles heading to the game in the V14.30 update. There's also a file named 'Distant Object 2', revealing an image of Galactus. Players in-game can look up at the sky to see Galactus slowly edging closer to the Fortnite island.
A image of Galactus getting closer will eventually be visable in the Fortnite sky.

Codename: "Distant Object 2" pic.twitter.com/8rKLvo9nER

— iFireMonkey (@iFireMonkey) October 13, 2020
The Daredevil bundle comes with the skin, as well as Daredevil's Billy Club and red glider. There's also the Goth Legends pack, bundling three skins together along with multiple back bling and pickaxes. The final bundle is the Ultimate Reckoning package, featuring three Halloween-themed skins and a back bling made from bone.
Fortnite corrupted series skins
Known Fortnite leaker HYPEX has shared that Fortnite will soon receive a Corrupt Series rarity for corrupted skins. There is also a chance that new variations of corrupted skins will soon be added.
We will be getting a "Corrupt Series" rarity for corrupted skins, and we might see more variations of corrupted skins soon if they didn't scrap it already..

— HYPEX (@HYPEX) October 7, 2020
Fortnite v14.50
Epic Games has started testing Fortnite v14.50. ShiinaBR speculates that this could mean a new update will land this week.
Epic Games is already testing v14.50, which I think is even more indicative that we will be getting a new update this week. (Noticed by @GMatrixGames)

If we get a new update every 2 weeks from now on, we might even get v14.60 before the next season starts!

— Shiina (@ShiinaBR) October 6, 2020
Fortnite PS5 and Xbox Series X/S skins
With the PS5 and Xbox Series X/S recently being released, you might be wondering whether next-gen owners can expect some exclusive Fortnite skins.
Earlier today, well-known Fortnite news source HYPEX tweeted out a few interesting leaks. First off, it looks like the Ginger Renegade Raider skin will appear later this year at around Christmas time.
HYPEX also confirmed that PS5 owners will potentially receive a console-exclusive skin in future. An exclusive Xbox Series X/S skin is also possible, though nothing has been confirmed as of yet.
Possible upcoming things via an Anonymous source:

– @Fercho_UwU's "Ginger Renegade Raider" in Season 5 (CONFIRMED)
– Exclusive PS5 Skin (CONFIRMED)
– Exclusive XBOX S Skin (NOT CONFIRMED)
– @sharktoofs1 might get another style/skin, possibly "Giddy-Up Fishstick" (VERY UNLIKELY)

— HYPEX (@HYPEX) October 1, 2020
Fortnite Leaks: best sources of leaks and info
Here are some great sources of Fortnite leaks:
Now that you're up to date on the latest Fortnite leaks, why not check out our best mobile multiplayer games guide or the best Android games on PC? We also keep a list of Fortnite item shop updates and Fortnite challenges.