The Nintendo Direct September 2022 was full of fantastic surprises, and while it may have seemed like Kirby's 30th Anniversary was over and done with, Nintendo announced one more surprise during the presentation sure to make long-time Kirby fans jump for joy. Kirby's Return to Dreamland: Deluxe brings the Wii classic into the modern day, with enhanced visuals and some exciting new features.
So when is the Kirby's Return to Dreamland release date? Nintendo Switch players can take this 2D platforming adventure for a spin when it arrives on the platform early next year, releasing on 24 February, 2023. Explore Planet Popstar and use the new Mecha-Kirby ability, or take part in fun mini-games such as Samurai Kirby with friends in four-player matches. The remake also features updated visuals, bringing this cheerful title to life like never before.
That wasn't all we got in the Nintendo Direct September 2022 though, as we were treated to brief glimpses of some thrilling new titles heading to Switch in the coming months. A major announcement was the next mainline Fire Emblem game, in the form of Fire Emblem Engage. We also got a fresh look at Crisis Core: Final Fantasy VII – Reunion, along with an update on the Pikmin 4 release date, and a name and release date for the long-awaited BOTW2, which you can read all about in our The Legend of Zelda: Tears of the Kingdom release date guide.
Now, let's dive into our Kirby's Return to Dreamland Deluxe release date guide.
When is the Kirby's Return to Dreamland Deluxe release date?
A remake of the classic 2D platformer from the Wii, Kirby's Return to Dreamland Deluxe launches on Nintendo Switch on February 24, 2023.
Is there a Kirby's Return to Dreamland Deluxe trailer?
Shown during the latest Nintendo Direct, there is a trailer for Kirby's Return to Dreamland Deluxe which shows off the exciting new gameplay features and enhanced visuals. You can watch it below.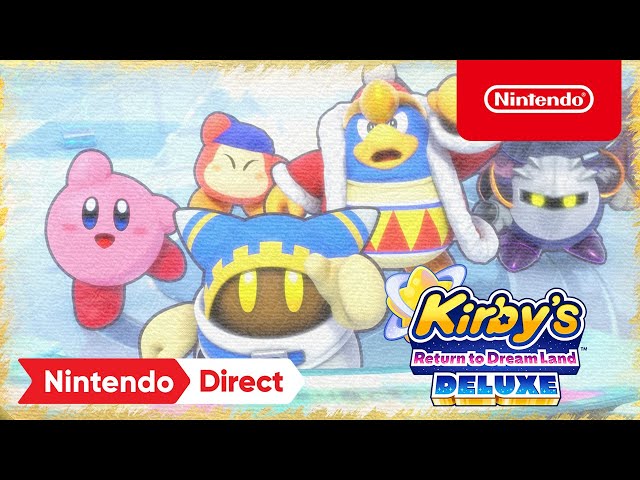 That's it for now Kirby fans, but if you just can't wait until February to get your fix, head on over to our best games like Kirby guide to find a new game to play today.