March 12, 2021: Niantic has revealed a new feature for your Pokémon Go eggs
Pokémon Go news comes thick and fast, with a big new feature, event, or update arriving on a near-daily basis at times. While that's positive, as it means new stuff in your favourite mobile game, it is difficult at times to keep up with all of the changes. Well, until now, that is, as this Pokémon Go news guide will help with that.
From now, we're going to keep on top of the latest Pokémon Go news for you, so you can check, at a glance, what the latest happening is. We plan to update this very regularly, so we recommend bookmarking this article and checking back often, perhaps even on a daily basis, to see what's going on.
We also keep on top of the latest Pokémon Go event and Pokémon Go update, and can help familiarise you with Pokémon Go raids. We're Poké-crazy at Pocket Tactics, so you really don't have to go anywhere else for Pokémon Go content. We've got you covered. Now, onto the Pokémon Go news…
Potential egg contents
Niantic has revealed a limited number of players can now see which Pokémon may hatch from an egg in their inventory. Simply click on an egg and a list of each available Pokémon will be shown.
This feature will be rolled out worldwide when any kinks have been ironed out.
Trainers included in the test will be able to tap an Egg to see a list of possible Pokémon and their rarity level. Please note this will not show if the Pokémon may be Shiny.

— Niantic Support (@NianticHelp) March 11, 2021
Refer a friend
A Pokémon Go referral program will soon begin! This program allows you to invite a friend to play for the first time, or return after a long break away. Both the person who sent the invite and the new player will receive goodies such as rare candy and incubators.
Players in Australia will receive the program first. Further locations will be rolled out later down the line.
Pokémon GO and the Pokémon Trading Card Game
Niantic has announced they plan to reveal the art and content of a Professor Willow card along with details on how to get the card in each area starting in late May 2021.
Quality-of-life updates
The following quality-of-life updates are coming to Pokémon Go soon.
An image gallery showing off PokéStop and Gym images that trainers submit will be rolled out soon! Level 40+ trainers in New Zealand will be the first to receive the feature, followed by trainers level 38+ worldwide towards the end of March.
A 'level-up social share' feature will launch worldwide in February, allowing trainers to capture the moment they level up to share with friends
To make managing Pokémon storage easier, you'll soon be able to transfer legendary and mythical Pokémon when selecting multiple Pokémon by enabling the functionality in the game settings
Egg-management tests
A test will begin on December 11 at 10:00 PST / 18:00 GMT and will continue for an indefinite amount of time. Based on the results, more trainers will be brought into the tests over time. Here are the full test details.
Certain trainers will be able to store up to three additional eggs from weekly Adventure Sync rewards and Team GO Rocket Leader battles if they already have nine Eggs in storage
Some trainers will see all 12 eggs in the egg-storage tab, others will see the additional eggs in a bonus storage section in the egg-storage tab
POKÉMON GO: BEYOND
This update brings huge changes to Pokémon Go, including the following:
XP has been increased for the following activities.
Catching a Pokémon with a Nice Throw: 10 XP to 20 XP
Catching a Pokémon with a Great Throw: 50 XP to 100 XP
Catching a Pokémon with an Excellent Throw:100 XP to 1,000 XP
Catching a Pokémon with a Curveball Throw: 10 XP to 20 XP
Evolving a Pokémon: 500 XP to 1,000 XP
Catching a Pokémon or spinning a PokéStop the first time in a day: 500 XP to 1,500 XP
Achieving a Pokémon catch streak or PokéStop spin streak of seven days: 2,000 XP to 6,000 XP
Giving a Pokémon a Berry at a Gym: 20 XP to 50 XP
Spinning a PokéStop: 50 XP to 100 XP
Defeating a Gym: 100 XP to 1,000 XP
Defeating a Pokémon at a Gym: 100 XP to 300 XP
Hatching a 2 km Egg: 200 XP to 500 XP
Hatching a 5 km Egg: 500 XP to 1,000 XP
Hatching a 10 km Egg: 1,000 XP to 2,000 XP
Hatching a Strange Egg: 2,000 XP to 4,000 XP
Catching a Pokémon in AR mode: 100 XP to 300 XP
Unlocking a new Pokédex entry: 500 XP to 1,000 XP
Pokémon encounters
The chance of encountering Smeargle after you take a snapshot has been increased.
Nanab Berries are now more effective, fully calming Pokémon down in encounters.
You'll now earn more Candies from catching a Pokémon you've given a Silver Pinap Berry.
Research
The "Make 3 Excellent Throws in a row" task now leads to an encounter with Gible instead of Larvitar.
Buddy Adventure
You can now earn up to three hearts each day from battling with your buddy.
Your buddy can now more easily get excited.
Golden Razz Berries and Silver Pinap Berries are more effective when you give them to your buddy.
Stardust
The Stardust you'll earn from giving a Pokémon a Berry at a Gym has been increased from 20 to 30
Beginning on December 7, you'll earn more Stardust from weekly Adventure Sync rewards.
Pokémon Go Beyond initial update
Pokémon Go level 50: the level cap has increased and you'll have to complete challenges to level up past 40
Pokémon Go level 40 (legacy): If you reach level 40 before the end of 2020, there are a bunch of bonuses in-store
Kalos Pokémon, including a new Pokémon Go regional Pokémon, will be arriving in-game from December
Pokémon Go Seasons: events, wild Pokémon, and more will change depending on the time of year
The Season of Celebration event kicks off with a bunch of bonuses to help you end the year on a high
Check out all of our guides for a much more in-depth look at each of these changes, as well as tips to help you level up as fast as possible. Also, be sure to check out our Pokémon Go event guide for all the Season of Celebration information.
Storage limit increased
The maximum storage limit for your Pokémon boxes has been increased to 4,000. You need to buy storage upgrades from the shop as usual.
UPDATED Trade range increase
Niantic has introduced one of the most-requested features that players have been asking for since trading was introduced. Calls to increase the distance between two people who are trading ramped up during the pandemic, as players were in lockdown or wanted to be safe and not meet their friends.
Niantic has finally begun testing an increased trade range, which now stands at around 12km (7.5 miles). Before this, the range was only a few metres.
However, this is a test and is only active until November 16. Niantic also says that, "depending on information gathered from this test, we may include increased trade range as a part of future events."
UPDATE: After the first trial ended, Niantic reintroduced the increased trade range, this time with a range of around 50km. There is no word yet on an end date for this feature.
Pokémon Home functionality
Players who are level 40 can now use the Pokémon Go Transporter to send Pokémon from Pokémon Go to Pokémon Home.
We'll have a full guide up shortly, but players will need to link their Pokémon Go account to their Pokémon Home account in settings, and can then transfer Pokémon from Go to Home. Once transferred, you won't be able to transfer a Pokémon back – the move is permanent.
Transferring a Pokémon costs Transporter energy, which refills over time. Legendary Pokémon and shiny Pokémon cost more energy to transfer – as with Stardust and trades. Energy costs are also higher for shiny non-legendary Pokémon and Pokémon with higher CP. There is also a limit to transferring Pokémon – you can only transfer 27 Pokémon at a time. If you still have energy, however, you can immediately go back in and transfer more.
If you use all your energy, it will take a week to fully recharge. However, you will also be able to immediately recharge it for 1,000 PokéCoins.
You cannot transfer Spinda, favourited Pokémon, Buddy Pokémon, Pokémon defending Gyms, costumed Pokémon, Shadow Pokémon, or Mega-Evolved Pokémon.
Lucky and Purified Pokémon will lose their Lucky and Purified statuses when sent to Pokémon Home, and other Pokémon may change forms altogether during the journey, such as the below examples:
Origin Forme Giratina will become Altered Forme Giratina
Sunshine Form Cherrim will become Overcast Form Cherrim
Sunny Form, Rainy Form, and Snowy Form Castform will become Castform in its usual form
AR Mapping research
Trainers level 20 and up can now complete special AR mapping tasks. Certain PokéStops will have a special design and will give you a task that will involve scanning the area around the stop with the camera of your device. Completing this research will count towards your daily Field Research task. Check out the full details below.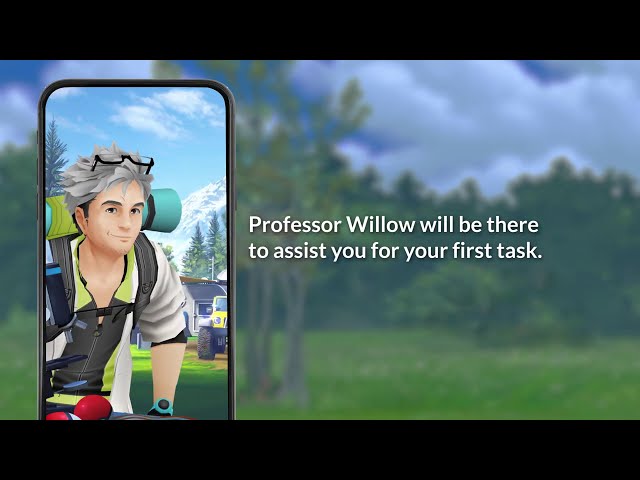 The PokéStop scan feature is now available to trainers level 20 and up
In this tiny bit of Pokémon Go news, Niantic has opened up the PokéStop scan feature to trainers level 20 and up. This feature allows you to take and upload videos of real-life PokéStops and Gyms, which will allow Niantic to generate dynamic 3D maps of these locations, allowing for improved AR functionality.
You can learn more about it on the official Pokémon Go blog.
Niantic has tweaked Mega Evolutions based on community feedback
Following community feedback, Niantic has announced the following changes to the brand new Mega Evolution feature:
It's now cheaper to Mega Evolve a Pokémon a second (or more) time
Trainers now receive more Mega Energy from Mega Raids
The following changes are also currently in the planning phase:
Walking with your buddy will earn you Mega Energy
You will earn Mega Energy from research tasks and other gameplay modes
You will earn bonus Candy when catching Pokémon of the same type as your current Mega Pokémon
Niantic details upcoming Go Battle League fixes
Niantic has released a letter to all Go Battle League players demonstrating its plans for upcoming fixes.
Here's a round-up of what to expect:
Niantic has increased the size of its QA team
Automated testing is incoming, freeing up the QA team to perform more in-depth testing
More transparency surrounding bugs, and what Niantic is working on