Nintendo has shared a Splatoon 3 Direct, bringing with it around 30 minutes of information and updates for the third instalment in their wacky shooter. It included information on new game modes, characters, weapons, and gear.
You can read all about the latest announcements below, detailing the newly announced idols, a brand new type of Splatfest, different movement options added, and much, much more. Of course, you can just read about it, but I also recommended watching it just to hear all the great new music.
If you too are a Splatune connoisseur, check out our Splatoon 3 soundtrack feature where we just gush about how great the tunes are. Or, to get ready for the big day, check out the Splatoon 3 release date, the new Splatoon 3 hairstyles, or our Splatoon 3 pre-order guide. If anyone's gonna get you ready for some inky action, it's us.
Anyway, you can check out the Splatoon 3 Direct below.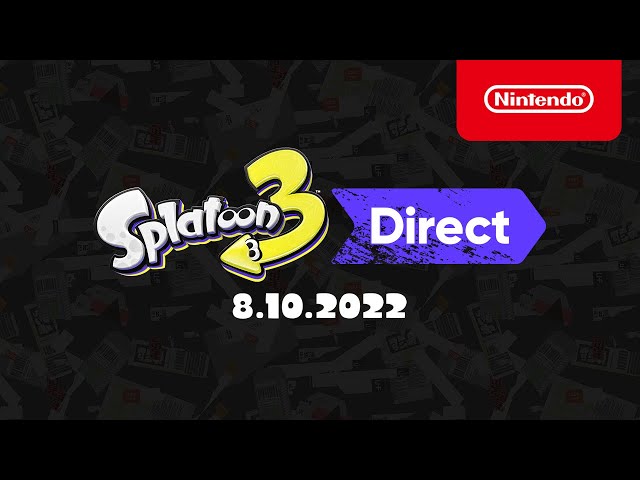 Splatoon 3 Direct announcements
The biggest announcement in the Splatoon 3 direct was the brand new idols. This time around it's Frye, Shiver, and Big Man who make up the band Deep Cut. The trio host the Anarchy Splatcast, which gives info on battle stages and other news bulletins. Luckily, these updates can now be in the background. Instead of interrupting your play, they just appear at the top of the screen as text boxes.
Splatfests are back, too. This time, there are three teams to choose from and two halves to the competition. The first half is standard – compete in Turf War. The second half is wild, offering a tricolour Turf War (three teams at the same time!) All players on the team in first place will start in the middle. The second- and third-placed teams will come from opposite ends of the stage, making it tough for the team in the lead to defend themselves.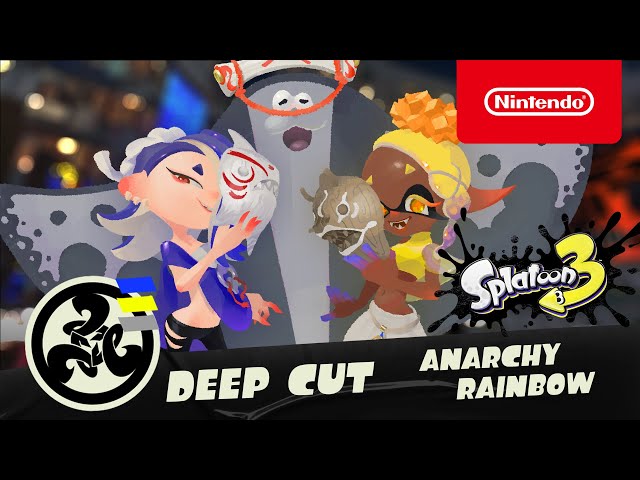 There will be a Splatoon 3 Splatfest World Premiere, a pre-release Splatfest on August 27, 2022, from 09:00 to 21:00 in your local region. The theme is rock, paper, or scissors. The direct also confirmed that consistent new updates will come in the future, alongside major paid DLC.
As Nintendo explained itself: "after the game launches, a free season catalogue will be distributed every three months for two years. New weapons will also be added around the same time as each in-game catalogue. In addition, X Battle and League Battle are planned for a future update. X Battle is unlocked after attaining an extremely high rank in Anarchy Battle. In League Battle, players can compete every two hours in teams based on their Anarchy Battle results."
We also learned about two brand new moves that look to be pretty game-changing:
Squid surge – shoot up a wall quickly
Squid roll – a dodge roll which deflects a little enemy ink (Splatoon is Dark Souls now)
The direct also confirmed all the stages, new and returning, and promised future stages would be added after release.
Scorch gorge
Eeltail alley
Hagglefish market
Undertow spillway
Mincemeat metalworks
Hammerhead bridge
Museum d'Alfonsino
Mahi-mahi resort
Inkblot art academy
Sturgeon shipyard
MakoMart
Wahoo world
Splatoon 3 game modes
Turf War is, of course, returning, while we have Anarchy Battles which is the new name for ranked play by the looks of it – "Win five and triumph. Lose three and you're out. Solo players only." You can do Anarchy Battles with friends as well in a different mode.
These are the returning modes beyond turf war, which will continue to rotate as before:
Splat Zone
Tower Control
Rainmaker
Clam Blitz
There are also new private battles, a place to hangout with friends and choose which game mode you want to play. This means you don't have to just play Turf War all the time if you're not hyper-competitive. Nice!
We also got a look at the returning test range, a place to practice with your weapons, except this time you can head there while waiting for a battle to start, which is incredibly cool.
Salmon Run: Next Wave
The horde mode Salmon Run returns, tasking you with defeating enemies and collecting up golden eggs to get through. We also saw some new boss salmonids:
Slammin' lid – protects enemies and crushes you if you're underneath
Big shot – projectile shooter with ink waves that come from their bomb
King Salmonid Kohozuna – fire golden eggs to drive them back and build up damage before the time runs out
There's also the new Big Run mode, which is when salmonids invade the city every few months. It looks intense, though the narrator suggested we'll get more detailed info on that in the future, so who knows how far it goes.
Return of the Mammalians
As Agent 3, you do battle with the Octarian army, along with your little buddy Small Fry. We didn't see too much, but it looks like a proper extension of the ideas in the Octo Expansion, except with more story, maybe?
Weapons
We saw the returning Stringer weapons on show, as well as the new Splatanas. These send blades of ink flying with the force of the swing. Charge up a bit to do a slash upwards. Powerful at long range, but devastating at close range.
Special weapons, weapons that you can use after inking enough turf to fill up the gauge, are also back. There's the Tacticooler – a fridge which offers beverages with a variety of effects (they come in a pack of four, so one for each team member); the Wave Breaker – which lets off waves, marking enemies and damaging them; and the Reef Slider – a big dolphin you ride along which explodes at the end. Tenta missiles, inkjet, ink storm, ultra stamp, and booyah bomb are all returning, too.
You buy weapons at Ammo Knights, run by Sheldon. You need to collect Sheldon licenses, which are gained by levelling up through battles and consistently using the same weapons. One license can get you one weapon that corresponds to your current level. If you exchange more Sheldon licenses than normal, you can get a weapon you like sooner than expected as a reward.
Gear
Gear is pretty unchanged in Splatoon 3 by the looks of it, except for some new abilities to improve the new squid roll and squid surge. You can still add specific abilities to your favourite gear. One new addition is being able to register fits, so you can switch from one full batch of gear to another more quickly. You can check out the shops below.
Naut Couture – headgear shop which offers hats, masks and glasses, run by Gnarly Eddy and Nails.
Man-o'-Wardrobe – sells t-shirts and jackets, and is run by the old-fashioned Jel la Fleur.
Crush Station – footwear store selling trainers and sandals, all sold by the big lobster Mr. Coco.
Hotlantis – a general store to buy customisable items for your locker (more below), run by Harmony
Lobby features
Here are a few features for the lobby, some of which look very exciting.
Ghosts – drop in on friends in the midst of battle via their ghost form
Battle replays – watch back a recent battle as many times as you want and share (I love this)
The locker room – fresh lockers, one is yours, others are recent players. Put stickers on it, show off some gear, or buy extra stuff via Hotlantis
Illustrations – you can post drawings again via the mailbox, now with vertical illustrations
Get food and drink from the concession stand for a boost
Use The Shoal to do local/nearby co-op
Photo mode – take shots and put them in a locker, or send them to a smart device
Recon guide – stroll around empty stages
Table turf battle – a new mini-game that looks like a mix of a card game and weird Tetris
SplatNet 3 – check battle stats via the app and get special in-game gear not sold in the shops, among other things
Amiibo – save gear to them, or bag special gear and a photo opp with the amiibo characters
Customising with the catalogue – unique customisables available from Hotlantis which will get updated every three months for two years after launch
Or, for even more Splatoon 3 content, check out our Splatoon 3 idols, Splatoon 3 weapons, or the gorgeous new Splatoon 3 Switch OLED.