Though it's been on our radar for a while, the Super Zoo Story release date still eludes players. It's a pixel-art adventure featuring plenty of animals and a zoo to build from scratch on a tropical island, and to be honest, we're roaring to go and get into it. Here's what we know so far about the upcoming game.
While you wait, why not jump into some more zoo games or easy games on Switch, or if you're strapped for cash, here are some of the best cheap games to play without breaking the bank.
Right, let's see what's happening with the Super Zoo Story release date.
What is Super Zoo Story?
If you're looking for a new animal-filled adventure, look no further than Super Zoo Story. You take on the role of a zookeeper on an island where you can build the park of your dreams. Think Let's Build A Zoo combined with Stardew Valley. Currently, there are over 70 types of animals (and dinosaurs) available to build habitats for, take care of, and show off in your zoo. You can also combine DNA to create new variations and colors of animals. There's a social side to the game too, so you may fall for a local while you build your popular zoo.
What platforms is Super Zoo Story coming to?
Super Zoo Story will release on Nintendo Switch, PC, PlayStation, and Xbox platforms. We think it'll go down a treat on the Switch's roster of games, as there's nothing better than a cozy simulator on a handheld device.
Super Zoo Story release date speculation
At the moment, the game is still quite a way off, so we don't have any inkling of a release date just yet. Super Zoo Story had an original release date of 2023, but that now looks unlikely. A Kickstarter campaign is on the horizon but hasn't gone live just yet.
Is there a Super Zoo Story trailer?
In 2022, we got a look at the game in a trailer. Check it out here: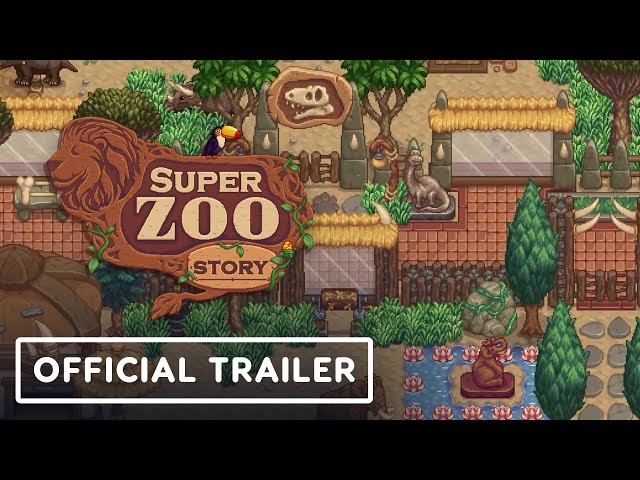 Super Zoo Story controversy
Now, let's address the elephant in the room – previous builds of Super Zoo Story looked very similar to Stardew Valley. Developer Ihor responds to criticism with the following:
"In the early stages of drawing, we were strongly influenced by Stardew Valley's style and that's what unintentionally got us into this situation. […] We tried to emulate a similar style to Stardew Valley in the beginning, however, we didn't think it would come across as a copying of assets as many games already draw comparisons to Stardew Valley and Harvest Moon. Ultimately, we should have started making changes to our graphics much earlier. Anna wanted to do so quite some time ago, but it was my fault for being stubborn."
More recently, the team has made a YouTube channel to showcase how they draw their pixel art assets from scratch to show their process.
Some fans reached out to ConcernedApe for comment on the similarities, who replied with the following in a Discord server:
"Well, in general I've never had an issue with people making games inspired by Stardew Valley. After all, my game was inspired by Harvest Moon. But I do think Super Zoo Story has taken it a little too far […] As it is now, it's very confusing to people because it does look so similar that it could be mistaken for my own work."
It's no secret that a lot of games emulate the Harvest Moon and Stardew Valley art styles, but Super Zoo Story's art took it a little far, even if they didn't necessarily mean it. They have, however, changed a lot of their assets during development. For a start, there are dinosaurs and all their accouterments in Super Zoo Story, and different player models now, too.
We've got even more game recommendations if you're hungry for other things – here are all the Coin Master free spins and our guides to Hello Kitty Island Adventure gifts and Hello Kitty Island Adventure luggage to help you get started on your new island life.