The Samsung Galaxy S23 Ultra has been the de facto leader in the smartphone market since it launched in February. It's obviously the best Samsung phone (and tops the thin list of the best stylus phones), but it also hits the top of the best 5G phones, i.e. the best of the best available. It's inescapably brilliant, big, and beautiful. And no matter how much cynicism we throw at it, we can't help but agree with the consensus.
Of course, it might not be for everyone, especially if you sit on the Apple side of the iPhone vs. Samsung debate. But take a gander below if you're interested in having the best the smartphone market has to offer at the moment – though keep in mind, the iPhone 15 release date is right around the corner, and that could take the crown when it launches.
Anyway, on with our Samsung Galaxy S23 Ultra review:
Pros:
Best-in-class cameras
Gorgeous design and display
Excellent performance
Built-in stylus
Cons:
Price and availability
The Samsung Galaxy S23 Ultra is available across multiple network providers and retailers globally. It's among the best AT&T phones in the US, and you can grab it from all of the best UK phone providers. If you buy it directly from the Samsung website, there are four exclusive colors – Graphite, Lime, Sky Blue, and Red – alongside the standard Phantom Black, Green, Lavender, and Cream.
256GB / 8GB RAM – $1,199.99 / £1,249
512GB / 12GB RAM – $1,379.99 / £1,399
1TB / 12GB RAM – $1,619.99 / £1,599
Samsung Galaxy S23 Ultra specs:
Features
The Samsung Galaxy S23 Ultra has all the internal gubbins you could possibly need, but it also comes with some neat features unique to the device. There's Samsung DeX, which turns your phone into a desktop, and it's an exciting and underutilized system. This phone has more RAM than my $1500 laptop, so it makes sense for it to double up as a desktop.
There's also the unbeatable fingerprint sensor, which uses ultrasonic vibration to map your print, rather than an under-display camera. This means it's incredibly speedy, far more than most of the competitors, other than vivo's X80 Pro. I still find FaceID preferable, and while you can do it here with the front-facing camera, a fingerprint is more secure.
Then there are the cameras, four in total, with a 200MP sensor the star of the show. We go into more detail about their quality below, but Samsung has some neat features integrated too. You can zoom in on the moon – though this caused a fair bit of controversy given it's not properly "real" – capture detailed timelapses, and do all manner of savvy snapping in the camera app. This phone has all the features you'd expect from an Android, and then some.
Best of all, the S23 Ultra has a little slot for a stylus, the S-pen, which fits neatly into the bottom of the phone. Styluses aren't really my bag, but the fact that the S-pen is just there whenever you need it is really helpful, whether you just want to play around with a sketch or accurately sign your signature, it's a really nice touch.
Camera
The star of the show for the S23 Ultra is the four camera lenses. There's a 10MP telescope lens, a 10MP periscope lens, and a 12MP ultrawide, all supporting the mammoth 200MP main wide camera. Oh, and if it looks like you can see five cameras on the back, the fifth ring is the laser autofocus, meaning the S23 Ultra finds subjects and frames them near-instantly.
Ignoring the main monster for the moment, the surprising stars of the show are the zoom lenses, allowing optical zoom the likes I've never seen on a smartphone. The detail you can get at 10x zoom is just staggering, and makes the phone far more versatile than other competitors.
Meanwhile the ultrawide can get some really nice and detailed close-ups, with a good natural bokeh once you manage to get the subject in focus. Also, the distortion around the edge of the shot is barely noticeable, unlike some other ultrawides.
But, of course, the real star is the 200MP main camera. This camera bins standard photos down to 12MP, but that doesn't mean this camera is a waste – it still captures more detail, combining pixels into one large pixel, reducing noise at the same time. You can also use a 50MP mode, or go for the all-out 200MP, though this consumes a bunch of storage. You can see in the comparison of the dog above the difference between the modes.
Either way, the results speak for themselves. All the photos I took, whether RAW or with Samsung's generous processing, look absolutely gorgeous. I didn't have a camera to hand that would be a fair comparison, but you can see in the shots below how versatile the camera is.
All shots have such an excellent natural depth too, making portrait mode almost pointless. Night shots are similarly excellent, whether using night mode or the flash – though the latter is always a weird one; night mode is the way to go in my opinion.
All in all, it's hard to fault, and there's very little out there that can compete. As we explain in our Xiaomi 13 Pro review, that's an excellent option, but we still think the S23 pips it. Our Google Pixel 7 Pro review sings the cameras praises, but if we ignore the cost, it's neck and neck. Of course, with the Pixel being so much cheaper, that's the one to choose if all you want is a good camera.
Design
The Samsung Galaxy S23 Ultra is one big slab of slender metal. In black, it stands tall and wide, with an edge-to-edge screen, defined corners, and a slight curve to the edges giving it an easy-to-hold feeling. It's the monolith from A Space Odyssey; it's gorgeous.
Of course, it's also massive. Its giant size is a handful even for me, so anyone with smaller hands may struggle. It's slightly wider than most big-screen competitors, and can feel cumbersome at times. Still, day to day, it fits cleanly into the pocket, and the cameras don't stick out as much on some other competitors, so it's still very usable.
It has Gorilla Glass Victus 2 on the front and back, with the back frosted cleanly, not attracting any fingerprints at all in my experience with the Phantom Black model. Meanwhile, the aluminum rails look very slick in black and seem super durable, though, of course, I didn't do any drop tests. All these lovely materials mean that it's also IP68 water and dust resistant, meaning you shouldn't have to worry about a dunk in the bath or any beach visits.
Display
The display is an impressive as all the others in the S23 line, given that they're all basically identical. The difference with the Ultra is a better pixel density of around 500ppi, given the resolution of 1440 x 3088. If anything, this is overkill, just like most of the phone. Every thing is crisp and beautiful, and it's hard to fault.
The high-refresh-rate screen allows smooth animations at 120Hz, meaning flicking through menus and opening apps is speedy and slick, while videogames that can reach the highest framerates look absolutely excellent. Of course, a premium display is useless if the chipset can't keep up, but the Snapdragon 8 Gen 2 sure can – but beyond performance, it also brings battery life gains.
Battery
Thanks to clever things like variable refresh rate and the efficiency gains in the Snapdragon 8 Gen 2, the S23 Ultra has good battery life. It's not up there with the excellent battery life we found in our Asus ROG Phone 7 Ultimate review, but that's an outlier, with its massive 6000mAh battery.
It's basically on par with the iPhone 14 Pro Max, with around two days of general use in my experience. I'd happily only charge the phone every other night, even if I'd spent the day listening to music or watching videos, playing games a bit, and taking some snaps. It's pretty ace.
If you're a heavier user you might not see the same results, but you're unlikely to end the day gasping for a charger. It's excellent and consistent, with no clear drops from specific use cases, and more than enough for anyone used to smaller phones. Add to this the decent wireless charging, and there's nothing to complain about.
Performance
The Samsung Galaxy S23 Ultra has the same chipset as its cheaper counterparts, the S23 and S23+, but it also comes with a vapor chamber to enhance cooling. As we found with Samsung's Won-joon Choi interview, the phone should offer better performance when under sustained loads.
What this means is that you can play with similar performance for longer. This is because, when a chip gets hot, it throttles performance to reduce the amount of heat it's generating and reduce the temperature. If it doesn't need to do this because of a capable heat sink, then performance remains consistent. This vapor chamber is only in the S23 Ultra.
So, if you're a true mobile game obsessive, spending nights on end in Wild Rift or waiting to take your Warzone games on the go, the S23 Ultra is the choice of the Samsung bunch. And the good news is that all this stuff isn't just good on paper; it's also good in practice.
In Genshin Impact, a favorite here at PT, we got 60fps running at maximum settings, and had a full-hour play session without any dramatic frame drops. It hovers around 58 or 59 during busier moments, and one section brought it all the way down to 50, but this was incredibly brief. Internal temps came up to around 41°C, though the phone didn't feel particularly hot and it didn't affect performance.
Meanwhile, shooters also shine on this massive AMOLED, with the usually cluttered HUD having enough space around the edges. PUBG Mobile locked in at 40fps and I couldn't find any way to change it – though it definitely stayed there – while CoD Mobile locked in at 60fps – again, I could find no way to shift it up to 120fps.
Either way, whether games support 120fps or not, performance is impeccable. Qualcomm even claims this new chip can do ray tracing, which I'm sure is true, though the reality of experiencing it in any useful way on mobile is likely a ways off. More a proof of concept, but still mightily impressive.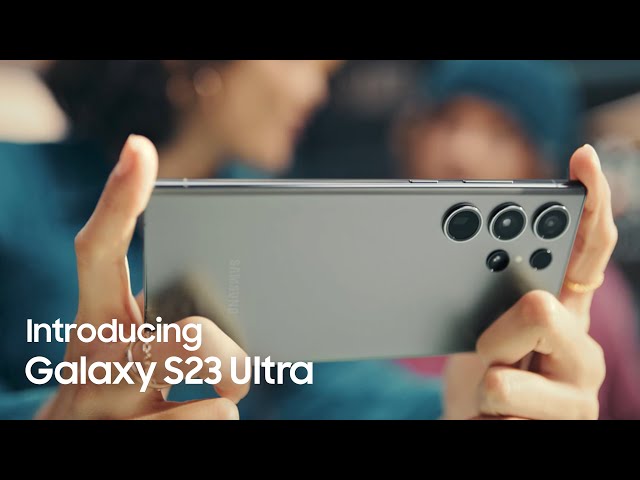 Verdict
The Samsung Galaxy S23 Ultra is the best phone money can buy. If you're the type of person that needs a smartphone that can do everything, and will actually make use of the massive power in all these categories, the S23 Ultra is the way to go. With an industry-leading camera setup, exquisite design philosophy, and more than enough power for anything you throw at it, it's basically impossible to fault.
The only issues are really nitpicky – it's a tad too big for my liking, and its high price is a bit much – but they're issues that fall in line with the whole phone's philosophy: it's overkill. Not in the way a ROG phone is gamer overkill – the S23 Ultra is everything to the max, and wonderfully so. You just have to make sure some of the things it's maxing out are actually desirable for you.
Alternatives
iPhone 14 Pro Max
If you want a slightly more manageable phone, the iPhone 14 Pro Max is a little smaller. It's just as powerful, its cameras can compete (just), and its design may be more to your liking. Just make sure you're happy on the Apple side of iPhone vs. Android and you'll be fine.
Xiaomi 13 Pro
As we explain in our Xiaomi 13 Pro review, it's a phone that has similarly gargantuan features and size to the S23 Ultra. Still, it does offer slight differences, with curved edges on the screen and a massive camera bump. I don't know why you'd want the latter, but if you prefer the 13 Pro design, it's an incredibly capable smartphone.
The Samsung Galaxy S23 Ultra has everything you could possibly need from a smartphone, and then some. It's got one of the best displays we've ever seen, more than enough performance, and a gorgeous design. It's an excellent choice for almost anyone – assuming you're fine with the size of the thing.