Bike games are a wonderful subgenre. They bring in all manner of mechanics and mechanisms, including your QWOP-like wonky physics, your straight-up arcade SSX-likes, or even 2D platforming challenges.
So, we've gathered together the best bike games on Switch and mobile so you can get out there on two wheels no matter where you are. Once you've had fun cycling, check out our guides on how to play Snake and play Tic Tac Toe.
Anyway, on with our favourite bike games available on the go.
Descenders – Switch and mobile
Descenders puts you in the shoes of a mountain biker, with endless procedurally generated hills to barrel down. Offering plenty of tricks and challenges, there's so much replay value here that it's just a bit silly, and with the perfect easy-to-play-hard-to-master quality, it's an easy recommendation on both Switch and mobile (maybe use a controller on mobile, though!)
Read our Descenders mobile review to find out more.
Seicross (Arcade Archives) – Switch
If you're looking for something a little different, Seicross, known as Sector Zone in Japan's arcades back in the day, is a decent choice. Released in 1984, you spend your time on futuristic bikes shooting enemies and other nonsense. It's an NES game, so don't expect anything more than a good old-fashioned time.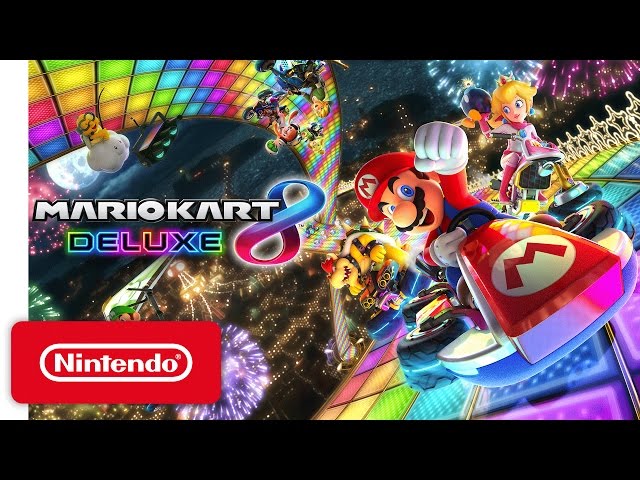 Mario Kart 8 Deluxe – Switch
While you may not think of Mario Kart 8 Deluxe as a bike game, it definitely is. Not only is it one of the best games on the Nintendo Switch – and one of the best-selling games of all time – it's also packed full of different bikes for you to stick your favourite Nintendo characters atop and go racing. You can also check out our Mario Kart characters guide to get up to speed with everyone in-game.
Lonely Mountains Downhill – Switch
Lonely Mountains Downhill is the chillest bike game you'll find on this list. Taking a playset aesthetic, calming music, and simple downhill challenges and sticking them together offers a near-meditative experience. It's just wonderful.
Trials Rising – Switch
Trials is one of the most famous bike games out there. Rather than the racing game you may expect, it's actually a platformer, challenging you to cross various 2D levels to reach the end and rack up points in the process. Do flips and tricks, get to the end without snapping your biker in half, and have a good time doing it.
Asphalt 8 – mobile
Sadly, Asphalt 9 hasn't added bikes yet, so we have to head to the previous entry in the series, which is still a stellar racing game. It pushes mobile hardware to the max, being used as fodder for all manner of mobile manufacturer adverts, so you know it looks good. Better yet, if you like arcade racing, not much comes close to this in the free-to-play market.
Trials Frontier – mobile
If you want your Trials fix but not on Switch, Trials Frontier offers it on mobile. It's exactly what you expect from Trials – 2D platforming except you're on a motorbike – only with slightly more cartoony visuals. An easy go-to.
Excitebike – Switch (NSO/Arcade Archives)
Excitebike is such an iconic NES game that there's a whole course dedicated to it in Mario Kart 8 Deluxe. Sure, it's old, but it's still a classic, offering immediate arcade action – your classic quick hit. Who doesn't love a quick hit?
Road Redemption – Switch
Road Rash took a while to get a revival, but when it did, everyone ignored it. And they shouldn't have! Road Redemption is fancy-looking Road Rash, with a pretty silly Mad Max aesthetic, countless weapons to whack your competitors with, and that same silly arcade fun we know and love.
There you have it, our picks for the best bike games on Switch and mobile. For more, check out our Dead by Daylight codes, Dead by Daylight characters, and Dead by Daylight killers guides if you're a fan of the spooky side of things.