We all love Disney, right? Be you a fan of the classics, recent titles, or a mixture of the two (at PT, we love all generations of Disney), you're bound to enjoy something that the company has to offer. It's fair to say that Disney games on mobile tend to be high quality, and that's just one reason why many of you are anticipating the release of Disney Mirrorverse – a team-based action RPG that brings together Disney heroes and villains, giving them unique combat abilities.
Such characters include Belle, Sulley, Elsa, Maleficent, Rapunzel, and more. The chances are your favourite Disney characters are here, especially if they come from popular Disney and Pixar franchises such as Frozen, Monsters Inc, and Tangled. With all the hype surrounding the mobile game, you probably want to know when the Disney Mirrorverse release date is, and this guide holds the answer.
If you not only love Disney, but beautiful husbandos too, we suggest giving Twisted Wonderland a try. In which case, you should check out our Twisted Wonderland cards, Twisted Wonderland birthdays, and Twisted Wonderland download guides. We also have a Twisted Wonderland tier list, so you can see which bois are worth your time.
When is the Disney Mirrorverse release date?
The game is finally out, and to prepare yourslef for your battle against the Fracutured, we suggest you check out our Disney Mirrorverse characters and Disney Mirrorverse classes guide.
Furthermore, you can grab yourself some lovely in-game freebies courtesy of our Disney Mirrorverse codes list, or add some real-life collectables to your collection with our Disney mirrorverse figures guide.
Is there a Disney Mirrorverse trailer?
Of course, there's a Disney Mirrorverse trailer, and the game looks fantastic if we do say so ourselves. You can check out the latest clip below: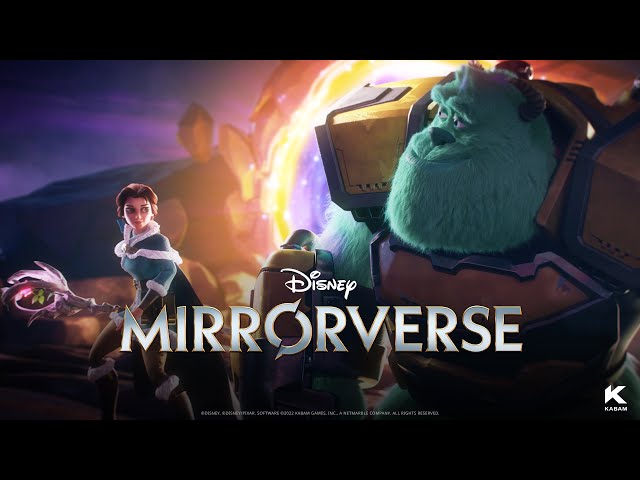 What is the Disney Mirrorverse story?
The Disney Mirrorverse narrative centres on a divergent universe that serves as a separate entity to the settings of original Disney and Pixar movies. In this world, all of your favourite characters serve as mirrorverse guardians. They possess unique gifts and abilities that they use in combat.
The Fractured threaten this universe, and it's up to you, alongside Disney legends, to protect the land. Naturally, the Disney Mirrorverse story is all about defeating this foe, and you can be sure that you'll see all of your favourite characters in a different light. Furthermore, there are customisable options for each character, as well as intriguing backstories that offer more insight into the new variation of these heroes and villains.
What are Disney Mirrorverse's game modes?
There are numerous game modes in Disney Mirrorverse, and they cater to all kinds of players. For example, if you prefer single-player experiences, you can embark on a solo adventure in the story mode. Better yet, every few months, the development team adds new story content, be it in the form of a main mission, or a side quest.
Furthermore, you can look forward to a range of event quests, all of which take influence from real-world Disney and Pixar-inspired content. Oh, and if you're more of a team player, the alliance feature allows you to team up with other players from the same guild to complete event milestones, earning you all some nice rewards.
Meanwhile, for those of you with a competitive streak, the dangerous dungeons are the place to be. This feature allows you to compete against other people in ever-changing dungeons. Doing so can net you some handy rewards, so don't be afraid to show off your skills.
What are the Disney Mirrorverse platforms?
Great news for mobile players everywhere, as the smartphone exclusive game is coming to both iOS and Android devices, meaning nobody is left out. To pre-register, visit the official Disney Mirrorverse website here.
There are some great milestone prizes up for grabs, so make sure you sign up to help reach those goals.
There you have it, everything you need to know about the Disney Mirrorverse release date. If you need something to keep you busy while you wait for Kabam's action role-playing game, head over to our list of the best mobile RPGs to see what other adventures are out there.